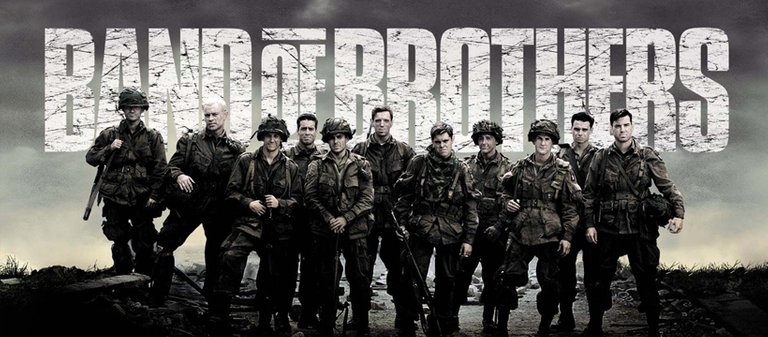 Hey Leute,
heute möchte ich Euch wieder eine grandiose Serie vorstellen. Wie im Titel bereits erwähnt handelt es sich heute um die Serie "Band of Brothers".
Bei der Serie handelt es sich um eine Miniserie die nach dem Buch des Historikers Stephen Ambrose verfilmt wurde. Sie besteht aus 10 Folge mit einer Spieldauer von je ca. 60 Minuten.
Produziert wurde die Serie von keinem geringeren als Steven Spielberg und Tom Hanks (mehr Präferenzen braucht es denke ich nicht um die Qualität der Serie zu beschreiben). Grundsätzlich zeichnet sich die Serie auch durch ihre hochwertige Besetzung aus. Schauspieler wie "Damian Lewis (Billions), "Ron Livingston (JAG), David Schwimmer (Friends), Neal McDonough (The Guardian), Donnie Wahlberg (Blue Bloods) und viele viele VIELE mehr.
Die Serie beginnt mit der Grundausbildung der Easy Company in den USA, schildert unter anderem die Landung in der Normandie am D-Day, die Entdeckung eines Konzentrationslagers und endet schließlich mit der Besetzung von Hitlers Hauptquartier in Berchtesgaden.
Die Serie zeigt die Kriegsszenen ähnlich drastisch wie zum Beispiel der Film Der Soldat James Ryan, versucht aber ein psychologisch komplexeres Bild der Soldaten und ihrer Situation zu zeichnen und ist um eine differenzierte Darstellung der Handlungen der Kriegsgegner bemüht. So werden unter anderem die Rache von Niederländern an Kollaborateuren, die Ermordung von deutschen Kriegsgefangenen durch französische und amerikanische Soldaten, deren Diebstahl von Wertgegenständen sowie die Erschießung eines mutmaßlichen KZ-Kommandanten ohne Gerichtsverhandlung gezeigt.
Jede Folge außer der letzten wird mit in der Gegenwart aufgenommenen Kommentaren von Veteranen der Easy Company eingeleitet; die zehnte und letzte Folge schließt mit solchen Kommentaren die Serie ab. Dadurch bekommt die Serie eine unfassbare Authentizität und die Emotionen werden in den Episoden noch deutlicher dargestellt, so dass wirklich jeder Zuschauer sich in die Charaktere hineinversetzen kann.
Am Ende ist man definitiv den Tränen nah; eine Mischung aus Freuden- und Trauertränen.
Fazit:
Auch für diese Serie spreche ich bedenkenlos eine Empfehlung aus! Man erkennt sofort das hohe Produktionsbudget und die historisch belegten Fakten verschaffen eine revolutionäre Verbindung zwischen Hollywood Serienerlebnis und realem Kriegsgeschehen.
Trailer:
Hey guys,
Today I want to introduce you to a great series again. As mentioned in the title, it is today the series "Band of Brothers".
The series is a mini-series filmed according to the book of the historian Stephen Ambrose. It consists of 10 episodes with a playing time of approx. 60 minutes each.
The series was produced by none other than Steven Spielberg and Tom Hanks (I do not need more preferences to describe the quality of the series). Basically, the series is also characterized by their high quality cast. Actors such as "Damian Lewis (Billions)," Ron Livingston (JAG), David Schwimmer (Friends), Neal McDonough (The Guardian), Donnie Wahlberg (Blue Bloods), and many many MANY more.
The series begins with the basic education of the Easy Company in the USA, describes, among other things, the landing in Normandy on D-Day, the discovery of a concentration camp and finally ends with the occupation of Hitler's headquarters in Berchtesgaden.
The series shows the war scenes as drastically drastic as, for example, the film The Soldier James Ryan, but tries to draw a psychologically more complex image of the soldiers and their situation and is trying to differentiated representation of the actions of the war opponents. Among other things, the revenge of Dutch on collaborators, the murder of German prisoners of war by French and American soldiers, their theft of valuables and the shooting of a suspected concentration camp commander without trial are shown.
Each episode, except the last one, is initiated with commentary taken in the presence of veterans of the Easy Company; the tenth and last episode concludes with such comments from the series. Thus, the series gets an incredible authenticity and the emotions are shown in the episodes even more clearly, so that really every viewer can empathize with the characters.
In the end you are definitely close to tears; a mixture of joys and tears.
Conclusion:
Also for this series I express without hesitation a recommendation! You can immediately see the high production budget and the historically proven facts provide a revolutionary connection between Hollywood series experience and real war action.