KRAKEN AWD
12,000W FAT BIKE
$11,999.00
The Kraken has two wheel drive 12000 watts of power with a 6000 watt hub motor on each wheel and the thudbuster rear seat shock.
.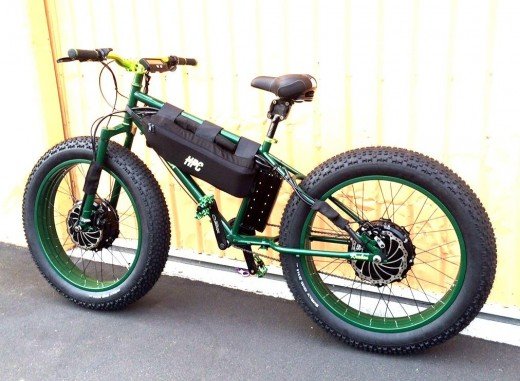 source http://hitrekcycles.com/product/kraken-awd/
I don't normally put up youtube videos but you have to watch this one.
.

source: youtube
The Kraken is probably the most powerful electric bicycle ever built. I hope you enjoyed the video when I watched it I just had to share it . Did you notice the sound when it wizzed by it sounds like a 500 race car going by. and I really enjoyed the race with the motor cycle.
.
WHY I'M LOOKING AT ELECTRIC BICYCLE'S
I enjoy biking on (( green-ways also known as rails to trails )) these are trails made over abandoned railroad lines by the state . Some are pavement some are limestone or gravel and some are even grass or dirt . But after riding for hours and still miles from the car I sometimes would really love to have some help in reaching my car. That's why I have started looking at these Electric Bicycle's . I will be looking at many different brands in my next posts .
Some of these E-Bikes I am not very impressed with but I am just posting them so you can see all the different ones available.
SOME OF THESE BIKES ARE REALLY COOL and very impressed with


.
THANKS FOR STOPPING BY AND I HOPE TO SEE YOU IN MY NEXT POST
CHEERS @otisbrown