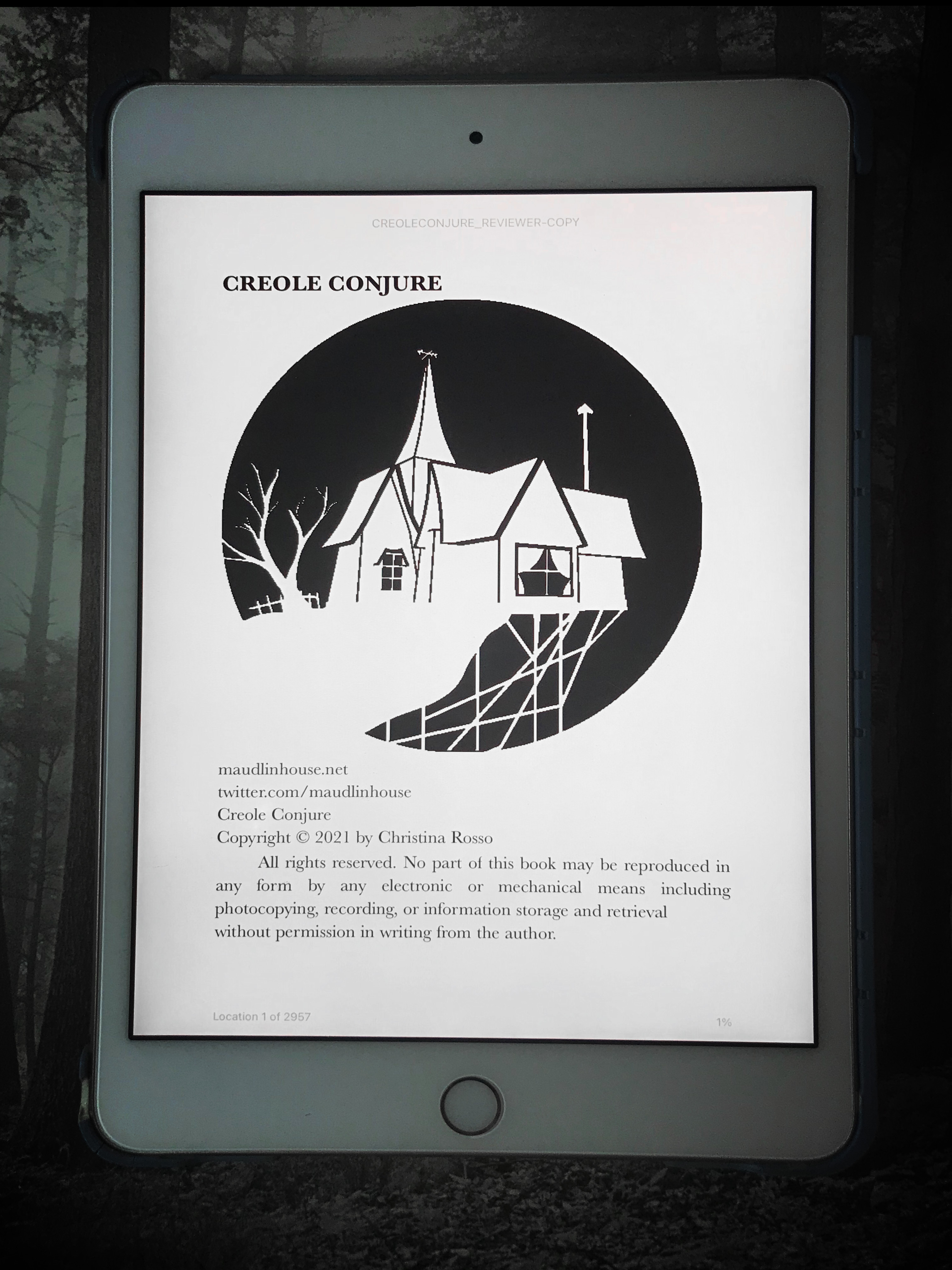 "Welcome to New Orleans, my dear tourist friend. You're in for a ride. Warning: keep your arms and legs inside the boat at all times. The gators have developed a taste for fingers and toes. Then there are the witches and the Honey Island Swamp Monster. Proceed with caution. And, as always, laissez le bon temps rouler."
Christina Rosso-Schneider, author of She is a Beast and indefatigable helm-driver of an independent bookstore and event space called A Novel Idea, has penned an incredible tale of suspense, intrigue, and swamp-witch sorcery in her first full-length novel. The aptly titled Creole Conjure conveys an image of New Orleans that is familiar despite its foreignness to many of the book's readers; one that boasts dark secrets and even darker magic waiting hungrily behind the facade of tricks, trades, and rampant tourism that seemingly keep the city afloat.
Creole Conjure does the many-faceted city true justice by weaving the stories of many a cursed and secretive inhabitant into a singularly long and twisted tale that stretches throughout generations and captures a myriad of strange magics that run wild on the New Orleans back streets and through the haunted landscape of the infamous Honey Island Swamp, a powerful hub for creatures and conjurers alike.
Rosso skillfully invokes parallels of the mythological River Styx within Honey Island Swamp, a gateway between the living and the dead that strikes of liminality and possibility, existing beyond the bounds of human morals and whims. Creole Conjure is rife with these considerations, ponderings of morality and mortality alike.
Reading Creole Conjure is an experience much akin to unraveling a knit sweater; realizing slowly as you venture further into the Swamp that you have met these faces, these names, these magics, before, that they are all connected in ways you might have thought impossible. There is a small victory in each new web woven and subsequently untangled, in each face suddenly recognized from elsewhere in the Swamp. Rosso has composed a story that exists far beyond itself, that suggests the existence of more, still-to-be discovered, in the wilting arms of Honey Island.
The element of suspense, too, only lends to this feeling. The further you stumble, the more you feel you must know, until you are as tangled in the story itself as those unfortunate (or fortunate, depending), characters within the Swamp. Rosso's talent with masterful plot-weaving, characterization, and visceral, direct prose truly makes Creole Conjure the impressive, narrative grimoire that it becomes as the reader ventures further into its depths.
Not for the faint of heart, Creole Conjure is a murder ballad, a revenge tale, a spell-song, a clever masquerade of short stories sewn together, and overall, a warning to those unaware about what happens when you underestimate curses, magic, and those generational witches with a fire for retribution in their veins.
You can discover Creole Conjure for yourself via Maudlin House, A Novel Idea, or Bookshop and you can find Christina Rosso-Schneider and her additional publications, including a collection of re-imagined feminist fairy tales, She is a Beast (reviewed here), here.
If you enjoy the work I do, consider supporting me on Ko-fi, subscribing to my Patreon where there are more Patron-only posts just like this, signing up for my newsletter, or simply checking out the rest of my work on my site. As always, thanks for reading!