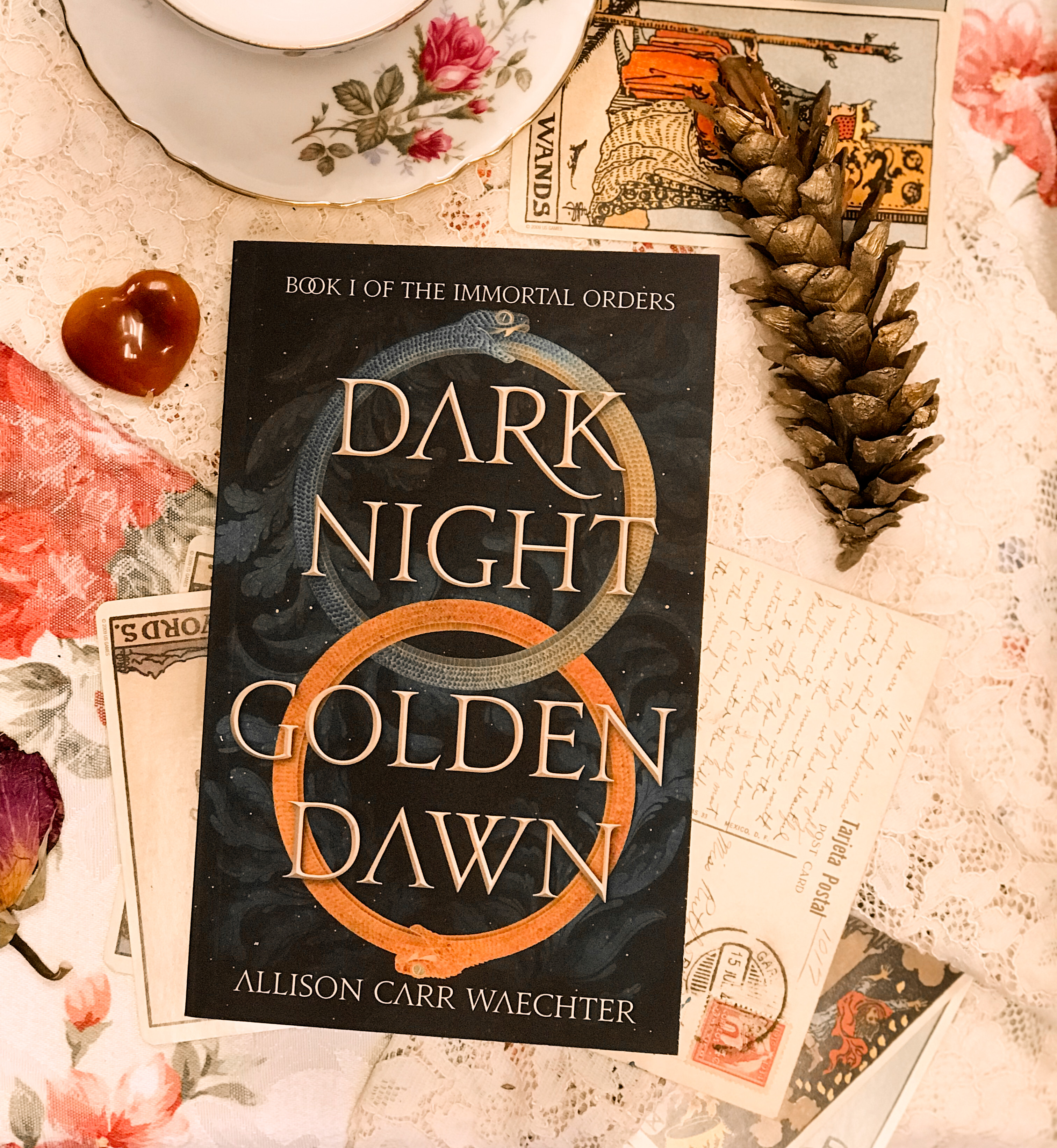 Love is an infinite well.
Harlow Krane is a sorcière like any other, just hoping to recover from her latest, brutal breakup in peace. Peace, however, is not what she finds lurking on the streets of Nuva Troi, home to many of the most powerful immortals and heads of the three Orders, a coastal city at the heart of the dominating country Nytra, on the created planet Okairos. Harlow is called upon to protect her Order and save their ancestral district from the clutches of the lofty (and often vicious) Illuminated Order, but the problem turns out to be wildly more complex than she could possibly imagine. Harlow finds herself tossed into a world that forces her to discover who she is, even as she battles gossip media and powerful authoritarianism both.
If you're not sold on this gorgeous book from that description alone, allow me to take a moment to list a few of my favorite things about it:
ancient lesbian sorcière moms run a rare and magical book trade in a gorgeous antiquarian shop with their five daughters
The Order of Masks consists of shapeshifts who are all nonbinary
the main character is a wonderful example of healthy bisexual representation
did i mention that the family business is a rare and magical book trade?
What's more, the opulent balls, dark secrets, old magic, and buried folklore that haunt these pages make for an incredibly immersive and furthermore, absolutely desirable read that keeps you hooked at the flip of every page. Waechter has skillfully created a system of magic that feels new and fresh, despite its homage to age-old characters such as shifters, vampires, immortals, and witches. The mental overload I often experience from delving into an unfamiliar magic system in fantasy literature was not at all present, but rather it was unbelievably easy to dive into this tale, and at the end, to be left wanting only for more.
As for the elephant in the room: the romance. I personally don't enjoy reading much of what could rightfully be considered romance, nor do I typically enjoy M/F sex scenes in a book; however, I enjoyed every single second of this work, despite knowing this about myself and knowing exactly what genre of book I would be reading. Waechter's talent with the narrative is evident in every page, and maybe it's just the simple fact of reading sex scenes not written by a man, but even I, the literary lesbian who takes herself far too seriously, could not find a single reason NOT to enjoy this book! The romance propels and pairs with the narrative spectacularly, and though in any other situation, with any other author, I think I might question Finn's motives or his reasons for his actions, I found him nothing but deeply loveable under Waechter's careful direction.
Between the deeply relatable and likeable characterization of the players in this story, the dark-academia-esque stage, the intriguing setting, the unique representation, the skillful writing, and the detailed attention to those strange inter-personal relationships between those with power and those without (an important lesson coming to us even from within a fantasy novel), I loved this read and plan on putting this novel in the hands of everyone I possibly can. My one complaint is simply that I will not have Book II in enough time to satisfy my rampant curiosity.
The paperback version of this book also features gorgeous cover art by Christin Engelberth, and the small illustrations throughout do not disappoint either. If dark academia meets Jane Austen meets Gideon the Ninth fits your fantasy, this is the book of your dreams! Recommended for fans of romance, adventure, or dark fantasy, or anyone willing to delve into this strange, magical world and give it a try.
If you are interested in purchasing this book for yourself, you can order it from The Spiral Bookcase, the independent bookstore that I work at! You can find Allison Carr Waechter and her other amazing novels here.
---
If you enjoy the work I do, consider supporting me on Ko-fi, subscribing to my Patreon where there are more Patron-only posts just like this, signing up for my newsletter, or simply checking out the rest of my work on my site. As always, thanks for reading!