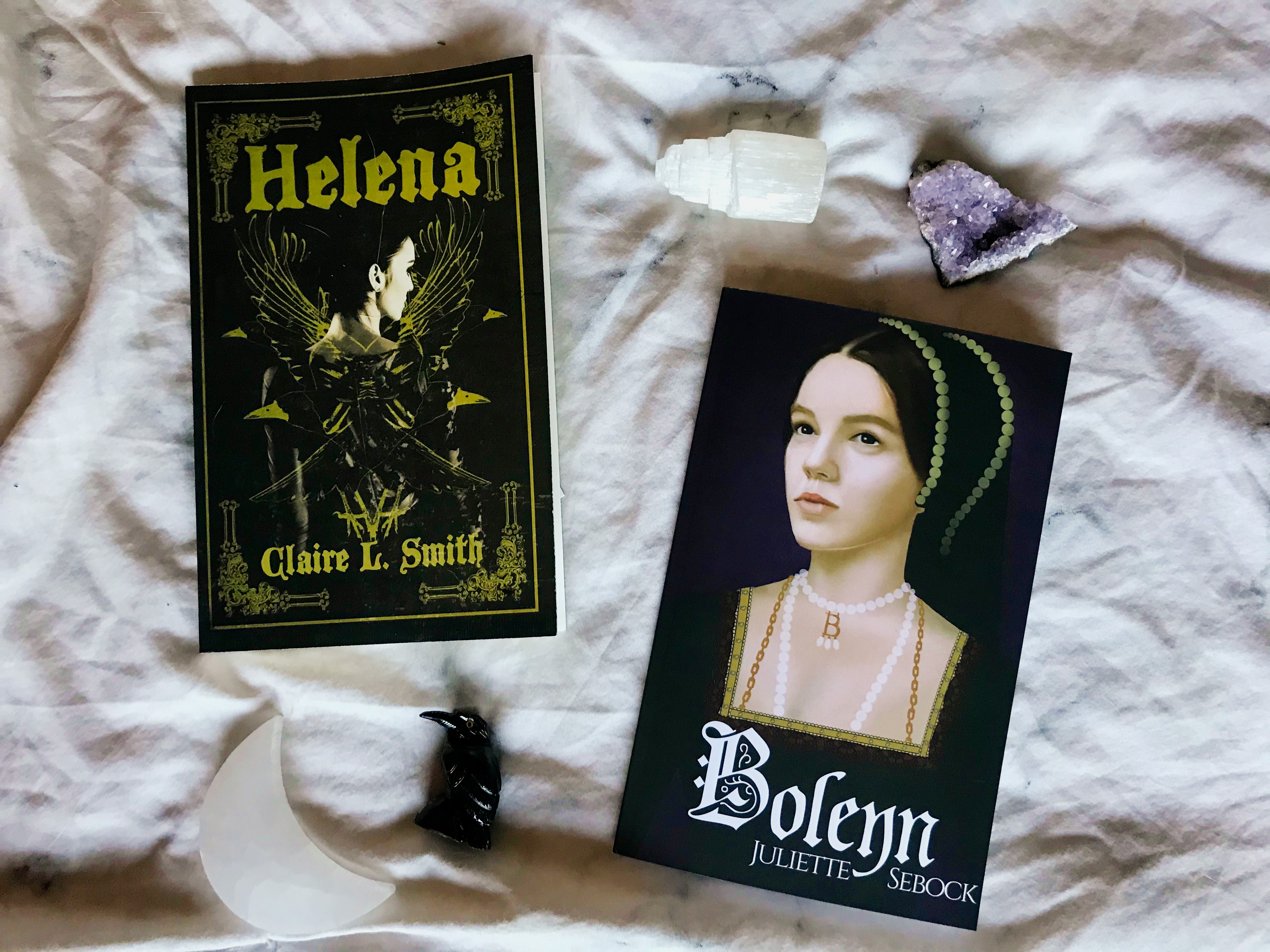 These two titles have only a handful of things in common: both are books by authors I discovered on Instagram and bought from independent bookstores/presses, both are about women, real or fictional, whose stories deserve to be told, and both are books I began and finished today. Let's dive into this double-feature review!
Helena by Claire L. Smith
"The open sky grumbled like an empty belly, the blotchy grey clouds smothering the blue behind it..."
Aside from being a fantastic artist and website designer, Claire L. Smith has a gift for gothic mystery. Helena is a masterfully woven tale that follows mortician and funeral director Helena Morrigan, living on the outskirts of London in 1855. Helena (so named for the iconic My Chemical Romance song and thus one of the many details that drew me to this tale), struggling with finances and the burden of her past, takes up residence near the graveyard and finds herself in close quarters with the lost souls that seek to claim her place in the moral world. Helena unwittingly finds herself thrown into a murder mystery that threatens to expose horrific family secrets and destroy new friendships alike, and Helena seems to be the only one holding all of the clues, diverted as she strives simply to live a peaceful existence that is, in the end, hers alone.
The premise of this beautiful Gothic novel is exactly the kind of tale I would ordinarily pick up on my own, and the contents did not disappoint. Brimming with haunting imagery, nods to classic Victorian tales, compelling characters and a dark, divine sense of mystery that spellbinds from beginning to end, Smith combines lyrical prose with vivid imagery and a driving narrative to create a spectacular, timeless work, outdone perhaps only by Helena's fascinating and epigrammatic character.
A few of my favorite touches (without spoiling the mystery) were the wonderful and characteristically secretive Victorian lesbian representation, and the nods to the classic Frankenstein, as well as the symbolic use of ravens throughout.
I only wish I could explore this work again for the first time. Beautiful and encompassing, I would deeply recommend this to fans of Gothic mystery, lovers of Mary Shelley, devotees of MCR, and anyone who feels innately drawn to a good story. I'm glad to have picked this up, and highly recommend checking out the rest of Clash's published selection as well.
Get your own copy:
Clash | Bookshop
Boleyn by Juliette Sebock
"But a man of woman born/can be by woman led"
Juliette Sebock's resume is vast and impressive, but the breathless lyrical content of Boleyn still manages to far exceed expectations. At once an immortal tale of a woman scorned, and an unfailing combination of history and fiction woven by an adroit pen, this collection faithfully places the lost queen in the context of a dynasty far bigger and far crueler than she, considering her motivations, hopes, losses, emotional turmoil, and the eventual bloodthirsty price of circumstance and survival in a man's world.
These poems deliver a perspective we have not yet had the opportunity to hear, absorb, and understand. They deliver nuance and tactfully mix fact with a voice that is new and familiar in lyrical simultaneity. From the contemplation in "Three Years a Queen (Reflections on a Reign)" to the concurrent regret and acceptance in "Haunted", this is every perspective we didn't know we needed from the rise and fall of one of England's most (in)famous women, and every retelling we've been waiting for, all collected in Sebock's talented hand.
For fans of Kailey Tedesco's Lizzie, Speak, Christina Rosso's She Is a Beast, or the Medusa's Daughters anthology (all reviewed on my page); Juliette Sebock astounds and enchants. I highly recommend Boleyn to even the most skeptical readers, unaware of Anne Boleyn's haunted existence.
Get your own copy:
TwistiT | Bookshop
---
If you enjoy the work I do, consider supporting me on Ko-fi, subscribing to my Patreon, signing up for my newsletter, or simply checking out the rest of my work on my site. As always, thanks for reading!