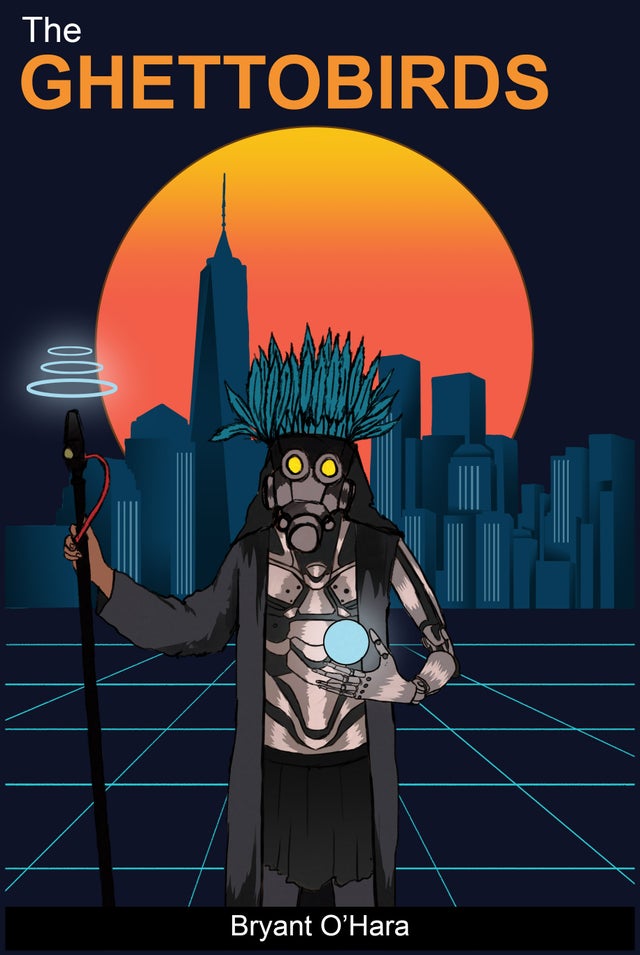 The Ghettobirds by Bryant O'Hara, a recent release from Philadelphia local publisher Frayed Edge Press, is an electrifying read that surprises at every turn. The Ghettobirds is a unique collection of Afrofuturistic speculative poetry centered around themes of resilience, adaptation, and transcendence, with a cast of reoccurring cybernetic beings called The Ghettobirds that dip in and out of the poems throughout. O'Hara draws from the natural and the artificial world to create a narrative that both explores a future and critiques a past and present from the strange perspective of both worlds.
The Ghettobirds spares no expense as it winds an eclectic grasp of language with an eccentric narrative — one that twists at its own whim. From the collection's startling introduction in the form of "Bad Mother", a chaos of devilish children and a play upon Humankind's archaic, "I dare you" relationship to Mother Nature, and vice versa, to its musical and phonetically poignant conclusion in "The Needle, The Record", O'Hara's compiled work keeps the reader on their toes and outside of their own minds.
This collection's strengths lie in O'Hara's skill in threading together long sesquipedalian terms ("deoxyribonucleic", "anaerobic", "psychokinetic, and "kaleidoscopic" being among my favorites) into euphonious lines and stanzas, creating music out of the written word and sound that leaps off of the page. There is a rhythm that weaves throughout this strange collection, one that compels the reader eagerly forward even as they are not sure they have fully grasped the page before.
The Ghettobirds is not a collection one can absorb in one sitting. There is much to understand about the nuances that string together each poem into the wider scope of an eclectic narrative, if one approaches poetry to gain understanding at all.
A thrilling approach to speculative literature and a clear testament to the linguistic talent of O'Hara, with a rich narrative background and a deep commentary on the existence of humanity past, present, and future, The Ghettobirds was a thoroughly invigorating read and is highly recommended for fans of speculative literature, futuristic poetry, or those interested in discovering the realities of The Ghettobirds themselves.
You can purchase The Ghettobirds here from Frayed Edge Press, an independent press located in Philadelphia, Pennsylvania, which specializes in publishing marginalized voices, overlooked literature in translation, and works that wrestle with important questions impacting contemporary society.
---
If you enjoy the work I do, consider supporting me on Ko-fi, subscribing to my Patreon where there are more Patron-only posts just like this, signing up for my newsletter, or simply checking out the rest of my work on my site. As always, thanks for reading!