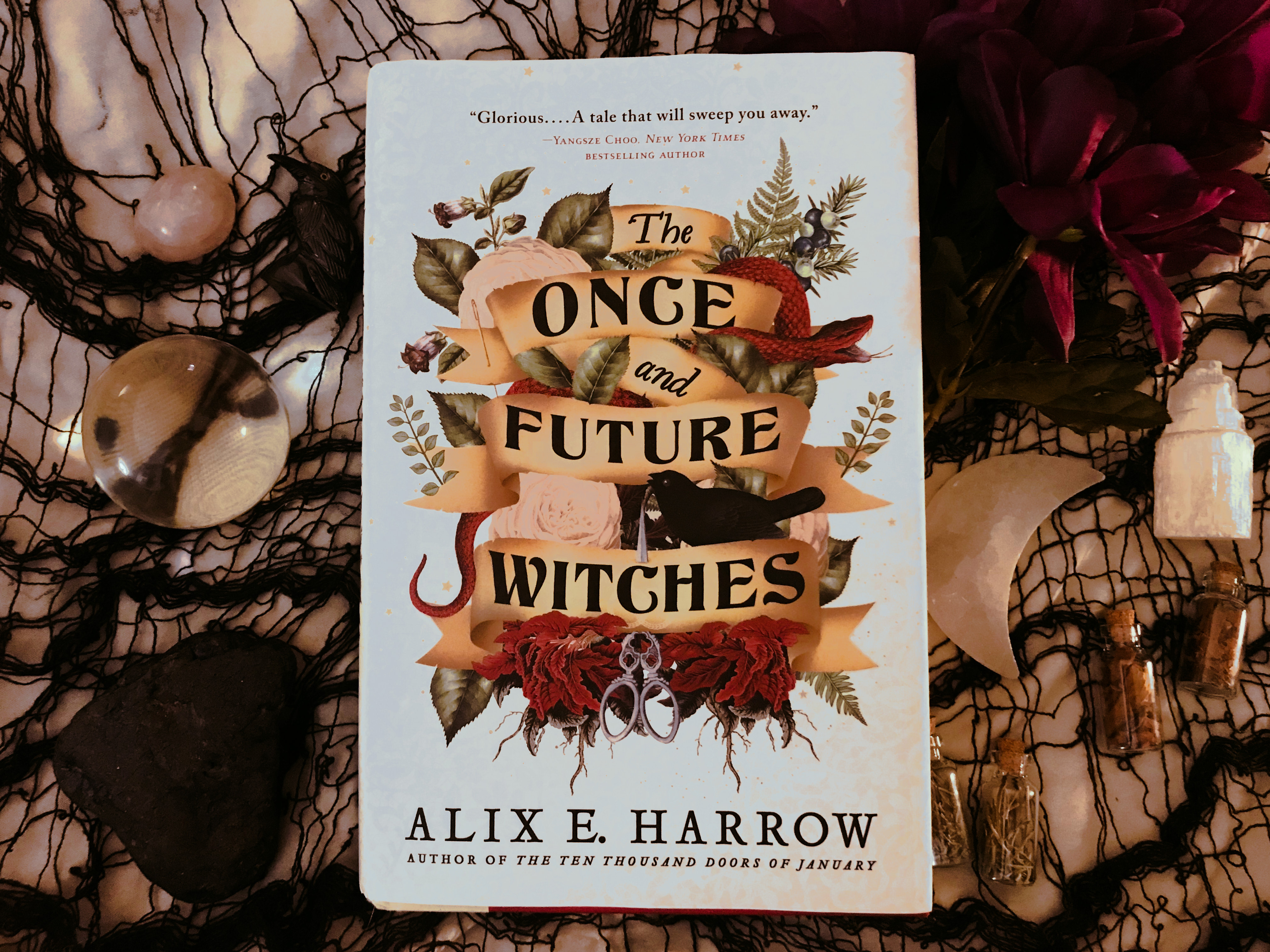 "Behind every witch is a woman wronged."
 In 1893, there's no such thing as witches. There used to be, in the wild, dark days before 
the burnings began, but now witching is nothing but tidy charms and nursery rhymes. If 
the modern woman wants any measure of power, she must find it at the ballot box.

But when the Eastwood sisters--James Juniper, Agnes Amaranth, and Beatrice 
Belladonna--join the suffragists of New Salem, they begin to pursue the forgotten words 
and ways that might turn the women's movement into the witch's movement. Stalked 
by shadows and sickness, hunted by forces who will not suffer a witch to vote-and 
perhaps not even to live-the sisters will need to delve into the oldest magics, draw new 
alliances, and heal the bond between them if they want to survive.

There's no such thing as witches. But there will be.

This is the summary of The Once and Future Witches by Alix E. Harrow as told by the inside of the book jacket, but there is much more to this book than meets the eye. Already, I was drawn by the allure of witches and early women's suffrage, but if that alone doesn't draw you in, stick around.
I was already familiar with Harrow from my read of The Ten Thousand Doors of January earlier this year, and though I loved this book quite intensely, and though I did not know it was possible, I was even more enamored by The Once and Future Witches.
Within the confines of the reality-adjacent, historical cities of Old (destroyed) and New (rebuilt) Salem, women fight for their right to vote amidst a witch-scare, pushed forward by a fear-mongering politician who is not what he seems (as most tend to be), and framed by the injustices that plague people of color in the United States, and the disparities between the lower and middle classes.
"That's all magic is, really: the space between what you have and what you need."
Harrow does more than weave an exquisite, compelling narrative, though she does this as well. With a remarkably vivid cast of characters and an arsenal of language that carries the weight of past folklore and fairytale, Harrow tells the story of three sisters alongside the tale of a city built atop blood and the thousands of women who have come before them, and in turn relays the centuries of magic and fable that have built the world to such a point.
The magic in this book comes from its ability to entwine classic fairytales, bringing them back to the common people in closer connection with the original intention of such stories and rhymes, and the historical significance of women in medicine and midwifery. I could spend days speaking on the wonderful sense of magic, myth, and wonderment that this story holds, but there is a deeper and more profound literary exploration that occurs throughout the book. Don't get me wrong, there is little more profound, in my opinion as a writer, than disappearing into the fantastical world of women and witches and the power they strive to gain, but I think it would be a great disservice to overlook the connections Harrow has made in this seemingly straightforward work of witch-fiction.
Fairytales in their original conception were tales passed back and forth via oral tradition, mainly by working-class women (doing so-called "women's work") in order to pass the time as they took care of household responsibilities such as cooking, cleaning, or sewing. These tasks kept their hands and bodies busy, but left room for groups of women working together to speak to one another, and often, the stories included details that were relevant to such working women, or reflect the tale as the product of the common person.
For instance, the tale of Hansel & Gretel originally included a house made of bread instead of candy. The house was only changed to one made of candy when a majority of the population was no longer going hungry, and the allure of an entire house made of bread could no longer be understood. Stories like the original tale of Rapunzel also carried the driving theme of hunger, with the pregnant mother of Rapunzel begging her husband to steal some lettuce from the witch's garden.
The major shift of fairytales from stories for the common person to stories to be read by anyone, including the middle and upper classes, occurred partially due to the collection of many major tales by the Brothers Grimm. The general consensus is that the Brothers did not actually go out to the people to collect these stories, but instead relied on the people to come to him, and it can be safely assumed that working people, especially women, were not apt to take days off to make the long journey on their own, just to relay some folktales. The stories we know from the hands of the Brothers Grimm are most likely the stories told by those who had the most access to free time, and were reproduced for those with the time and resources to learn to read and purchase newly printed books.
One of the many admirable qualities of this book is the way that Harrow returns these tales to their rightful owners, subtly tying the stories to their long-forgotten histories and using them as a hereditary component of the book's sense of witchcraft. A slight spoiler, but one of the plot points throughout the book is that the main characters originally believe witchcraft to be a matter of blood inheritance, but discover that it transcends this in many different ways, some of which align with the power of storytelling and spells passed from generation to generation.
The other great thing about Harrow's attention to these stories in forms that speak most to their original tellings, perhaps not academically but in the most authentic spirit, is that she includes not only European folklore, but attributes folklore from a diverse cast of individuals drawing from across the globe. Once the main characters begin to realize that magic is not transferred by blood, but by words and ways and other inherited, generational considerations, it is mentioned many times that different types of magic and folklore come from a number of different backgrounds, and each is as effective as the other, and Harrow pays tribute to the historical backgrounds and needs for different types of magic as well.
"One witch you can laugh at. Three you can burn. But what do you do with a hundred?"
Another major theme of this book explores "the role of women". As we enter New Salem, we see suffragettes fighting for the vote and mill women being exploited (with a subtle criticizing nod to the Triangle Shirtwaist Factory fire). As we move forward throughout the book, danger during childbirth and natural healing are both major themes as well, and ultimately there are many pieces of the narrative that explore the historically-accurate shift from midwifery being a common practice to men accusing women of witchcraft for their talents in childbirth and with natural medicine.
There are many subtle nods to the cultural rise of male doctors and men in medicine, ignoring the role of women in taking care of other women for the pursuit of science. Often, early witch burnings were simply the burning of midwives with high survival rates for the sake of male leaders' suspicions. (For more reading on this note, Witches, Midwives, and Nurses: A History of Women Healers by Barbara Ehrenreich & Deirdre English expands on it more than I could ever hope to in a single essay. You can purchase a copy straight from the Feminist Press, and I highly recommend giving it a read!)
"Don't forget what you are. Everything."
The third and final theme that carries throughout this book is the idea that, though written knowledge is a valuable asset, it is not the end-all. Humans have carried stories with them throughout most of history using oral tradition, and in The Once and Future Witches, the women also carry their stories and spells in remembered words, passed from person to person.
A woman of color also addresses the classism in who is writing down what knowledge, how they interpret it, who has access to it, and who it pertains to. She mentions that written documents such as the Constitution, have only applied to a very few people.
There is a great generational significance to witch-hood, not just in bloodline but in one's group of trusted companions, Sisters, Daughters, etc. A character mentions the Library of Alexandra and reassures that the knowledge will rise from the ash again, rebuilt, as it always does. There is something comforting in this story, that expounds so greatly on the inherent power of women and those with the will, telling its reader that there is a generational inheritance they retain that could change the world, should they want it to.
"'Witching and women's rights. Suffrage and spells. They're both...' She gestures in midair again. 'They're both a kind of power, aren't they? The kind we aren't allowed to have.'"
As I said, I could talk about the storytelling aspects of this books for days. There is plenty of diverse representation in such a clear, natural manner, from a stunning queer love story to a vast cast of incredible women, to a perspective on working immigrants in 1893 America and the communities of color in New Salem's New Cairo. There was so much I loved about this book and nothing that I didn't, and overall I would recommend it to pretty much anyone and everyone that I possibly can.
As someone currently promoting the Kickstarter for a queer fairytale retelling BEWILDERED by Jessie Ulmer for Sword & Kettle Press, a press that specializes in fairytale retellings and queer, feminist literature, this was also perfectly relevant to what I've been immersed in lately. Learning about the history of fairytales and what caused and inspired them to be created in their original form, and then transmuted over time, is both sociologically interesting and interested from a women's studies perspective as well.
Again, I would highly recommend this book to anyone and everyone, and am half-tempted to read it again immediately after finishing it just to find a new perspective on it. For lovers of witches, women, and folklore in literature, The Once and Future Witches was written for, and is waiting for you.
If you want to purchase your own copy of The Once and Future Witches, you can use my Bookshop affiliate link or buy it from The Spiral Bookcase, my favorite local witchy shop. Happy reading!
---
If you enjoy the work I do, consider supporting me on Ko-fi, subscribing to my Patreon where there are more Patron-only posts just like this, signing up for my newsletter, or simply checking out the rest of my work on my site. As always, thanks for reading!