}
This is the full 26th chapter of my book Paper Squares and Purple Stars: My Life as a Rave Outlaw. I have decided to share the whole book here for free. The book is already available for purchase at www.raveoutlaw.com, and the mobile game is coming soon, www.immortalgames.co.uk.
If you missed chapters 1,  2,  3, 4, 5, 6, 7, 8, 9, 10, 11, 12, 13, 14, 15, 16, 17, 18, 19, 20, 21, 22, 23, 24 or 25 go back and read those in order first.
Chapter 27 - Crabs in a Bucket (Spring 2010)

That summer, I received an email from the area's biggest promoter, Hulk of Silver Spoon Promo. I always saw them as my corporate rivals, but I accidentally fell into their good graces a few weeks before when I was supportive after one of their parties got busted. The Buzzboard, a message board that was extremely influential at the time, was filled with complaints about the show. I never knew that people could get so pissed off over a party. Even though I hated Silver Spoon, I took the opportunity to write a lengthy rant sticking up for them, pointing out that even though I had my own disagreements with them, our real enemy was the police department. Really, it was just an excuse for me to get on a soapbox about the government, but that post seemed to change their impression of me.
In the email, Hulk said that he appreciated what I did, and he asked me to host a stage at their upcoming event "Massive Season." Of course, I took him up on the offer, this was my chance to break into the mainstream. I felt like this show would finally get my crew the respect and recognition that we deserved, and in many ways it did. It showed that I could survive outside of Galaxy, which was something that I had been trying to prove since the first time I left. They asked me to host a hard dance stage, since that was the kind of thing that I had developed a reputation for. Unfortunately, the deal that I got wasn't exactly as advertised. My "stage" got thrown in some closet that was hard to find and only held about 50 people, so it didn't get very much attention.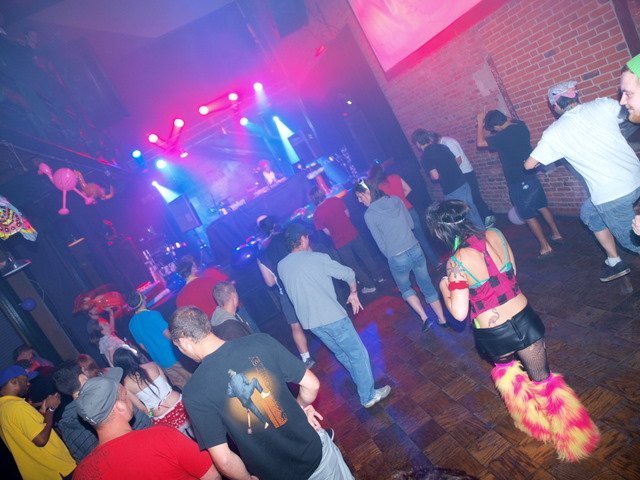 I felt like they sabotaged me, and they weaseled out of paying me at the end of the night too. I decided to keep it professional and not make any complaints in hopes that my sacrifice would turn into some type of big break later on down the line. I wasn't happy about how they treated me but being involved with that show helped me get some much-needed recognition from mainstream clubs. Having that name recognition helped me secure a few nights at some of the city's most legendary venues like Sonar and Paradox. Unfortunately, those venues were so expensive that it was nearly impossible to make money, even if we had a decent crowd.
The rental fee alone at Paradox was close to $4,000, and in a venue like that you need to pull a pricey headliner, or maybe a few of them, so that's at least a $10,000 party. When all was said and done with those events, we ended up losing a few thousand dollars of Enzo's money. I felt terrible, but he was surprisingly cool about it. Still, after losing him and his crew so much money, I started looking for other venues that would cover my expenses like Galaxy did. My search led me out of town, up into central Pennsylvania, since DC was out of the question. We did a few shows at a club in York called XS and in the beginning things were going well.
The place was really upscale, and the owner was loaded. He had no problem throwing down money on the lineup as long as I let him keep half the door and 100% of the bar. I had high hopes for the place, but as with many of my other endeavors, it didn't live up to my expectations. The security hated us there, they were always kicking people out and shaking people down. It really seemed like they didn't want us there.
This was something that I experienced at almost every club I went to because security guards typically see ravers as a problem, but we are among the most well-behaved crowds out there, if you just ignore the drugs. Sadly, we only lasted at that place for a few shows, but while I was there, I met a middle-aged man who said that he had a warehouse nearby and that he would be happy to have our crowds. Like many of my encounters, it seemed as if the universe was always pushing me forward, like fate was making sure that there was always a better opportunity around the corner when one door closed behind me.

Not long after my last party at XS, on a hot and sunny day, I took a drive up to Hershey to check out the warehouse and meet with the owner. It was in a newer industrial park, so it was mostly empty warehouse spaces and machine shops, but it was fairly nice for a place like that. I pulled up in front of the venue in the early afternoon, and the owner was standing outside. The guy's name was Randall, and he was tall with gray hair and glasses, maybe in his mid-50's. I guess you could say he was well-dressed, but from my perspective, he just looked like another square yuppie that you would find on a golf course. When I stepped out of the car onto the pavement, he greeted me and led me inside. As soon as he opened the door, I instantly fell in love with the place. It was huge, probably twice the size of Galaxy, with two giant rooms and a professional stage setup, with top of the line sound and lighting. The only real drawback to the place was that they didn't serve alcohol and had no liquor license, but I saw that as an advantage because it meant that the place probably wasn't on the radar of the local cops. There was no smoking inside either, which was a Pennsylvania law. I quit smoking a while ago and hate the smell of cigarette smoke, but I would rather keep the smokers inside to maintain a low profile, as I explained earlier. Luckily, at this place, there was a secluded field out back that ran along a set of train tracks and wasn't visible from any roads. Randall said that we could have everyone park and smoke back there, so they weren't attracting attention out front. It seemed like this guy understood exactly the kind of party that I wanted to throw. After I checked out the venue, we talked over some details and scheduled a few shows for the summer. I was determined to make this place work, so I came up with any and every gimmick that I possibly could. I was extremely blatant about the fact that the venue was a warehouse on the flyer, and even though we were allowed to publish the address, I said that it was a "secret warehouse location" and instructed people to sign up for an email list to get directions to the spot. I was taking a page out of Broski's book, since I had just watched him shift the balance of the scene by throwing a "secret underground party" in a perfectly legal location. I didn't feel great about it, but I was desperate at this point, and at least the venue was an actual warehouse, so I wasn't being entirely dishonest. I used the tried and true pajama party theme and called the show "Wake Up." It really seemed like this place was meant to be, it checked all the boxes for things that I expected out of a venue, and it appeared to be the perfect place to reinvent myself.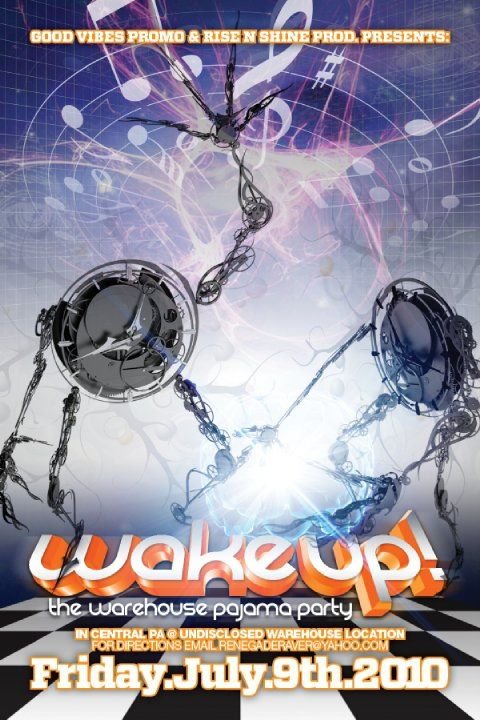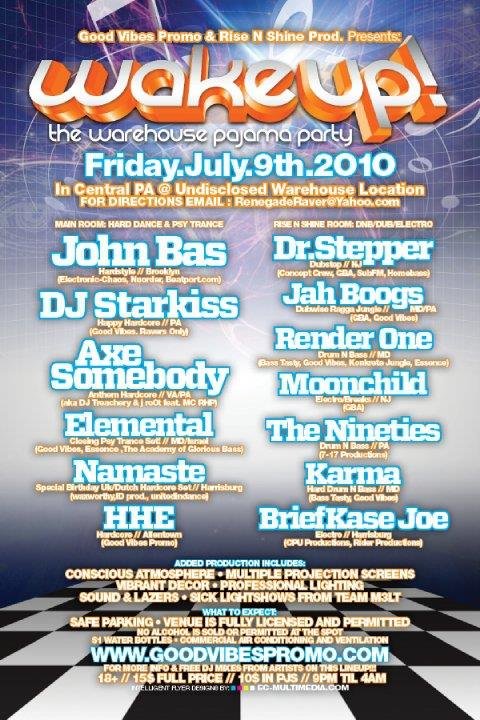 On the night of the show, I was excited to be building a new home, and I could feel the magic in the air again. My whole crew was there to help me set up, and all my biggest supporters were lined up out back before the show even began. I was running around like a madman, as usual, trying to get the sound in order, make sure all the DJs were playing on time, and doing regular checks to make sure the coast was clear outside. Even though we had an early rush, the crowds began to taper off halfway through the night, so it looked like I would have just enough people to cover my expenses, but not the sold-out show that I was looking for. I was so busy running around that I couldn't really do much work on the hustling end, where I usually made most of my money.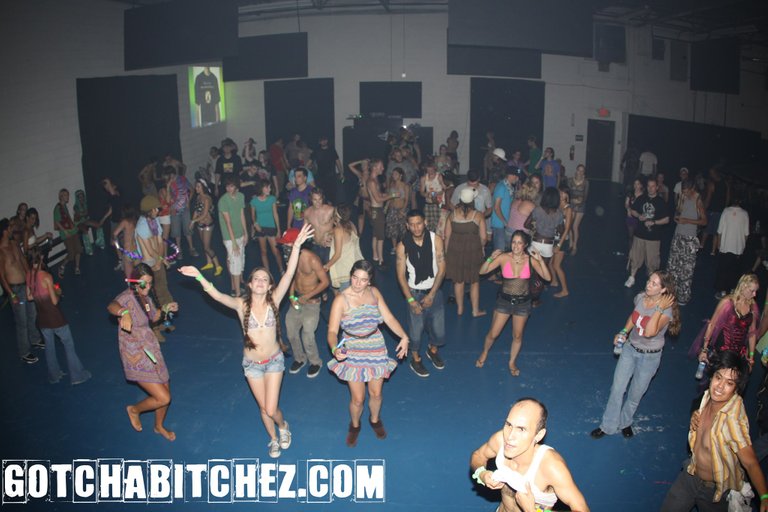 At the end of the night, I went over the numbers with Randall, and I ended up with nothing. He gave me a long list of excuses for why I wasn't getting paid. He told me that my show was too expensive, that the guest list impacted the bottom line, and that maybe a few people snuck in. I felt that maybe he was being shady, but it wasn't a sold-out show, and I knew I was just on the line of breaking even, so I decided to keep it cool and plan the next party better. I desperately needed a new full-time venue, and I didn't really feel like I had any other options, so I avoided having a confrontation.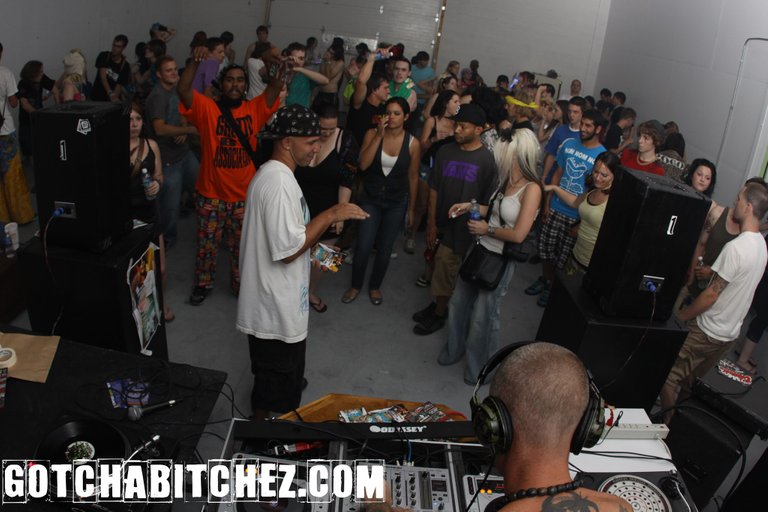 I planned the next show as a sort of test to see how well I could trust Randall. For the following party, I made sure that I had someone watching the door to see exactly how many people came in and how many paid, which is something that I should have being doing at every show anyway. I also eliminated most of my expenses so he could no longer hide behind the budget. I brought the expenses down to nearly zero by making it a charity show, asking the DJs to play for free, and promising that I would be giving 100% of my profits to charity. Of course, I still had to pay for the venue, but everyone else was donating their time and equipment to the cause. The charity I picked was a group that was trying to stop fracking since that was a growing problem in that part of Pennsylvania. I named the show after that old movie Ferngully, where the fairies saved the forest from the mechanical oil monster. I wanted to turn this place into our new home, but I had to see if the owner was going to screw me over and make all my efforts pointless.

I really can't remember much about the party, I just remember the end of the night when it came time for me to get paid. I had easily double the number of people as last time, and there were hardly any expenses, so I was expecting some kind of payout to give to the charity. Even if he was dishonest about the numbers and took a little bit off the top, I expected some type of payment. When I approached him at the end of the night though, he acted like he couldn't remember the details of our agreement and seemed offended that I even asked him for my cut of the revenue. He then told me that he saw my people hustling in the party so I should be happy with the money I was able to make on the drugs. He was shaking me down, he was taking the door money because he felt entitled to it, and he knew that since I was dirty, there was nothing I could really do about it. He acted like nothing was wrong, and then even started asking when I was going to do another show! I couldn't believe that he had the audacity to think I would continue to work for him after that. I stood there frozen, about to snap, I had no clue what to do. I knew it wasn't going to be possible for me to talk any sense into him, so I just told him that I was never going to do another show with him, then I turned around and walked away. He followed me to the door trying to explain how he had expenses to cover and how I needed to make sacrifices for the club, but I just kept walking in cold silence. Back in the parking lot, everyone was gone except Enzo and his crew, they were waiting for me. It must have been obvious from my face that something was wrong, because as soon as I walked out the door, Enzo shouted, "Yo, what's up man, did that motherfucker pay you this time?"

"He stole every last dollar," I said, as tears began to run down my face.

"You don't want me to get gully motherfucker! You better pay up!" Enzo yelled as Randall backed towards the door in terror. Enzo charged for him but wasn't fast enough, Randall managed to jump inside, slamming and locking the heavy steel door behind him.

"You think you can hide from me motherfucker?! It's curtains for you old man!" Enzo yelled.

He was enraged, but it almost looked like he was enjoying it at the same time. It seemed like he lived for moments like this. I was always a bit weary of Enzo's dark side, but I was grateful that I had some muscle to back me up, since I tended to fall apart in situations like this.

Enzo started kicking the door to the warehouse, and when it didn't budge he said, "Alright, fuck this, where's the old prick's car?"

"It's that Mercedes right over there on the side of the building," I said, wiping tears from my eyes.

A massive grin appeared on Enzo's face, "Good...Good. Hey old man, you might be able to hide in there from me all night, but your whip is out here motherfucker!" he shouted.

Enzo walked to his car and popped the trunk, then he stepped around to the back and pulled out a baseball bat.

"OK guys, I'm gonna teach this slimy fuck a lesson, so get in your cars and get ready to leave, I'm betting this bastard has an alarm," Enzo told us casually as he walked off towards Randall's car.

Nobody asked any questions, we all just got in our cars and looked out the window to watch Enzo destroy that Mercedes with his bat. He walked up onto the hood of the car and shouted, "Benz life motherfucker!" before taking several hard swings at the windshield and shattering it to pieces. Enzo jumped down and began to walk around the car shouting to Randall inside as he smashed out the other windows one by one. The alarm was screaming, but Enzo didn't seem to care, he just kept pacing back and forth, taunting Randall and putting dents in his car.