Established in 2018, MXC has become a one-stop service provider. It is now able to provide users spot, margin, contract, leveraged ETF, Index Products, Contract, PoS Staking, OTC services.
It emerges as one of the fastest growing exchanges in the world. In 2019, the daily trading volume of MXC took 5% of the world's digital market. Besides, leveraged ETF products on MXC took lion share in the world of the same kind of products based on data from CryptoRank. On top of that, It obtained regulation-compliance licenses in many countries, like U.S., Canada, Australia, etc. and is able to carry out digital asset service in these countries.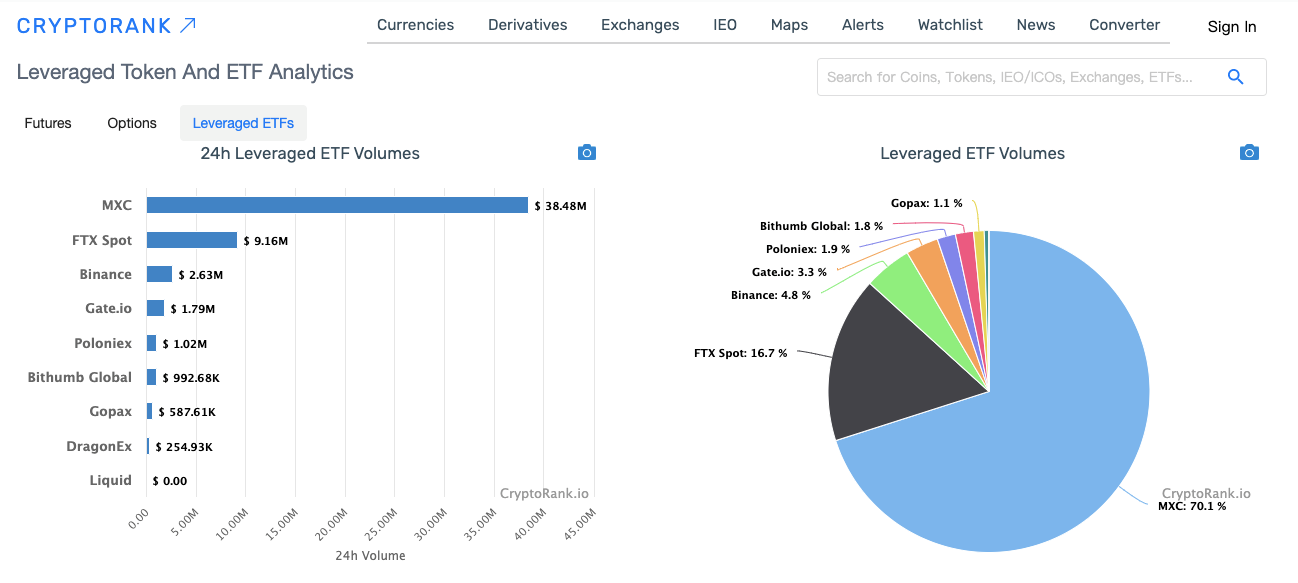 In the aspect of OTC trading, MXC established partnership with Simplex, a European regulation-compliance payment company, and Banxa, a legal payment company in South-east Asia, allowing users to use Visa and Mastercard to buy cryptocurrencies, like BTC, ETH, etc. directly.
In the aspect of spot trading, MXC now support over 200 trading pairs. In addition to the top market cap coins and token, it has listed many high-quality DeFi projects, like COMP, MKR, SNX, KNC, LEND, REN, BNT, IDEX, SWTH, OKS, RUNE, KAVA, BAL, UMA, etc. as well as projects of Polkadot ecosystem, like KSM, EDG, PCX, RING, etc.
In the aspect of margin trading, MXC supports the largest number of margin pairs among all exchanges across the globe, with 2 – 10x leverage available. The automatic loan and repayment functions are available. With the coming of the upgraded margin system, the depth, price difference, loan efficiency and matching efficiency have greatly updated.
In the aspect of leveraged ETF, MXC, learned from traditional financial products, introduced in re-balance system, so there's no liquidation risks in buying leveraged ETF products. Leveraged ETF tracks the changes of the underlying assets with 3x leverage. "3L" products refer to 3x long, while "3S" products 3x short. Now it 3x leverage for 29 cryptocurrencies, including BTC, BCH, BSV, DASH, ZEC, ATOM, XTZ, ALGO, etc.
In the extreme market on March 12, 2020, BTC plummeted a high of 52.36% and the ordinary 3x leverage products for BTC plunged by 157.08%. However, with the re-balance system, the BTC3L product on MXC decreased by 92.96%, lower than the ordinary 3x leverage products and protect the interest of users in some extent. Furthermore, in the following market, the BTC3L product rose by 236%, higher than the 167.41% of ordinary 3x leverage product.
The leveraged ETF once became the label of MXC, "Huobi's OTC, OKex's contract, MXC's ETF and Binance's spot." The popularity of leveraged ETFs has attracted many exchanges to follow suit.
In terms of index products, MXC officially launched index products under the ETF zone, including decentralized storage asset index, mainstream cryptocurrency index, DeFi asset index, public chain index, 2020 halving cryptocurrency index.
MXC index products are similar to traditional financial fund products, and each index product is composed of multiple constituent cryptocurrencies. According to the announcement, the MXC Index product will be adjusted according to the average daily turnover ratio of the previous 30 days, that is, the proportion of the component cryptocurrency will be adjusted. If the target does not meet the representativeness and investability, the index may be removed from the product.
Decentralized storage combination components are STORJ, LAMB, GNX, BLZ; mainstream currency combination, components are BTC, ETH, LTC, EOS, ETC, BCH, BSV, XRP; DeFi asset components are KNC, ZRX, KAVA, NEST; Public chain combination, the components are TRX, VET, NEO, QTUM, BTM, ONT, IOST; halving index components are BTC, ETC, BCH, BSV, ZEC, DASH.
Index products can help users not miss the bull market. Any one of the constituent cryptocurrencies increase, the user can make gains. Secondly, it can help avoid the risk of a single cryptocurrency's plunging. In addition, it can also help save investment time and improve investment efficiency.
In terms of contract transactions, MXC upgraded the contract trading system and launched a new version of the contract in June this year. MXC contract trading currently supports free adjustment of 1-100x leverage multiples. In the isolated margin mode, users can still adjust the leverage multiples after opening a position, and support isolated margin conversion to cross margin, which can help users pursue the market with all their strength.
It supports users to place stop profit and stop loss orders at the same time, while occupying only one margin. It supports Post Only (Maker only) and IOC (Immediately or cancel all) strategies. Under Post Only (Maker only), the user will not immediately place an order on the market when placing an order, to ensure that the order is always Maker (pending order), saving handling fees. IOC function, that is, if the order cannot be fully executed, the rest will be cancelled.
For example, the BTC price index of MXC selects the bitcoin spot prices of 6 exchanges, namely: Coinbase, Bitstamp, Binance, Huobi, OKEx, Bitfinex. If the spot price of an exchange deviates from the median of all exchanges by ±3%, the spot price of the exchange is calculated according to the median of ±3%. Use reasonable prices for liquidation, which are based on index prices.
In addition, underlined proper nouns on the webpage, as long as the mouse points up, the corresponding explanation will be displayed, which is convenient for users to understand.
In terms of PoS pools, MXC supports three types of PoS: Saving, Staking and Lending. Among them, PoS saving does not need to lock assets, and holding assets can obtain income.