After a rough few days, BTC does have some of the indicators on its side at the moment: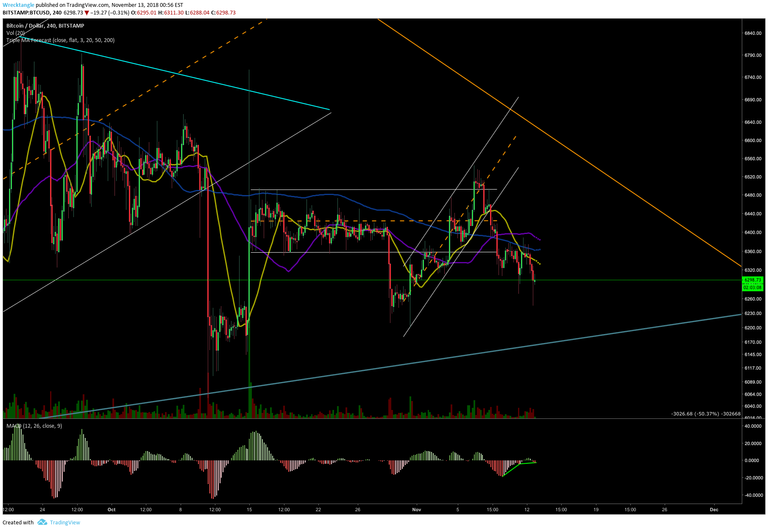 Firstly, we are showing a lot of bullish divergence on the MACD appearing on the reliable 4HR time frame. Secondly, we are selling off, but with very little sell volume as well. That gives me a lot of confidence we may see a bounce fairly soon. Now I'm not sure exactly how big the pop would be, if in fact it does obey the oscillators, but it seems it might be fairly substantial.
The only problem is if we continue selling off more than we are now, we would negate the divergence because the gap is pretty small. None the less, we do have it so we take what we can use during the current time frame. We are also below all your moving averages with them kind of fanning down it looks like. Thats definitely not what you want to see so I'm still a little hesitant. We need a few green candles to take us back over them and start building some momentum. The shorts have also deleveraged so there is much less confidence of a further downward move at the moment. Whether thats bullish or bearish is always up for debate but what we can agree on is that there is less certainty on a huge spike down with the retail traders. Even the longs are closing as well so that should support the indecision.
We are still well inside the parameters of the symmetrical triangle and the descending triangle still so there's no need for panic yet until they break, which we have not yet. Only then will we see the major selling. Until then, I expect more of the up and down movements within the triangles. Right now, it looks the next move will be up. Time is running out as BTC is getting squeezed tighter and tighter between the end of all the long term resistance and support zones.
Hope this helps!