It wasn't long ago when it was believed that every company should run a research and development (R&D) department. 
Actually, in case studies that were included in textbooks during the 80s and the 90s, one of the reasons that were listed, in order to explain a company's poor performance, was the existence of an underperforming and/or underutilized R&D department, or even not having any such department at all. 
On top of that, it was argued that an ambitious company that aimed to obtain a considerable market share should allocate about 10% of its income to research and development activities. In this way, it could build a corporate culture oriented towards innovation, and follow the latest technology trends, based on which, it could develop a strong competitive advantage.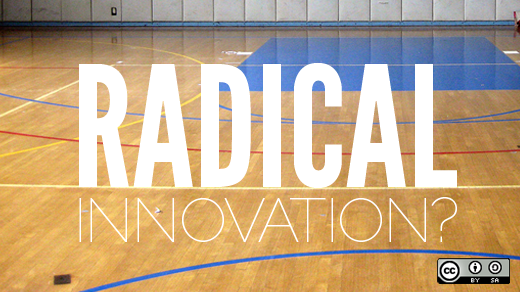 Image originally uploaded by opensourceway on Flickr.com and reused under Attribution-Sharelike 2.0 Generic (CC BY-SA 2.0) Creative Commons License  
Many companies have successfully followed the practice of operating an R&D department over the years, and these companies were rewarded by always finding ways to lead the market and be the first to adopt cutting-edge technology, if not create it themselves, while others seemed to ignore the benefits of research and development, and didn't even bother to apply such a practice at all. 
However, nowadays, an R&D department is no longer seen as a necessity by even more companies than in the past, and these companies justify their reluctance to run an R&D department on the grounds that they already find it hard to make ends meet. They believe that an R&D department is a luxury that they can't afford in today's hard economic climate. 
How much things have changed since the 90s! 
In the same line, assuming that marketing myopia was another "luxury" that companies could afford in previous decades due to their overenthusiastic pro-R&D approach, at least today's companies seem to have got rid of this problem by simply not being much interested in research and development, or just showing occasional interest in it. Isn't that a strange line of thought? 
Perhaps consumers sometimes have so much innovation to live with that they can't digest anymore, at least in the short run. It's like when you feel very hungry and you want to have something to eat as soon as possible, but after you have eaten as much as you can and you are full, you don't want to see anymore food for a couple of hours, until you digest it and you feel hungry again. 
Research and development is an ongoing operation that needs time to bear fruit. As a company owner or manager, you can't just find an empty office, appoint an executive as Head of R&D Department, give them whatever equipment and funding they ask, and expect to have results from day one. Bear in mind that those companies that have persistently and constantly followed a well-grounded research and development approach have emerged as uncontested market leaders in their industries, enjoying long-term business success. 
Further reading:
Does your company need a research and development team?