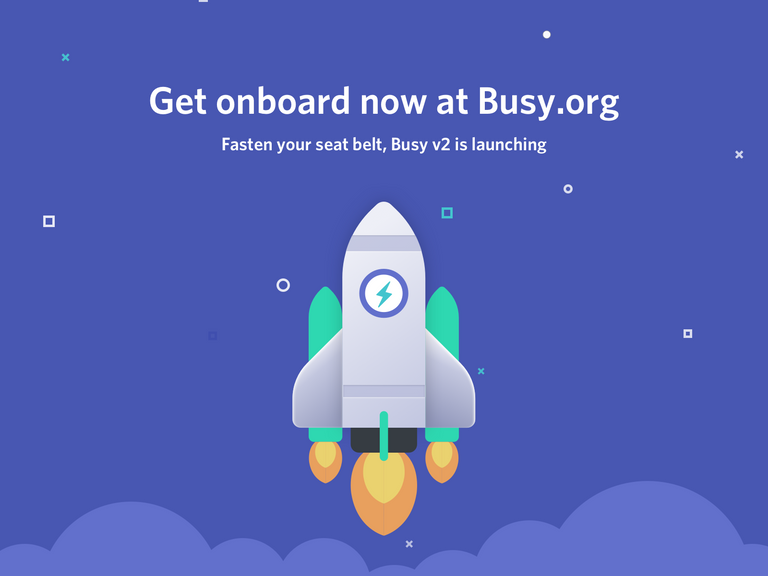 The team Busy is proud to announce the public release of Busy v2! We invited many of you to test out the private beta, thank you for all your contributions. SteemFest2 is the perfect timing for a public release so that everyone can easy get access, test and so we can get more feedbacks.
---
Busy v2 uses Steemconnect v2 for login, and posting API.
---
SteemConnect is a layer built on top of the Steem blockchain that allows you to connect to authorised apps in a secure and convenient way.
SteemConnect will be the infrastructure that lets any developer or entrepreneur to build on Steem without having to worry about security or the signup process, making it that much easier.
SteemConnect is a community project. That's why it's open source under MIT license, for anyone to use (and contribute to) as they see fit!
Read @steemitblog announcement
With SteemConnect2 you need to grant @busy.app permission to post on your behalf (delegate posting authority), so the app can post for you. This operation require at least your active key when you authorize the app, then you can login with your memo key or posting key. You can revoke @busy.app anytime using this link http://v2.steemconnect.com/revoke/@busy.app
The active key is only used to sign the transaction in your browser then discarded, nothing goes or stay to the server.
What's Busy?
---
Busy.org is an open-source social network and communications platform that includes a variety of rich features and functionalities.
An open platform for an apps ecosystem: Busy's goal is to build an all-in-one platform and allow many apps and features to flourish on top of the Busy social media platform. We are offering an open-source and secure social network layer to bootstrap any Apps (like Facebook Apps does, or WeChat services), games, community tools, marketplaces for good or services, using Steem.js API, SteemConnect and the Busy.org 'framework.'

An open-source project and vision, and an alternative interface to Steemit.com: we believe in wisdom of the crowd, open decision-making, taking a collaborative and transparent approach, that's why all our work is open source. Everyone is free to contribute, by all appropriate means to accomplish our mission. Not only coders but also designers, writers, translators, testers, marketers, advisors, etc. We're partnering with @utopian.io to incentivize and reward open source contributions on Busy.org. (Check on Utopian)
Busy v2 public release
---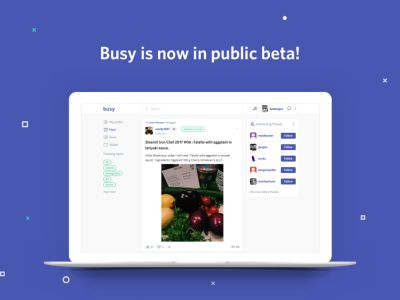 A few month ago, we decided to stop all further development on the first version of Busy, running on busy.org, to focus on our new version.
Many people were invited to test the first version, which allowed us to receive their feedback and enabled us to redirect our strategy. We want to thank everyone who helped us make the next version, the best possible.
This new version was running in private beta with some testers for more than a month now, and it's time for us to open it to the community and to more testers!
We are now PUBLIC.
There are still several works in progress, and not everything may work 100% correctly. All feedback is welcome on our GitHub, or Discord server.
New Bot Voting experiment ! Get upvoted by @busy.org bot
---
How to get a vote from @busy.org?
It's free and instantaneous, you just need to:
Post using busy.org (works on both version: v1 and the new beta)
Use the tag "busy". It doesn't have to be the primary one
The bot upvotes maximum 1 time every 12 hours per user. (2 upvotes/day/user)
Check our previous post for more information
Login with Steemconnect2
---
Busy use Steemconnect2 new secured flow for login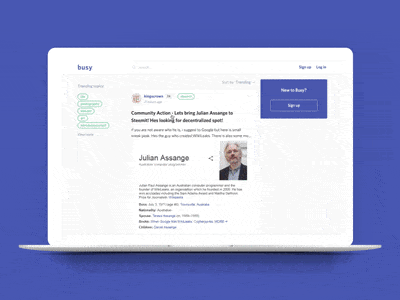 New Upvoting user experience
---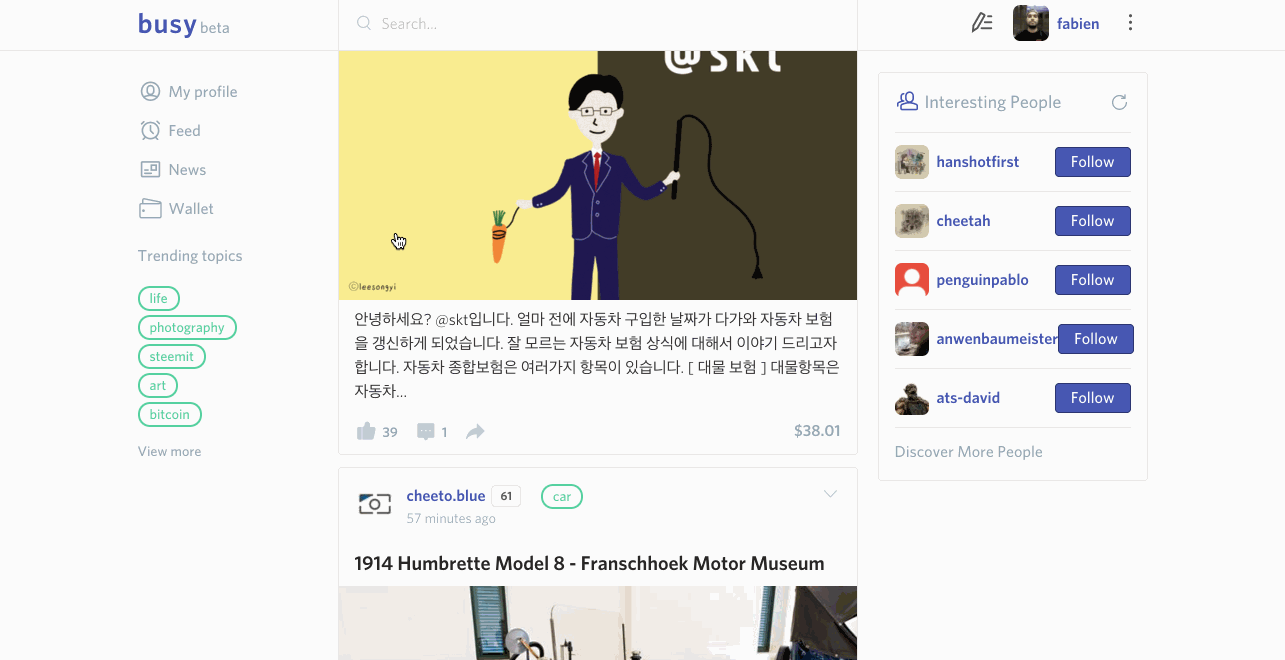 You can now upvote and select your voting power % with a rewards preview in $.
Make sure to enable it in Settings if you are not big enough (10M+ vests) to have it by default.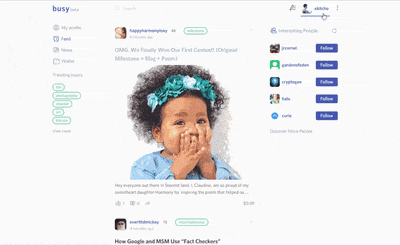 List of Likes with voting power % and added value in $
---
Improved Editor with Drafts
---
Full Markdown support with live preview, and drag-n-drop or copy-paste image upload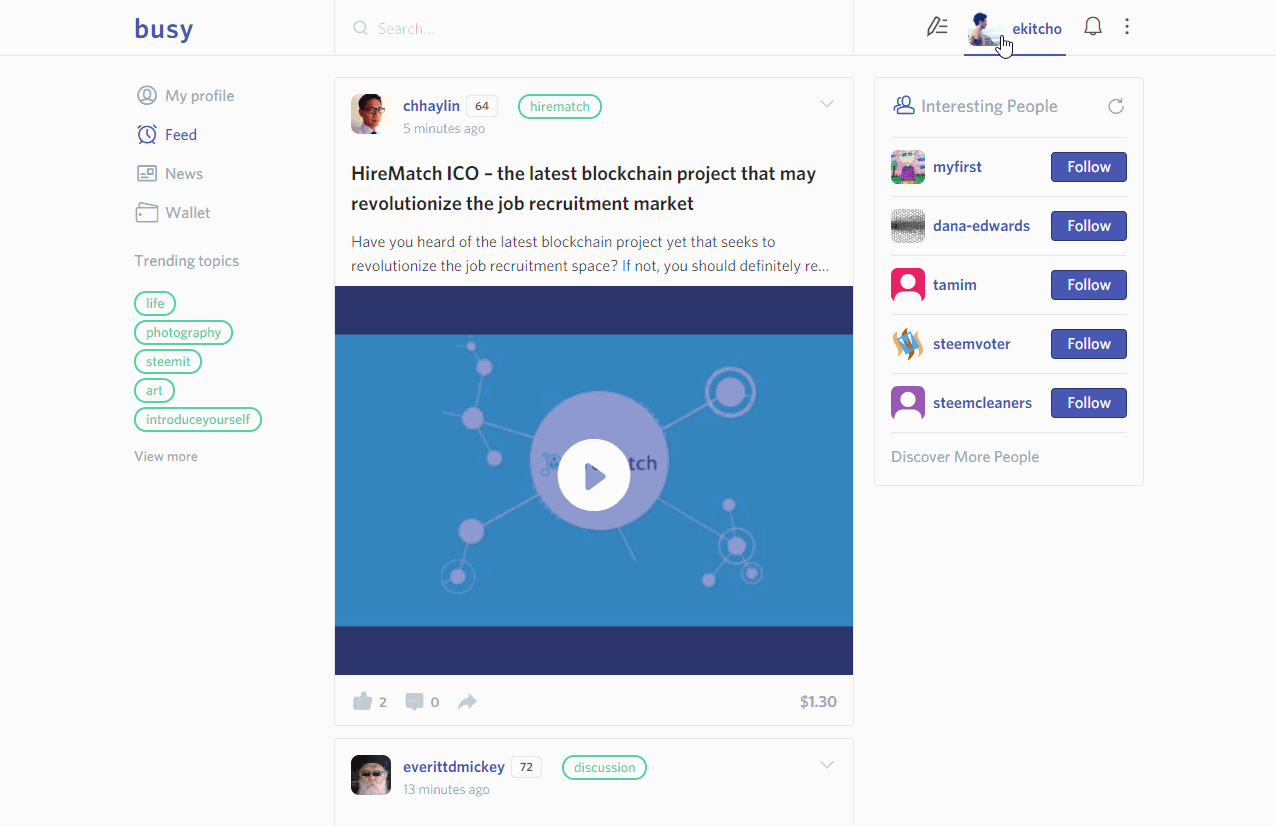 Comment, Reblog, Follow
---
All basic features are implemented (except downvote)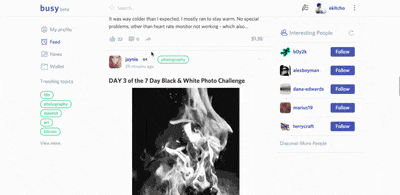 Replies, Bookmark
---
Read all your Replies. Bookmark your favorite contents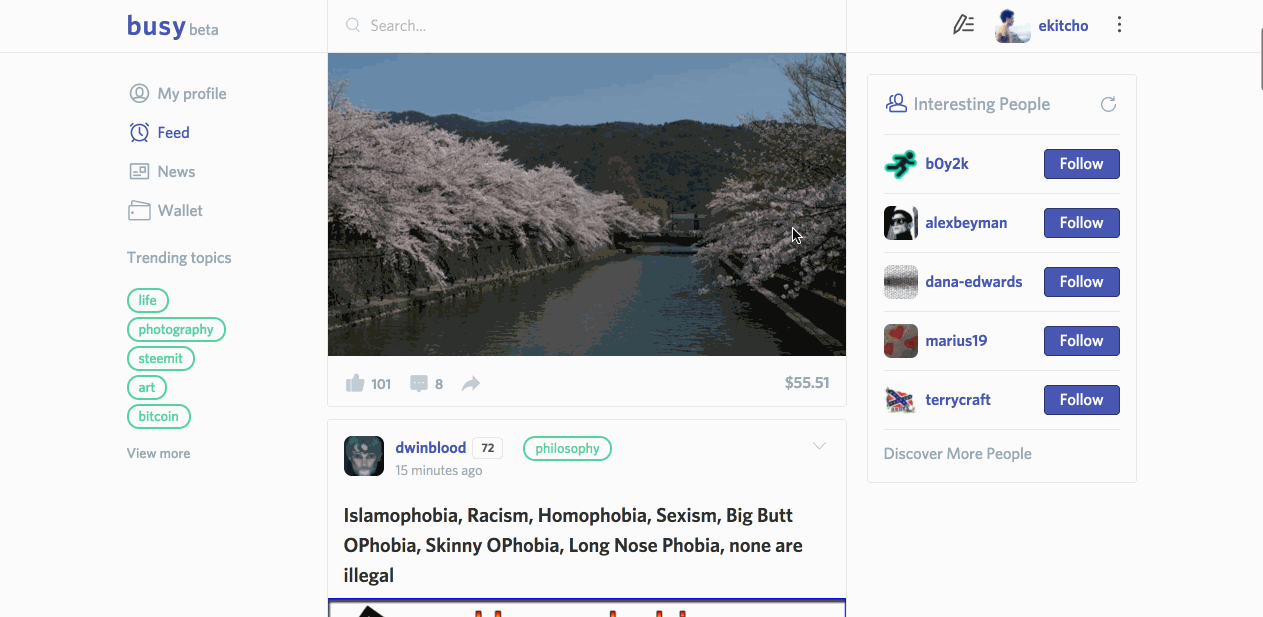 DTube, Youtube, SoundCloud and Twitch integrations in feed
---
Video are directly embedded/playable on your feed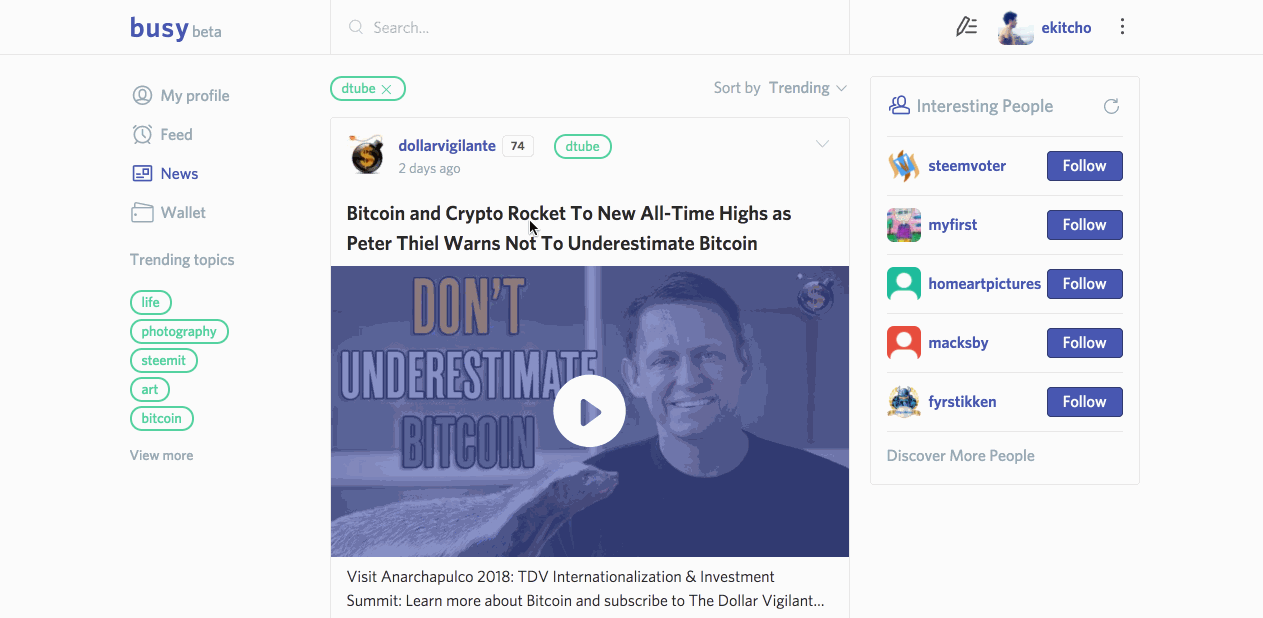 New wallet
---
Get Steem and SBD current price along with your balance and statement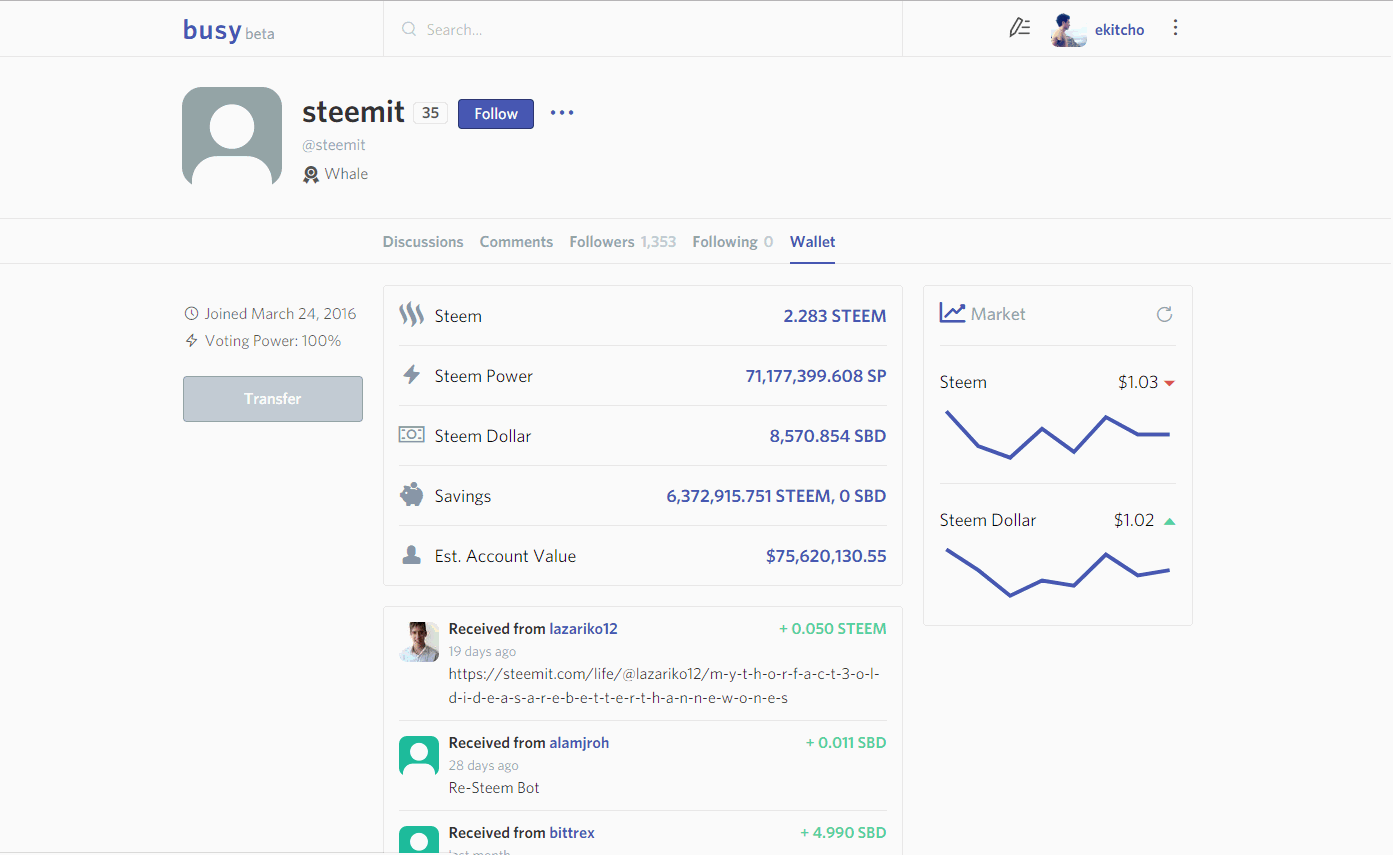 Transfer using SC2
---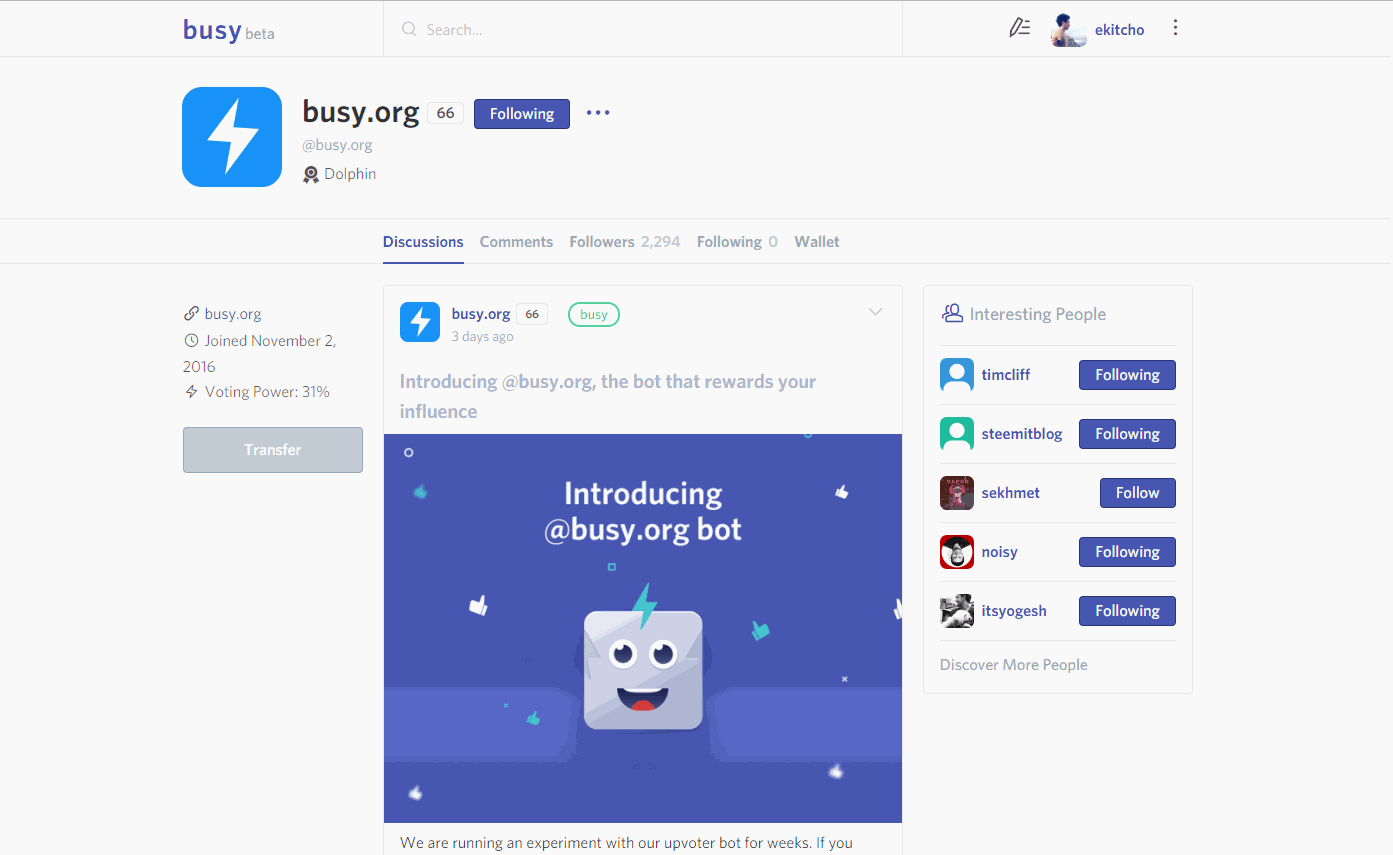 Image upload with select, paste or drag & drop
---
Drag and drop image from your desktop or just copy past them into the editor

Sidebar widget: Interesting People
---
When you visit an user profile on the right sidebar there is list of the most resteemed authors by the user.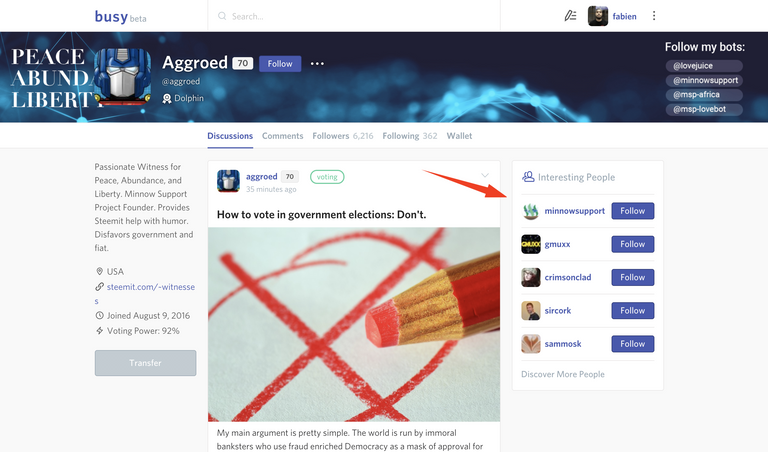 Sidebar widget: Recommended Posts
---
Now when you open a post, you will see the last post or reblog of the author.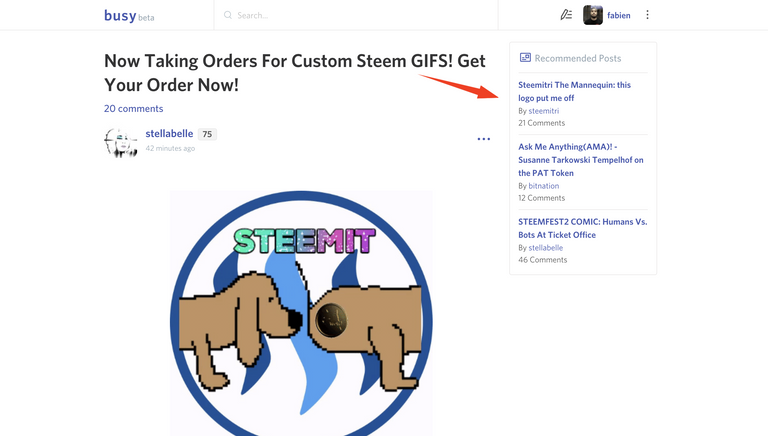 ---
Translations
There is now exactly 40 languages completely translated on Busy.org that's huge!
Thank you for all translators who helped: @tibonova, @katteasis, @valchiz, @buzzbeergeek, @damzxyno, @mrrifat1, @coffeenut, @splash-of-angs63, @umelard, @wallsnow, @julee, @sakhone, @santigs, @cryptotrader2017, @incrediblesnow, @freddyfish, @andreia.loops, @samhamou, @eastmael, @ntony, @tarekadam, @macchiata, @moorkedi, @inoue, @simnrodrguez, @cannabissativa
---
Not yet implemented
---
All these feature are not yet implemented:
Search (now redirect to Google search)
Page activity (now redirect to steemd.com)
Notifications
Report a post (downvote)
Delete post / comment
Edit profile (now redirect to steemit.com)
Block an user
NSFW filter
Hide downvoted posts
Bug report
---
Did you find an issue? Please report it on Utopian you will get paid for it :) or directly on GitHub
Thanks you!
---
To all our contributors
To translators, and all developers who contributed to Busy
To our biggest support Steemit inc. and all our donors
Team: @ekitcho, @fabien, @sekhmet, @gregory.latinier, @kpdesigns, @jm90mm
Code contributors: @mkt, @ryanbaer, @eastmael, @ne3l
Moderators: @espoem, @ntony
Donors: @steemit, @smooth, @jamesc, @cass, @bhuz, @twinne, @liondan, @donkeypong, @furion, @steemship, @theprophet0, @pfunk, @deanliu, @teamsteem, @hanshotfirst, @exyle, @fulltimegeek, @shortcut, @hql2016, @sweetsssj, @craig-grant, @beers, @shaka, @andu, @ourlifestory, @delegate.lafona, @joshbreslauer, @aizensou, @rubenalexander, @roelandp, @stellabelle, @pnc, @lukestokes, @pharesim, @buzzbeergeek, @timcliff, @tibonova, @gamer00, @elmetro, @surpassinggoogle, @marionjoe, @jgr33nwood, @theghost1980, @mrblu, @vortac
Join our Discord
---
We are 420+ on discord, join us https://discord.gg/G95rNZs
---
Support Busy
See this post in busy.org https://busy.org/busy/@busy.org/busy-v2-is-now-in-public-beta
Steem on!