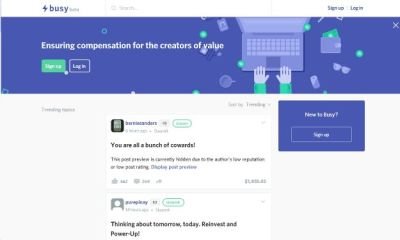 There are many ways to approach Steem blockchain, and one of them is busy.org, and now in version 2.2. What's new in this version?
Internal search engine
---
You wanted to find a Steemit user, but did not you remember his nickname exactly? Did you only search for specific articles and the search in a particular tag was too wide?
Busy has a solution for you. You can now use the search without leaving busy.org, you can search for a user or any post.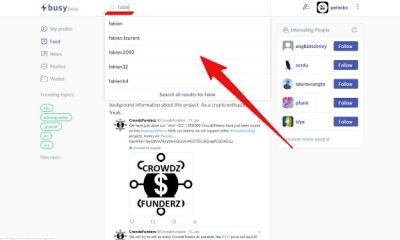 Market price of cryptocurrencies
---
When you read about one of the TOP100 cryptocurrencies (if mentioned in the tag), you'll see its market price in the sidebar.
In addition, you will always find the current price of STEEM and SBD in your wallet. There is also a simple graph summarizing changes over the last week.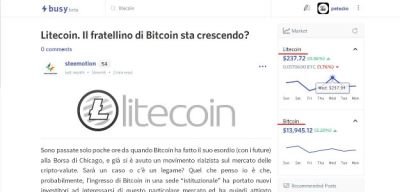 Applications
---
Who writes on Steemit.com, who on Busy.org, who through the eSteem app, and who uses a completely different application?
The application used for publishing is now visible on on the feed or in the post.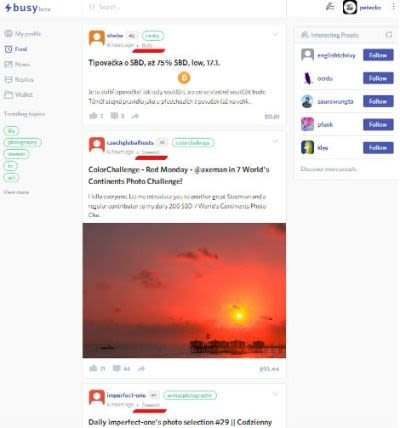 Easier posting
---
For those who are satisfied with a rather shorter publishing format, there is a new post publishing feature on the feed. If you want to post a photo or picture, just drag it to the window (using the drag'n'drop method).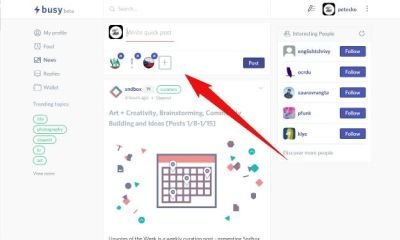 Activity
---
Do you use any service to monitor your steemit activity? For example Steemd, Steemdb, Steemnow, ...?
Now you do not have to!
Busy created its own page to monitor your activity, you can easily filter by criteria that you specify.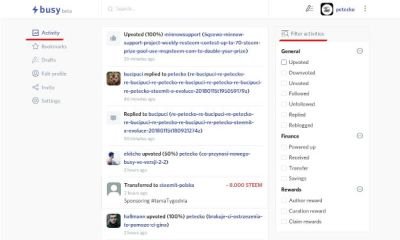 The referral program
---
Busy has now launched a new referral program. You will receive a link that you can share and you will receive a 10% reward from new Steemian who you will bring for 1 month.
Offers Busy more?
---
@Busy.org will give you a free upvote once every twelve hours when you use the tag #busy. (To reach the voice, you must have a base of followers whose total SP is at least 10,000.)
Busy is of course in many national languages (English, French, German, Polish, Korean, Russian, Japanese, Hungarian, etc.)
The development of the platform continues. Version 2.3 is being prepared. (All of this can be see here)
---
Message
If you like what Team Busy does, you can here vote for their witness @busy.witness.

Steem on!
ST