The price of STEEM dropped to very low levels. I am sure that is not something overlooked by anyone on here.
While it can be tough to watch, there is a positive out of all of this.
The old saying is to "buy when there is blood in the streets". It appears many Steemians are doing just that. There is no doubt the entire cryptocurrency world got bloodied. Even the powerful Bitcoin was slaughtered over the last week.
Steem is seeing a lot of accounts using this time to put themselves in a better position when the turnaround comes. In fact, in my time watching the statistics put out each day by @arcange, this is the fastest pace I witnessed.
The Dolphins are a group that is really expanding. Since the beginning of August, the jump in numbers is very impressive.
Here is the chart as laid out by @arcange for the August 1, 2019 numbers.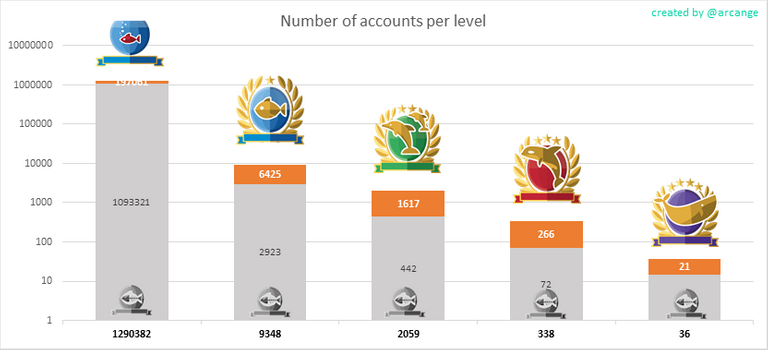 And here are the numbers through September 25, 2019.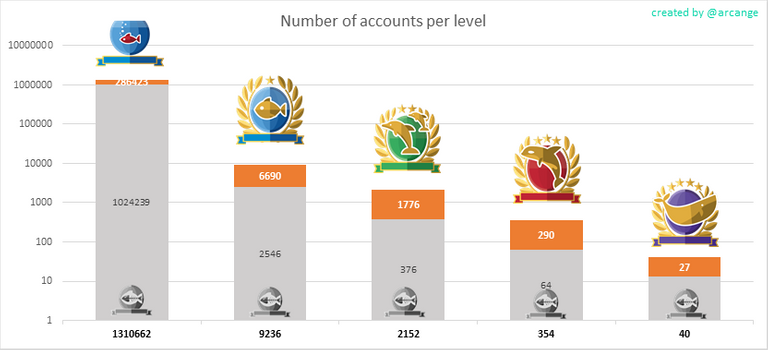 Just going by accounts, the growth of the Dolphins is by 93 accounts net. I say net because the Orcas and Whales grew by 20 meaning that many Dolphins moved up higher themselves.
This all means a couple of things. Many of the Minnows are taking the opportunity to move into the Dolphin category. This is important because Dolphins are the "middle class" of Steem. Having more of them spread out the distribution while putting it in committed hands.
The second thing is there are now 2546 accounts with at least 5046 SP in them. For those who are thrown by that, the level for Dolphin is 5000 SP but it is actually 10 MVests. Each year the STEEM/MVest increases to account for inflation. Since the blockchain recognizes MVests even though the interfaces show SP, this is what is calculated.
This is from steemdb.com

Many feel the Minnows are dropping out. This actually is incorrect. The Minnows are "holding serve as they say" registering only a slight decrease. It is true that category is down 112 accounts. However, the movement upward means there are 113 more accounts in those categories compared to before.
The problem is not with the Minnows but, rather, the Planktons. We are not seeing the smaller accounts take advantage of the low STEEM price to power up in bigger numbers.
If we take a look at the total MVests, we see a similar story.
Here is the charge on the 1st of August.
And through the 25th of September.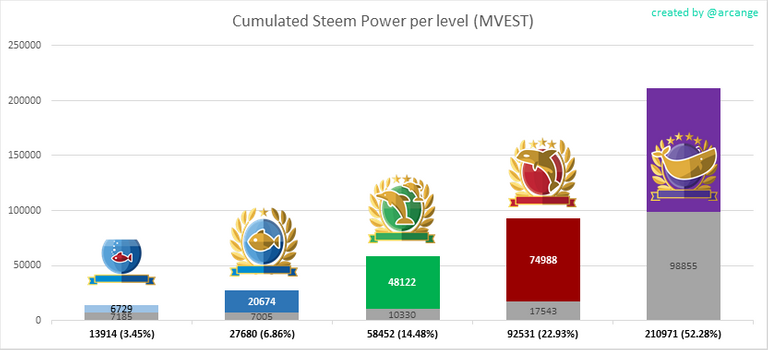 https://steempeak.com/statistics/@arcange/steem-statistics-20190801-en
https://steempeak.com/statistics/@arcange/steem-statistics-20190925-en
The Dolphins, Orcas, and Whales all saw the total STEEM grow. At the same time, their percentage of the whole also grew. This makes sense when one understands how this all works.
It takes one MVest to become a Minnow and 10 to reach Dolphin. The amount of SP required to attain those levels is consistently growing but the MVest levels remain constant.
The challenge is when one "graduates" to the next level. A Minnow who hits Dolphin status decreases the total in that category by 10 MVest. A Plankton replacing that account as a Minnow only adds 1 MVest. Hence, 10 new Minnows are needed to offset the advancement of one new Dolphin.
Since the Minnows are holding constant in their account total, they are not seeing the growth. This means that category is falling further behind as a total of the percentage.
Another interesting observation is the Whales actually fell as a percentage of the whole even though it they added 4 new accounts totally an increase of almost 3,500 MVests. The reason for this is because we saw a lot of STEEM powered up over the last two months. I saw a headline this morning that said we had a net positive in the power up category for 23 straight days.
Please bear in mind, these numbers apply to SP only. Anything that is held in Steem-Engine tokens is not in these numbers.
One thing that I always felt made Bitcoin so strong is the fact there is a core group of HODLers who hold no matter what. When the price drops, they use it as an opportunity to grow their accounts. They do not panic nor sell when things turn bad.
We are seeing a similar group forming with STEEM. If one has gotten to the level of Dolphin, that person is dedicated to Steem's future. Naturally, we would prefer to have 10,000 accounts at that level as opposed to 2,500 but this is where we are at. The nice thing is, each month, with the lower price of STEEM, more people are using the opportunity to reach that level.
If the price of STEEM drops lower, I would expect this trend to accelerate. Those who are already powering up in this manner see it as a way to only enhance their standing. The spectrum includes a While like @theycallmedan who added 250K down to @gadrian, a new Dolphin who bought a bit over 1,000 STEEM and powered it up.
When I joined and started buying STEEM, I was paying $1.20-$1.30. With the price today, we now get 10X the amount of STEEM for the same money. This is a radical shift enabling tremendous growth in accounts that are in position to take advantage. It is amazing to consider what a few hundred dollars will get in STEEM today.
These are exciting times for Steem. With so much taking place, the risk associated with the token is decreasing in my opinion. The foundation that is being laid is only getting stronger in terms of the development taking place.
It is obvious I am not the only one with this view since many are adding to their accounts. The long-term game is tough to stomach at times but it can pay off in a large way.
When the market does decide to turn around, many more accounts will be in a position to take advantage.
It is a great thing to see.
None of this is financial advice; it is for informational purposes only.
---
If you found this article informative, please give an upvote and resteem.