SWEDEN 1 - 0 SWITZERLAND
English
It seems like all Sweden´s National team had to do to find their best gamestyle and level, was playing without the legend Zlatan Ibrahimovic because they are already making history in this world cup. This is the first time in a very long time that the Swedish advance to a Quarter final stage, this time by beating a Swiss team that never stopped trying to find the goal but just couldn´t do it, despite their complete dominance and having a lot more scoring opportunities..
---
Emil Forsberg at minute 66 scored the lonely goal that would eventually give the victory to the Swedish. It was a broken goal, a shot diverted by a Swiss defense, rendering it impossible for the goalkeeper to stop it. This is a just score board because, even though Switzerland had at least five obvious scoring chances, it was the Swiss forwards who kept missing the final shot by not even giving the ball a scoring direction.
Switzerland missed punch>/i> to defeat the Swedish incredible defense, which has had so far the emblem of being pretty much unbeatable. Sweden by the hand of Forsberg has suprised more than a few with their organized defense and they have a good test in the next round where they will face England, a team that´s been steadily growing better as every match passes.
Suitzerland says goodbye after giving a decent performace but with a specific goal in mind: finding a proper forward, a man who can score when they need him the most, someone who can be the difference between staying in a first or second round and advancing to the final stages in an international tournament. The Swiss showed an interesting style in this world cup but they depended too much on what Shaqiri could or couldnt do in attack.
Español
Parece que la selección de Suecia solo necesitaba jugar sin Zlatan Ibrahimovic para encontrar su mejor fútbol, pues ya esta haciendo historia en Rusia 2018 pues por primera vez desde hace mucho tiempo supero los octavos de final contra una competitiva Suiza que no paro de buscar el gol que los pusiera en a delantera, a pesar de dominar el encuentro y tener mas ocasiones de gol.
Emil Forsberg al minuto 66 le dio el gol que seria el de la victoria para Suecia en un tiro que salio desviado por la intervención de un defensa de Suiza, sin embargo este es un marcador justo pues Suecia tuvo al menos cinco oportunidades claras frente a la portería, que terminaban siendo voladas por los mismos delanteros suecos.
A Suiza le falto punch para lograr derribar a la defensa sueca, que ha tenido como sello característico en este mundial ser prácticamente imbatible, Suecia de la mano de Forsberg ha logrado sorprender a mas de uno y ahora tiene una gran prueba en contra de la selección de Inglaterra que incrementa su nivel en este mundial.
Suiza se despide después de un mundial decente pero con la misión de encontrar un hombre gol que les de esa diferencia para poder trascender en torneo internacionales. Suiza desplegó un fútbol interesante en esta copa del mundo, sin embargo su juego dependía demasiado de lo que Shaqiri hiciera en la ofensiva.
Deutsch
Es scheint, als ob die ganze schwedische Nationalmannschaft ihren besten Spielstil und ihr bestes Niveau zu finden hatte, nachdem die Legende Zlatan Ibrahimovic aufgehört hatte zu spielen, denn sie schreiben bereits jetzt in dieser Weltmeisterschaft Geschichte. Dies ist das erste Mal seit langer Zeit, dass die Schweden ins Viertelfinale vorrücken, diesmal gegen ein Schweizer Team, das nie aufgehört hat, auf das Tor zu schiessen, aber es trotz seiner Überlegenheit auf dem Platz, es nicht geschafft hat zu treffen.
Emil Forsberg erzielte in Minute 66 das einzige Tor der Partie, das den Schweden letztendlich den Sieg bescherte. Es war ein unhaltbares Tor, ein Schuss, der von einer Schweizer Verteidigung abgefälscht wurde und es dem Torhüter unmöglich machte seinen Kasten sauber zu halten. Am Ende ist es trotzdem ein gerechter Endstand, denn obwohl die Schweiz mindestens fünf 100 Prozentige Torchancen hatte, verfehlte der Schweizer Stürmer den letzten Schuss, weil er dem Ball nicht einmal die richtige Richtung verpasste.
Die Schweiz schafften es nicht die starke schwedische Defensive zu besiegen, die bisher den Ruf hatte, so ziemlich unschlagbar zu sein. Schweden hat vor allem mit Forsberg mehr als nur mit ihrer organisierten Verteidigung überrascht und sie haben einen guten Test in der nächsten Runde, wo sie England gegenüberstehen werden, eine Mannschaft, die mit jedem Spiel stetig besser wird.
Die Schweiz verabschiedet sich nach einer anständigen Leistung, aber mit einem bestimmten Ziel: einen richtigen Stürmer zu finden, einen Mann, der treffen kann, wenn sie ihn am meisten braucht, jemand, der den Unterschied zwischen einer ersten oder zweiten Runde und einem Weiterkommen im Turnier machts. Die Schweizer zeigten in dieser Weltmeisterschaft einen interessanten Stil, aber sie waren zu sehr davon abhängig, was Shaqiri im Angriff tun konnte oder nicht.
Source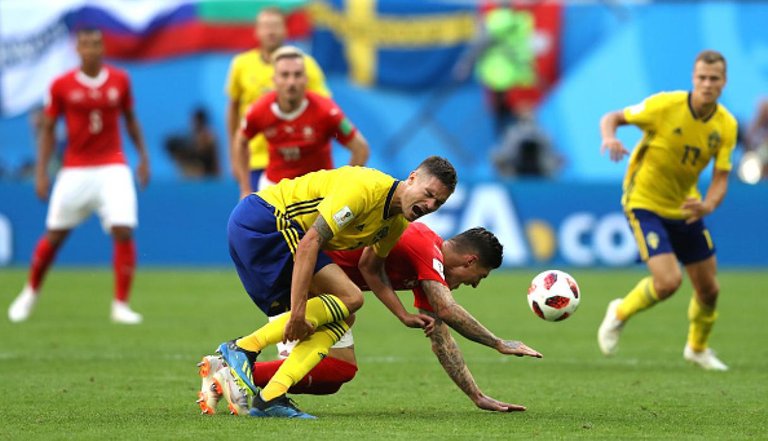 Source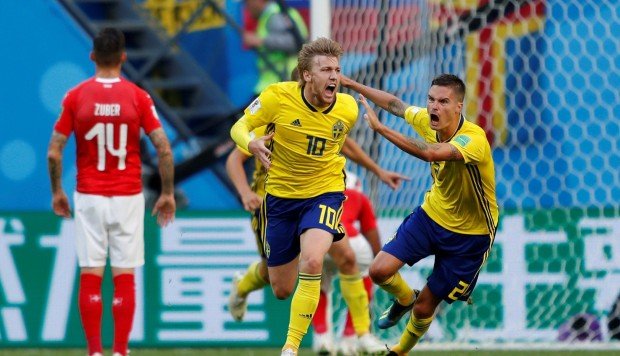 Source
COLOMBIA 1 - 1 ENGLAND
PENALTY KICKS
COLOMBIA 3 - 4 ENGLAND
English
Controversy plays yet again a key role in this world cup, where a badly called penalty gave England the first score in this game and put the Colombians in a tough spot during the whole match. Colombia tried with more heart and passion rather than good football to tie the game but if there is something the English team has had during the whole tournament, is a wall in front of their goalkeeper.
England was already visualizing themselves in the Quarter finals stage and thinking one lonely goal would be enough but Yerry Mina, who´s already made history in this world cup as the defensive player with more goals scored in a world cup (tying German Paul Breitner´s record set in 1974), had other plans for this game. Mina´s score put this game into overtime and after half an hour, the penalty kick phase.
The match was so close that it was only through the penalty kicks that it could be defined. England will face Sweden in the Quarter finals stage in what promises to be a complicated match for both teams as they have two of the most effective and unbreakable defenses in the tournament.
Español
La polémica empieza a volverse protagonista en esta copa del mundo, donde un penal mal marcado en el primer tiempo le dio la ventaja a los ingleses que pusieron en una situación de adversidad a los colombianos durante todo el partido. Colombia intentaba con mas garra que buen fútbol empatar a la selección de Inglaterra pero los ingleses han tenido una muralla defensiva durante todo el torneo.
Inglaterra ya se veía en los cuartos de final y con un gol en el marcador seria suficiente para avanzar a la siguiente ronda, pero Yerry mina, que ya hizo historia en este mundial empatando al Alemán Paul Breitner como el defensa que mas goles anoto en una copa del mundo, récord que existe desde el mundial de 1974. Este gol obligo a mandar el partido a los tiempos extra y al no romper el empate en la media hora extra del partido los penales eran inevitables.
El partido tuvo que ser definido en la tanda de penales, donde el jugador Colombiano que milita en el América de México fallo su pena máxima y sentencio a Colombia que todavía tenia 2 penales por tirar pero Carlos Bacca fallo para que todo quedar en manos de los ingleses que no erraron en sus tiros y se aseguraron un lugar en las semifinales.
Inglaterra enfrenta a Suecia en los cuartos de final en un partido muy complicado para los dos equipos que chocan en un duelo de defensivas.
Deutsch
Kontroversen spielen in dieser Weltmeisterschaft erneut eine Schlüsselrolle, als ein ungültiger Elfmeter England das erste Tor in diesem Spiel bescherte und die Kolumbianer während des gesamten Spiels in eine schwierige Lage brachte. Kolumbien versuchte mit mehr Herz und Leidenschaft als mit gutem Fußball auszugleichen, aber wenn es etwas gibt, das die englische Mannschaft während des gesamten Turniers hatte, ist eine stabile Mauer vor ihrem Torwart.
England war mental bereits in der Viertelfinale-Phase und dachte, dass ein Tor ausreichen würde, aber Yerry Mina, der bereits Geschichte als Defensivspieler mit den meisten Toren in einer WM geschrieben hatte, (Deutschland Paul Breitner hatte davor den Rekord von 1974), hatte andere Pläne für dieses Spiel. Minas Treffer brachte das Spiel in die Verlängerung und nach einer halben Stunde vor den Elfmeterpunkt.
Das Spiel war so eng, dass es nur durch die Elfmeter entschieden werden konnte. England wird im Viertelfinale gegen Schweden antreten, was für beide Mannschaften ein kompliziertes Spiel sein wird, da sie zwei der effektivsten und unzerstörbarsten Verteidigungen des Turniers haben.
Fuente
Fuente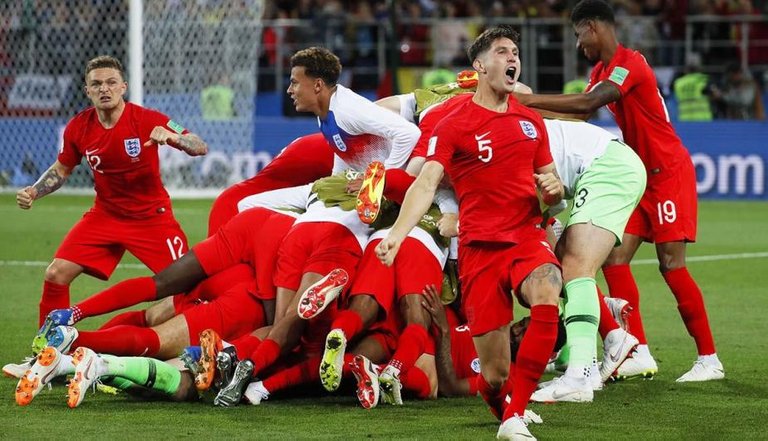 Fuente
---
---
This is a @blocktrades sponsored contest, if you like what he is doing, vote for @blocktrades as witness here
This is an @anomadsoul & @acidyo organized contest, if you like what we are doing, vote for @ocd-witness as witness here
Translations kindly provided by:
Spanish: @zlatan-spielberg
Deutsch: @lizanomadsoul