France vs Croatia
English
The day is finally here, July 15th, 2018 arrived and every fan all over the whole is expectant about the outcome. Of course every fan would love to see their team play this match but unfortunately, only two teams can play the biggest game every four years. Today is France´s and Croatia chance to bear the most importan honour ever in football: To lift the World Cup Trophy.
France is playing their second final match in history and for Croatia, this is the first time playing the 7th game of a world cup - they reached the semi-final in 1998 in the world cup played ironically, in France. The Croatians will try to demonstrate to the whole world that Football is a sport where teamwork beats stars, France will try to do the opposite.
---
The game will be played today in Moscow at 18:00 local time in the Luzhniki Stadium, home of the Spartak Moscva; the referee will be the Argentinian Nestor Pitana who, despite some other opinions, a good performance on this world cup, which is why he has been given the honor of being referee in the final match, we´ll see how he deals with the most expected game in four years.
The Frenchmen arrive to this appointment with 10 goals in favor and 5 against, 5 victories and 1 tie against Denmark; the top scorers are Antoine Griezman and Kylian Mbappe with 3 goals each. They´ve been without a doubt the most powerful and dangerous team of the tournament and, alongside Belgium, the team that unfolds better in the field, performing their strategy and formation as they intend to. Didier Deschamps´s intentions have been grasped by the players in a superb way and unlike in the Euro Cup where they lost the final against Portugal, this time France has 4 key players that played the Euro but they are finally mature enough to face a final and game and to be the leaders their team needs them to be: N´GoloKante from Chelsea, Paul Pogba from Manchester United, Antoine Griezman from Atlético de Madrid and Raphael Varane from Real Madrid, these 4 players alongside young Mbappe will be in charge of leading their national team into victory.
The Croatians face their first world cup final game with nothing to lose because, after that semi final in 1998, they haven´t been able to even advance to the last 16 round. This situation obligued them to get better and to start a long term project that is finally paying off, 20 years and 5 world cup later Croatia is playing with the best generation ever - considering Croatia is a young country and so far has 12 goals in favor and 5 against, with 4 victories and 2 ties, being Modric, Mandzukic and Ivan Perisic the top scorers with 2 goals each. The scoring distribution the Croatian team has is a clear reflection of their teamwork, sinergy and team understanding has been their banner throughout the tournament and it´s a good thing they don´t rely in one player to score the goals; on the other hand, it´s very dangerous to depend on what your midfield can or can´t do during the game: as we have mentioned before, if their midfield is having a bad day, Croatia doesn´t work, they simply aren´t able to perform. Ivan Rakitic y Luka Modric are the reference in the middle while Mario Mandzukic is the man to follow in the offenseive side. We are sure the Croatians won´t settle with just playing the final match, they will want to win it.
Español
Por fin llego el día, el 15 de julio del 2018 es un día esperado por todos los aficionados al fútbol alrededor del mundo, por supuesto que todos esperan ver a su país defendiendo la camiseta en la búsqueda del campeonato del mundo, pero lamentablemente solo dos equipos pueden estar en este partido tan importante, hoy le toca a Francia y a Croacia, la primera en su segunda final de su historia y la según en la primera de ella, habiendo llegado en 1998 a la semifinal los croatas intentaran demostrar que este es un deporte de conjunto y el fútbol sobrepasa a cualquier figura que pueda tener el equipo francés. El partido se jugara en la ciudad de Moscu a las 18:00 horas del tiempo local en el estadio olímpico de Luzhniki, estadio donde el Spartak de Moscu juega sus partidos como local, el arbitro del encuentro sera el Argentino Nestor Pitana que ha tenido, en contra de la opinión de muchos una destacada copa del mundo, veremos como se comporta su temple.
La selección Francesa llega con el saldo de 10 goles a favor y 4 en contra, con 5 victorias y un empate contra la selección de Dinamarca, los goleadores de Francia en el torneo son Antoine Griezman y Kylian Mbappe ambos con 3 anotaciones, los Franceses han sido definitivamente el equipo mas poderoso del torneo y junto con Bélgica el que mejor fútbol despliega sobre la cancha, el sistema de Juego de Didier Deschamps ha sido perfectamente plazmado en el terreno de juego por los jugadores, y a diferencia de la Eurocopa donde perdieron la final frente a Portugal, en esta copa del mundo llegaron 4 jugadores con mayo madurez, N´GoloKante del Chelsea, Paul Pogba del Manchester United, Antoine Griezman del Atlético de Madrid y Raphael Varane del Real Madrid, estos 4 jugadores llegan en un gran momento y se han consagrado como lideres de esta selección Francesa y junto con Mbappe, que hace su debut en un torneo oficial con la selección francesa, serán los encargados de comandar a la victoria a la Nación Gala.
Los croatas llegan a esta final de la copa del mundo sin nada que perder, después de la semifinal en el mundial de Francia de 1998 los croatas no pasaban de la fase de grupos y esto les ayudo a superarse en su fútbol, y hoy llegan con la que para muchos es la mejor generación croata de todos los tiempos, sabiendo que como país independiente Croacia llevan poco tiempo de existencia. Los croatas llegan con 12 goles a favor y 5 en contra con un saldo de 4 victorias y 2 empates y teniendo en Modric, Mandzukic e Ivan Perisic a sus máximos goleadores todos con la cantidad de dos goles.
En la distribución de los 12 goles anotados por la selección Croata en esta copa del mundo, se refleja el sello característico del equipo, el juego de conjunto es el escudo y espada de esta selección Croata y no tienen en un solo jugador recargada la dependencia de los goles, sin embargo el equipo croata si depende demasiado de lo que hagan, como ya habíamos mencionado, su media cancha, Ivan Rakitic y Luka Modric son los artífices del juego de esta selección y Mario Mandzukic es el referente de ataque aportando goles y desequilibrio en la delantera, seguramente los croata no se conformaran con el pase a la final y veremos un gran partido de fútbol este domingo.
Fuente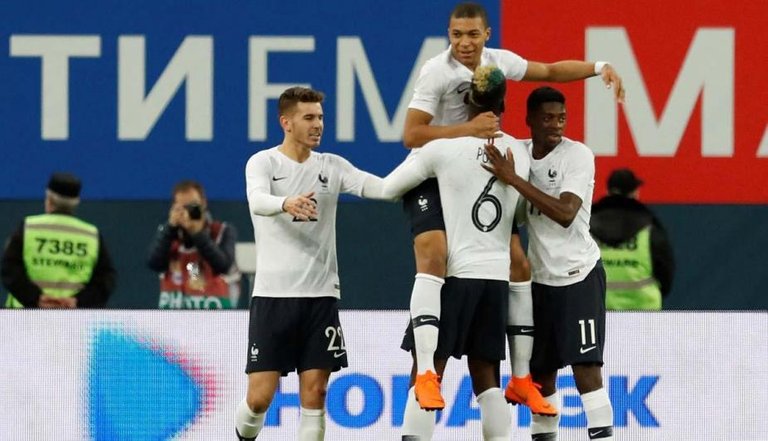 Fuente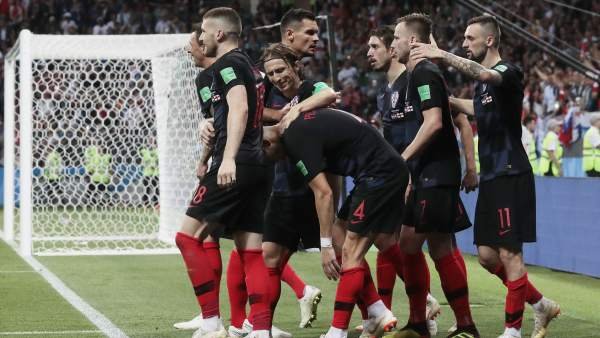 Fuente