Croatia 2 - 1 England
English
The odds were clear: England had to play as they were so far during the cup and they would win this game as everyone expected and we would witness a final game between France and England, where these two historic teams would give us the game of the decade but, the english men still had to beat Croatia, a team that in their two previous games struggled to find the scoring and had to play an extra 30 minutes in those two games, so they came to this appointment with 60 more minutes played, something that tires the players and puts them in a disadvantage.
---
England started the game pretty good playing wit their own style based in using Harry Kane as a post to open spaces and to pull defenses away from other players and looking to send the ball from the sidelines to the box aiming to find a foot or a head that pushed the ball. The game followed this scenario and we were only 5 minutes in and Kieran Trippier scored a superb goal with a free kick that no goalkeeper would be able to stop. A predicted goal that rapidly shattered the Croatian hopes of winning the world cup.
But the game still had 85 minutes to play and during this world cup, Croatia outstands especially for one reason: They don´t give up and they keep playing with the same passion and intensity as if this was the last game of their lives. The Croatian team has a very good motivational Head Coach and he knew exactly what and how to say to his team to make the overcome this result.
As time passed, England started to lose ground and Croatia started to corner them into their own box and it took 68 minutes for them to tie the game in a sort of lucky play where, after a rebound the player from Inter de Milan, Ivan Perisic was faster than the defensive player and in a play a-la-ibrahimovic he kicked the ball in a very unorthodox way - but very effective one - and scored a great goal.
This goal sentenced England who were completely tired and dropping their game level as every minute passed and, in a combination of low motivation and lack of a strong mind, the English men started to appear apathic and low on ideas and drive. The second half was dominated by Croatia but as we mentioned, their lack of scoring plays a key role on every game they play and the match had to be prolongued and play the extra 30 minutes.
From the beginning of the match we saw a motivated Croatian team leaded by Luca Modric, a Croatian team hungry for goals and glory. It was only 10 minutes before the end of the extra time that in an unfortunate broken play that put Mario Mandzukic in fron of the goal keeper with no defensive players around and without hesitating Mario sent the ball into the net, Jordan Pickford couldn´t have done anything to stop that ball.
England was done, they were devastaded, obliterated since the minute 70 and this goal was just a mere tramit meant to happen. This is a historic win fr Croatia and no matter what happens in the final game against the powerful France, they are already winners. It´s worth mentioning that even though the scenario is hard, Croatia has proved they are here to accomplish big things and we don´t see a Croatian victory as something farfetched.
Español
El pronostico era claro, Inglaterra tenia que jugar como lo ha había estado haciendo en esta copa del mundo y nada diferente a lo esperado pasaría, veríamos una final Francia vs Inglaterra y seriamos testigos de una gran final de fútbol donde dos históricas selecciones se enfrentarían por la gloria mundial, de frente llegaba Croacia, una selección que en sus dos partidos anteriores sufrió por la falta de gol en los primeros noventa minutos y tuvo que ir al alargue para ganar sus partidos, un partido bastante disparejo en el papel.
Inglaterra empezó bien el encuentro, jugando a su estilo basado en que Harry Kane juegue de poste abriendo espacio para sus extremos y buscar cerrar con algun centro o buscapiés al área, asi siguio su curso el partido y al minuto 5 cuando los equipos todavia se acomodaban en el terreno de juego, Kieran Trippier marco un gran gol de tiro libre que ningun portero seria capaza de alcanzar, un gol pronosticado que rompia las ilusiones de la aficion Croata que veia como su sueño mundialista era desintegrado por una potencia mundial.
Sin embargo, un aspecto que se le debe de respetar a la seleccion de Croacia en este mundial y que es un razgo admirable, es que no bajan la intensidad en ningun momento del partido, definitivamente lso croatas tienen un gran motivador en su dreccion tecnica y esto les ha cambiado el chip a tal grado que han conseguido colocarse en una final de copa del mundo.
Inglaterra fue perdiendo terreno conforme avanzaba el partido y Croacia los fue acorralando en su propio campo, cuando al minuto 68 en una jugada con un poco de fortuna, tras un rebota dejo solo contra el portero al jugador del Inter de Milan Ivan Perisic se le adelanto al defensa en un centro y alcanzo a puntear el balón al mismo estilo que Zlatan Ibrahimovic, uno de esos goles en los que el defensa no supo de donde salio el delantero.
Este gol fue la sentencia para los ingleses que de por si ya iban a la baja en su juego y que en una combinación entre desmotivacion y falta de mentalidad se les veía apáticos y con pocas ideas para generar una remontada, conforme pasaban los minutos se veía mas cerca el segundo gol de Croacia que el segundo de Inglaterra. El partido fue dominado por Croacia, pero aun así tuvo que irse a tiempos extras, un partido mas en el que los afortunados y perseverantes croatas irían al alargue. Ya desde el inicio de los tiempos extras se veía a un equipo Croata que comandado por Luka Modric sentían como incrementaba su hambre de triunfo y el gol de la victoria era inminente, hasta que al minuto 109 en una jugada con un poco de fortuna, tras un rebote que dejo solo contra el portero al jugador de la Juventus Mario Mandzukic, que supo aprovechar la oportunidad y no perdono cruzando el disparo al lado izquierdo del portero de Inglaterra, un gol en el que Jordan Pickford no tuvo ningún gramo de culpa.
Los Ingleses estaban liquidados desde el tiempo regular y la histórica victoria Croata se concreto, enfrentaran a Francia en la final de la copa del mundo y viendo el panorama no se ve tan difícil que los croatas logren la proesa de consagrarse campeones del mundo, pues su animo va a la alza y cada vez están mas unidos como equipo, sumado al buen fútbol que despliegan a pesar de no contar con mucho gol en el tiempo regular de esta fase de eliminación directa.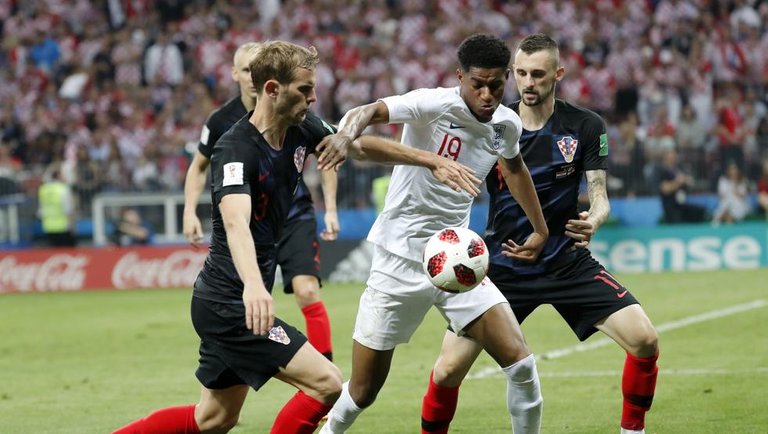 Fuente
Fuente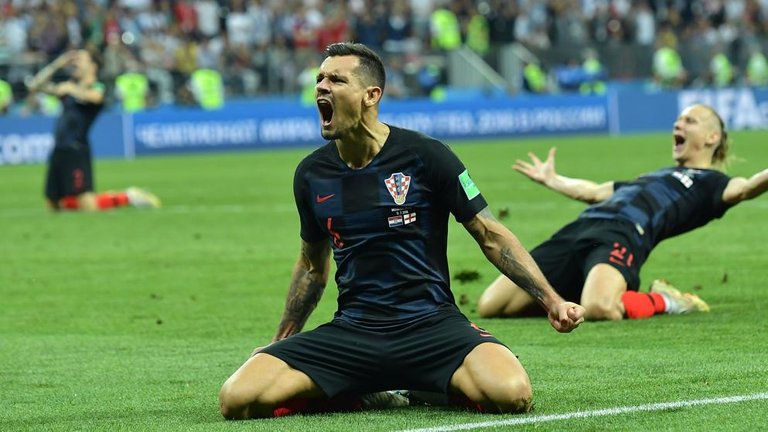 Fuente