It's the 9th day of 2020, and I haven't done a post about cannabis curing cancer yet! If you're tired of hearing this truth, you better unfollow me, because I'm never going to stop spreading it. I'm up against a trillion dollar a year chemotherapy industry that only exists because this information isn't readily available and known. In 2019, YouTube and FaceBook both banned discussion of this topic (along with conspiracy theories and antisemitism), which should make it clear who runs the show. I can't and won't stop until this is common knowledge!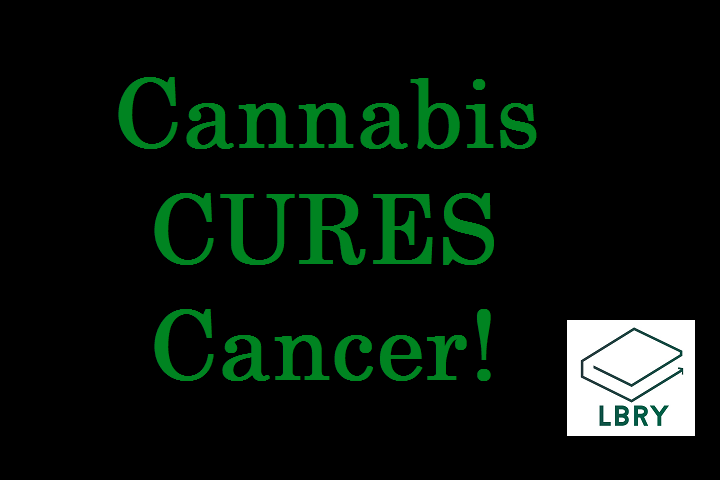 ( The latest platform to be blessed with this lifesaving knowledge is LBRY. Click to watch - 17 minutes. )
---
History:
I first started spreading the truth that THC from the cannabis plant destroys tumors and cures cancer in 2011 on YouTube.
"Cannabis CURES Cancer" (by @MediKatie and I) was first uploaded in 2016 on YouTube, where it has been heavily censored.
Among other platforms, it was added to 3Speak and Steem a few months ago.
---
Links and info in order mentioned:
To Treat
To Cure
The Endocannabinoid System
Nixon study 1974/5
Sanchez & Guzman 1998
Guzman 2006 clinical trial
BC Children's
PK
anecdotal info
Brave Mykayla Comstock
Power to the Patients YouTube playlist
---
Other critical links:
Run from the Cure
Rick Simpson's website
Guzman 2014
Sanchez 2015
Guzman 2016
---
225 of the best 'cannabinoids versus cancer' studies we could find, from top Universities around the world:
Bladder/renal
http://www.ncbi.nlm.nih.gov/pubmed/25445433
http://www.ncbi.nlm.nih.gov/pubmed/20546877
http://www.ncbi.nlm.nih.gov/pubmed/26408170
http://www.ncbi.nlm.nih.gov/pubmed/20852034
http://www.ncbi.nlm.nih.gov/pubmed/23318578
http://www.ncbi.nlm.nih.gov/pubmed/28515817
http://www.ncbi.nlm.nih.gov/pubmed/28191815
http://www.ncbi.nlm.nih.gov/pubmed/28993942
http://www.ncbi.nlm.nih.gov/pubmed/26654588
Bone
http://www.ncbi.nlm.nih.gov/pubmed/24795528
http://www.ncbi.nlm.nih.gov/pubmed/25801536
http://www.ncbi.nlm.nih.gov/pubmed/20233215
Breast
http://www.ncbi.nlm.nih.gov/pubmed/16818634
http://www.ncbi.nlm.nih.gov/pubmed/20649976
http://www.ncbi.nlm.nih.gov/pubmed/9653194
http://www.ncbi.nlm.nih.gov/pubmed/16728591
http://www.ncbi.nlm.nih.gov/pubmed/18025276
http://www.ncbi.nlm.nih.gov/pubmed/20859676
http://www.ncbi.nlm.nih.gov/pubmed/24910342
http://www.ncbi.nlm.nih.gov/pubmed/21915267
http://www.ncbi.nlm.nih.gov/pubmed/25855725
http://www.ncbi.nlm.nih.gov/pubmed/19887554
http://www.ncbi.nlm.nih.gov/pubmed/21566064
http://www.ncbi.nlm.nih.gov/pubmed/29482741
http://www.ncbi.nlm.nih.gov/pubmed/29552056
http://www.ncbi.nlm.nih.gov/pubmed/27213582
http://www.ncbi.nlm.nih.gov/pubmed/27530354
http://www.ncbi.nlm.nih.gov/pubmed/27633508
Colorectal
http://www.ncbi.nlm.nih.gov/pubmed/22231745
http://www.ncbi.nlm.nih.gov/pubmed/19047095
http://www.ncbi.nlm.nih.gov/pubmed/17583570
http://www.ncbi.nlm.nih.gov/pubmed/26436760
http://www.ncbi.nlm.nih.gov/pubmed/21532172
http://www.ncbi.nlm.nih.gov/pubmed/22110202
http://www.ncbi.nlm.nih.gov/pubmed/16042581
http://www.ncbi.nlm.nih.gov/pubmed/15085199
http://www.ncbi.nlm.nih.gov/pubmed/18938775
http://www.ncbi.nlm.nih.gov/pubmed/17823781
http://www.ncbi.nlm.nih.gov/pubmed/19442536
http://www.ncbi.nlm.nih.gov/pubmed/26539529
http://www.ncbi.nlm.nih.gov/pubmed/25859556
http://www.ncbi.nlm.nih.gov/pubmed/25975960
http://www.ncbi.nlm.nih.gov/pubmed/27561826
Gastric
http://www.ncbi.nlm.nih.gov/pubmed/20336665
http://www.ncbi.nlm.nih.gov/pubmed/23749906
Glioma (brain & spine)
http://www.ncbi.nlm.nih.gov/pubmed/17202146
http://www.ncbi.nlm.nih.gov/pubmed/12514108
http://www.ncbi.nlm.nih.gov/pubmed/15313899
http://www.ncbi.nlm.nih.gov/pubmed/20090845
http://www.ncbi.nlm.nih.gov/pubmed/21336992
http://www.ncbi.nlm.nih.gov/pubmed/17934890
http://www.ncbi.nlm.nih.gov/pubmed/10700234
http://www.ncbi.nlm.nih.gov/pubmed/14570037
http://www.ncbi.nlm.nih.gov/pubmed/16804518
http://www.ncbi.nlm.nih.gov/pubmed/21233844
http://www.ncbi.nlm.nih.gov/pubmed/20053780
http://www.ncbi.nlm.nih.gov/pubmed/14617682
http://www.ncbi.nlm.nih.gov/pubmed/23079154
http://www.ncbi.nlm.nih.gov/pubmed/18088200
http://www.ncbi.nlm.nih.gov/pubmed/19425170
http://www.ncbi.nlm.nih.gov/pubmed/9771884
http://www.ncbi.nlm.nih.gov/pubmed/11479216
http://www.ncbi.nlm.nih.gov/pubmed/25590811
http://www.ncbi.nlm.nih.gov/pubmed/25398831
http://www.ncbi.nlm.nih.gov/pubmed/22624859
http://www.ncbi.nlm.nih.gov/pubmed/24204703
http://www.ncbi.nlm.nih.gov/pubmed/20468046
http://www.ncbi.nlm.nih.gov/pubmed/21220494
http://www.ncbi.nlm.nih.gov/pubmed/15700028
http://www.ncbi.nlm.nih.gov/pubmed/17952650
http://www.ncbi.nlm.nih.gov/pubmed/22176552
http://www.ncbi.nlm.nih.gov/pubmed/25472761
Lymphoma & Leukemia
http://www.ncbi.nlm.nih.gov/pubmed/24349109
http://www.ncbi.nlm.nih.gov/pubmed/7724569
http://www.ncbi.nlm.nih.gov/pubmed/16936228
http://www.ncbi.nlm.nih.gov/pubmed/18546271
http://www.ncbi.nlm.nih.gov/pubmed/16908594
http://www.ncbi.nlm.nih.gov/pubmed/12091357
http://www.ncbi.nlm.nih.gov/pubmed/16754784
http://www.ncbi.nlm.nih.gov/pubmed/3037549
http://www.ncbi.nlm.nih.gov/pubmed/15454482
http://www.ncbi.nlm.nih.gov/pubmed/18296861
http://www.ncbi.nlm.nih.gov/pubmed/24474921
http://www.ncbi.nlm.nih.gov/pubmed/22048168
http://www.ncbi.nlm.nih.gov/pubmed/19609004
http://www.ncbi.nlm.nih.gov/pubmed/16337199
http://www.ncbi.nlm.nih.gov/pubmed/14692532
http://www.ncbi.nlm.nih.gov/pubmed/19609004
http://www.ncbi.nlm.nih.gov/pubmed/16139274
http://www.ncbi.nlm.nih.gov/pubmed/15978942
http://www.ncbi.nlm.nih.gov/pubmed/2154651
http://www.ncbi.nlm.nih.gov/pubmed/25590415
http://www.ncbi.nlm.nih.gov/pubmed/26467187
http://www.ncbi.nlm.nih.gov/pubmed/25594062
http://www.ncbi.nlm.nih.gov/pubmed/28364261
http://www.ncbi.nlm.nih.gov/pubmed/26775260
http://www.ncbi.nlm.nih.gov/pubmed/28392768
http://www.ncbi.nlm.nih.gov/pubmed/28560402
http://www.ncbi.nlm.nih.gov/pubmed/27248492
http://www.ncbi.nlm.nih.gov/pubmed/12970790
http://www.ncbi.nlm.nih.gov/pubmed/17613768
http://www.ncbi.nlm.nih.gov/pubmed/18608861
Lung
http://www.ncbi.nlm.nih.gov/pubmed/1159836
http://www.ncbi.nlm.nih.gov/pubmed/17621270
http://www.ncbi.nlm.nih.gov/pubmed/21097714
http://www.ncbi.nlm.nih.gov/pubmed/22198381
http://www.ncbi.nlm.nih.gov/pubmed/16232311
http://www.ncbi.nlm.nih.gov/pubmed/18556036
http://www.ncbi.nlm.nih.gov/pubmed/29740535
http://www.ncbi.nlm.nih.gov/pubmed/28971063
http://www.ncbi.nlm.nih.gov/pubmed/26741322
http://www.ncbi.nlm.nih.gov/pubmed/26930716
http://www.ncbi.nlm.nih.gov/pubmed/26467187
http://www.ncbi.nlm.nih.gov/pubmed/29614983
Men's Reproductive (prostate/testicle)
http://www.ncbi.nlm.nih.gov/pubmed/24039449
http://www.ncbi.nlm.nih.gov/pubmed/19056257
http://www.ncbi.nlm.nih.gov/pubmed/22594963
http://www.ncbi.nlm.nih.gov/pubmed/18566995
http://www.ncbi.nlm.nih.gov/pubmed/21912423
http://www.ncbi.nlm.nih.gov/pubmed/12746841
http://www.ncbi.nlm.nih.gov/pubmed/19690545
http://www.ncbi.nlm.nih.gov/pubmed/25606819
http://www.ncbi.nlm.nih.gov/pubmed/10570948
http://www.ncbi.nlm.nih.gov/pubmed/15753356
http://www.ncbi.nlm.nih.gov/pubmed/17068343
http://www.ncbi.nlm.nih.gov/pubmed/22110202
http://www.ncbi.nlm.nih.gov/pubmed/22849856
http://www.ncbi.nlm.nih.gov/pubmed/22557710
Myeloma
http://www.ncbi.nlm.nih.gov/pubmed/27778331
http://www.ncbi.nlm.nih.gov/pubmed/24293211
http://www.ncbi.nlm.nih.gov/pubmed/27769052
Oral/head/neck/throat
http://www.ncbi.nlm.nih.gov/pubmed/20516734
http://www.ncbi.nlm.nih.gov/pubmed/18312888
http://www.ncbi.nlm.nih.gov/pubmed/24797795
http://www.ncbi.nlm.nih.gov/pubmed/27976824
http://www.ncbi.nlm.nih.gov/pubmed/9875457
http://www.ncbi.nlm.nih.gov/pubmed/23601830
http://www.ncbi.nlm.nih.gov/pubmed/27411387
http://www.ncbi.nlm.nih.gov/pubmed/26863913
Pancreatic/Liver
http://www.ncbi.nlm.nih.gov/pubmed/21525939
http://www.ncbi.nlm.nih.gov/pubmed/16818650
http://www.ncbi.nlm.nih.gov/pubmed/19916793
http://www.ncbi.nlm.nih.gov/pubmed/21475304
http://www.ncbi.nlm.nih.gov/pubmed/26500101
http://www.ncbi.nlm.nih.gov/pubmed/16500647
http://www.ncbi.nlm.nih.gov/pubmed/22776956
http://www.ncbi.nlm.nih.gov/pubmed/17943729
http://www.ncbi.nlm.nih.gov/pubmed/23463621
http://www.ncbi.nlm.nih.gov/pubmed/23764845
http://www.ncbi.nlm.nih.gov/pubmed/25580584
http://www.ncbi.nlm.nih.gov/pubmed/27196571
Skin
http://www.ncbi.nlm.nih.gov/pubmed/17065222
http://www.ncbi.nlm.nih.gov/pubmed/19608284
http://www.ncbi.nlm.nih.gov/pubmed/12511587
http://www.ncbi.nlm.nih.gov/pubmed/26513129
http://www.ncbi.nlm.nih.gov/pubmed/29147495
http://www.ncbi.nlm.nih.gov/pubmed/24041928
http://www.ncbi.nlm.nih.gov/pubmed/25674907
http://www.ncbi.nlm.nih.gov/pubmed/25594019
http://www.ncbi.nlm.nih.gov/pubmed/24815068
http://www.ncbi.nlm.nih.gov/pubmed/23361273
http://www.ncbi.nlm.nih.gov/pubmed/21298280
Thyroid
http://www.ncbi.nlm.nih.gov/pubmed/19189054
http://www.ncbi.nlm.nih.gov/pubmed/24795528
http://www.ncbi.nlm.nih.gov/pubmed/15289448
http://www.ncbi.nlm.nih.gov/pubmed/18508995
http://www.ncbi.nlm.nih.gov/pubmed/18197164
http://www.ncbi.nlm.nih.gov/pubmed/12958205
http://www.ncbi.nlm.nih.gov/pubmed/26539529
Women's Reproductive (cervical/uterine/ovarian)
http://www.ncbi.nlm.nih.gov/pubmed/19015962
http://www.ncbi.nlm.nih.gov/pubmed/15047233
http://www.ncbi.nlm.nih.gov/pubmed/18159069
http://www.ncbi.nlm.nih.gov/pubmed/19914218
http://www.ncbi.nlm.nih.gov/pubmed/18296861
http://www.ncbi.nlm.nih.gov/pubmed/24721263
http://www.ncbi.nlm.nih.gov/pubmed/19238202
http://www.ncbi.nlm.nih.gov/pubmed/18619955
http://www.ncbi.nlm.nih.gov/pubmed/29441458
http://www.ncbi.nlm.nih.gov/pubmed/27586579
http://www.ncbi.nlm.nih.gov/pubmed/26062417
http://www.ncbi.nlm.nih.gov/pubmed/26124453
General/Other
http://www.ncbi.nlm.nih.gov/pubmed/27087608
http://www.ncbi.nlm.nih.gov/pubmed/25777363
http://www.ncbi.nlm.nih.gov/pubmed/16501583
http://www.ncbi.nlm.nih.gov/pubmed/12514108
http://www.ncbi.nlm.nih.gov/pubmed/22614735
http://www.ncbi.nlm.nih.gov/pubmed/25115386
http://www.ncbi.nlm.nih.gov/pubmed/18354058
http://www.ncbi.nlm.nih.gov/pubmed/26271952
http://www.ncbi.nlm.nih.gov/pubmed/19889794
http://www.ncbi.nlm.nih.gov/pubmed/18387516
http://www.ncbi.nlm.nih.gov/pubmed/11903061
http://www.ncbi.nlm.nih.gov/pubmed/19509271
http://www.ncbi.nlm.nih.gov/pubmed/21410463
http://www.ncbi.nlm.nih.gov/pubmed/11269508
http://www.ncbi.nlm.nih.gov/pubmed/12182964
http://www.ncbi.nlm.nih.gov/pubmed/19539619
http://www.ncbi.nlm.nih.gov/pubmed/23264851
http://www.ncbi.nlm.nih.gov/pubmed/16596790
http://www.ncbi.nlm.nih.gov/pubmed/11269508
http://www.ncbi.nlm.nih.gov/pubmed/14570037
http://www.ncbi.nlm.nih.gov/pubmed/22038019
http://www.ncbi.nlm.nih.gov/pubmed/26654588
http://www.ncbi.nlm.nih.gov/pubmed/16250836
http://www.ncbi.nlm.nih.gov/pubmed/19189659
http://www.ncbi.nlm.nih.gov/pubmed/22506672
http://www.ncbi.nlm.nih.gov/pubmed/12130702
http://www.ncbi.nlm.nih.gov/pubmed/24942731
http://www.ncbi.nlm.nih.gov/pubmed/19589225
http://www.ncbi.nlm.nih.gov/pubmed/12052046
http://www.ncbi.nlm.nih.gov/pubmed/19914218
http://www.ncbi.nlm.nih.gov/pubmed/18199524
http://www.ncbi.nlm.nih.gov/pubmed/26408171
http://www.ncbi.nlm.nih.gov/pubmed/26071989
http://www.ncbi.nlm.nih.gov/pubmed/26539302
http://www.ncbi.nlm.nih.gov/pubmed/18833429
http://www.ncbi.nlm.nih.gov/pubmed/16501583
http://www.ncbi.nlm.nih.gov/pubmed/24039449
http://www.ncbi.nlm.nih.gov/pubmed/19896326
http://www.ncbi.nlm.nih.gov/pubmed/19457575
http://www.ncbi.nlm.nih.gov/pubmed/29482741
http://www.ncbi.nlm.nih.gov/pubmed/27262332
http://www.ncbi.nlm.nih.gov/pubmed/25916739
http://www.ncbi.nlm.nih.gov/pubmed/29066974
http://www.ncbi.nlm.nih.gov/pubmed/17931597
---
Skin cancer versus cannabis oil, before and after: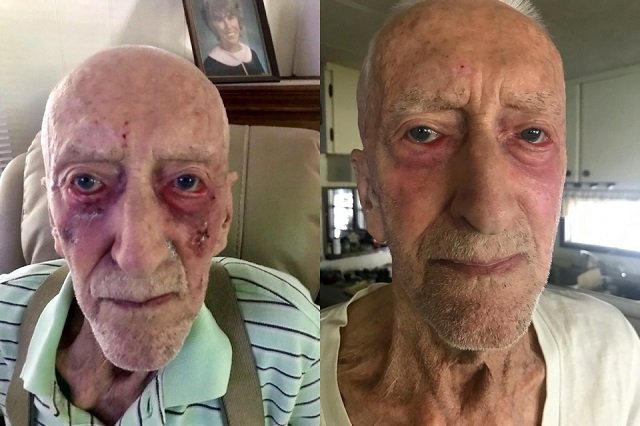 ( If you haven't seen my post on curing "incurable" skin cancer with cannabis, click here. )
---
Thank you for helping spread the message!
DRutter & MediKatie