Hello there. About ten days ago I made the CENT Token announcement. I got a lot of comments and questions. People expressed their views. Thank you to all of them. There is also a Hive user I would like to thank. As soon as he read my token share, he made a few logos for CENT Token. Also thank you to @zonadigital21.
NOTE: Liquidity provider rewards are active.
https://peakd.com/hive-173575/@anadolu/hive-cent-liquidity-provider-rewards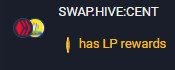 One of the goals in the roadmap I mentioned in the token promotion has been realized. The first liquidity pool is active. I created the Hive/CENT liquidity pool last night. I added about $ 200 worth of liquidity. I did a trade of 0.5 Hive, setting a maximum slip of 05%. However, I have not tried any further. It may be necessary to add more Hives and CENTs to do a larger trade in a single trade.



Our next goals regarding liquidity pools: Creating liquidity provider rewards and more liquidity pools. USDT/CENT, HBD/CENT etc.(I don't know if the system allows this.) I also have an idea of ​​distributing the liquidity provider reward to other pools. For example: giving a CENT token reward to users who provide liquidity to the Hive / HBD pool.
Now let's briefly talk about how to use the Hive / CENT pool. There are different interfaces that connect to the Hive-Engine. However, we can only access the liquidity pools on Tribaldex.com site, for now. First, we select the "Pools" page from the menu at the top of the page. Then we select the token we will use when purchasing from the Swap tab. We select the token that we will buy later. For example: Let's say we have Swap.Hive. We will buy CENT Token. We need to select Swap.Hive at the top and CENT at the bottom. If we are going to sell CENT, we do the opposite. I recommend that you trade small amounts first. As the amount of Hive / CENT in the pool increases, you can make more transactions at once.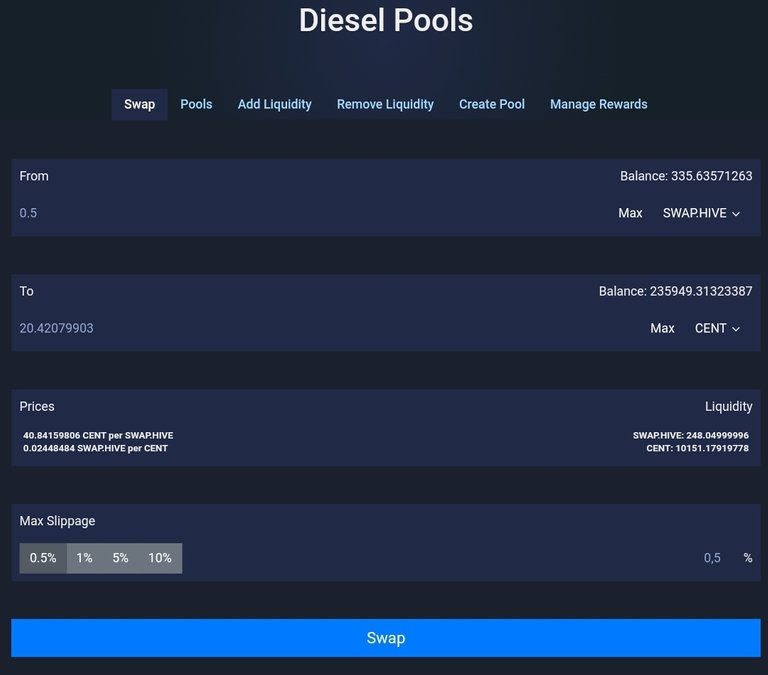 If you want to provide liquidity to the Hive / CENT pool; We select the 'Add Liquidity' tab and select the Swap.Hive: CENT pool. We write the Hive or CENT amount we want to add. You can then click the 'ADD Liquidity' button to become a liquidity provider. Liquidity provider rewards are not distributed at the moment. However, we want to start distributing prizes as soon as possible. See you.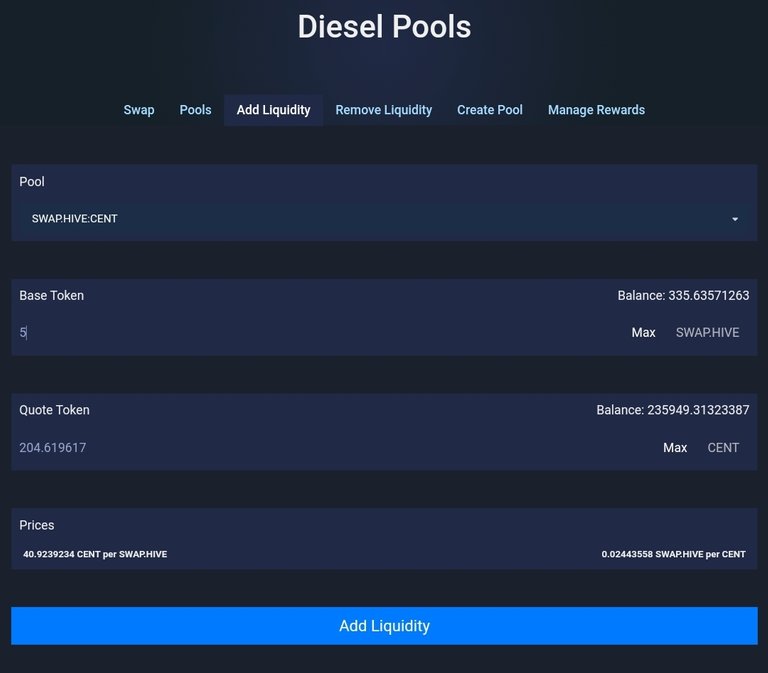 For more detailed information about CENT Token:
Hi. Our third liquidity pool has become active. I previously announced the Hive/Cent and Cent/Pob liquidity pools. The Cent/Leo liquidity pool was activated today. I added about $300 worth of liquidity (15750 CENT+595 LEO) to the pool. You can easily make small purchases and sales transactions. However, you will receive a maximum price shift warning for higher volume trades. I will add more liquidity to the pool.
You can access the Cent/Leo liquidity pool at https://tribaldex.com/dieselpools/. After reaching the page, first select the token you want to sell. Then select the token you want to buy. Thus, you can perform CENT/LEO, LEO/CENT operations.
More liquidity pools will be added over time. At the same time, we will continue to enable liquidity provider rewards. Currently, liquidity provider rewards are distributed in the Hive/Cent pool. See you in new posts.
Previous liquidity pool announcements;
https://peakd.com/cent/@anadolu/hive-cent-liquidity-pool-active
https://peakd.com/hive-150329/@anadolu/cent-pob-liquidity-pool-active
Information about Cent Token;
https://peakd.com/cent/@anadolu/cent
Note: Sorry. I do not know english. That's why I translated using Google Translate.