Here is a 'KQRRNN vs krb' mate in 4 chess puzzle created by the prototype computer program, Chesthetica, using the DSNS computational creativity approach which doesn't use any kind of traditional AI. Chesthetica has the creative ability to compose positions that may otherwise take centuries to arise in an actual game, if ever. You can learn more about the DSNS here.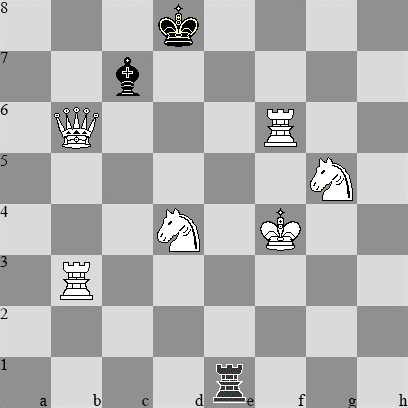 3k4/2b5/1Q3R2/6N1/3N1K2/1R6/8/4r3 w - - 0 1
White to Play and Mate in 4
Chesthetica v11.64 (Selangor, Malaysia)
Generated on 6 Apr 2020 at 12:50:07 AM
Solvability Estimate = Easy
Most changes to Chesthetica that result in a slightly higher 'version number' are simply to improve the interface, by the way. Everything composed by Chesthetica is original. Leave a comment below, if you like. Collectively, these puzzles are intended to cater to players of all levels.
Solution