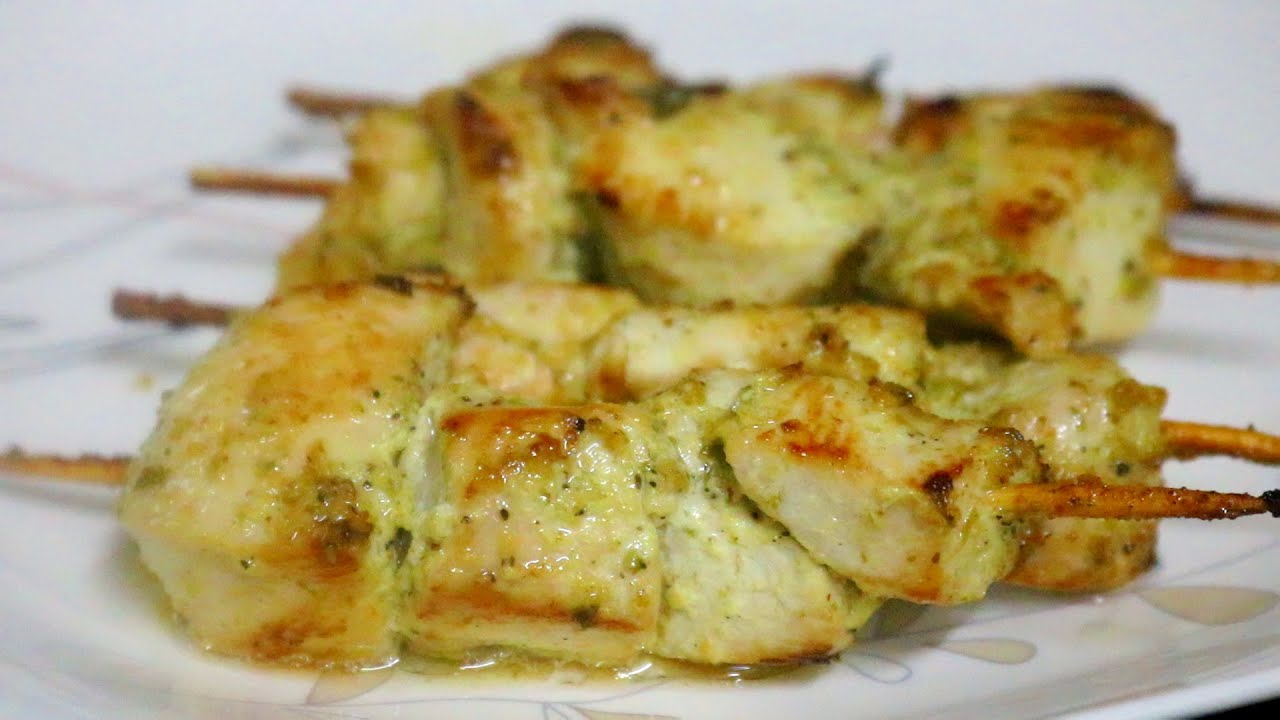 Welcome to My City Food Secret:
Famous Chicken Malai Tikka Recipe. Creamy chicken Malai Tikka Chicken Malai Tikka recipe is one to try out if you want to have a fancy dinner or want to impress your family members. This is very easy to prepare and gives you unique taste of CHicken. Chicken Malai Tikka Recipe on Gas Stove without any Tandoor or Oven. Restaurant Style Chicken Malai tikka or kebab or kabab tastes great because of well marinated chicken with fresh homemade Masala. This Murgh Malai Tikka Recipe will produce delicious Indian style BBQ Chicken at home every time.
Ingredients:-
500 g chicken boneless
3/4 cup fresh cream. ( 150 g )
1/2 cup yogurt ( 100 g )
1 tbsp ginger garlic paste
1/2 tsp black pepper powder
1 tsp salt
1 handful coriander leaves
1 green chillies paste
1 lemon
6 tbsp oil
Preparation:
To prepare the hung curd, strain the water from the curd or plain yogurt using a strainer or cloth to have a thick curd without any water.
Wash and pat dry the boneless chicken pieces. Cut into 2" tikka shapes.
For the 1st marinade, add all the ingredients, mix well and set aside for 30 mins.
To prepare the 2nd marinade, start with grating the]add all the other ingredients. Whisk everything together and then add the marinated chicken pieces. Mix everything well so that the chicken tikka pieces are well coated with the marinade.
Set aside to marinate for 4 hours in the refrigerator.
Process:
Soak the wooden skewer in water for 15 mins.
Skewer the chicken pieces onto the wooden sticks 4 at a time.
Heat a tawa or flat pan and add 2 tbsp of ghee.
Now place 4 skewered chicken sticks side by side and keep roasting on medium heat.
Keep turning it on all sides to cook uniformly. Keep basting with the ghee and the marinade and turn it for 12-15 mins.
Lastly baste it with some melted butter.
Once the tikkas have an even brown colour, optionally infuse it with smoke.
For infusing smoke to get a barbecue flavour
Fire up a small piece of charcoal directly on the gas stove till it starts glowing.
Insert a small bowl in the middle of the sticks.
Once the charcoal is ready, hold it with a tong & place it in the steel bowl.
Immediately drop little ghee on the burning charcoal & close the lid immediately.
Infuse with smoke for 15 mins.
---
---
---
---
Click on the Logo To visit Our official Youtube Channel!