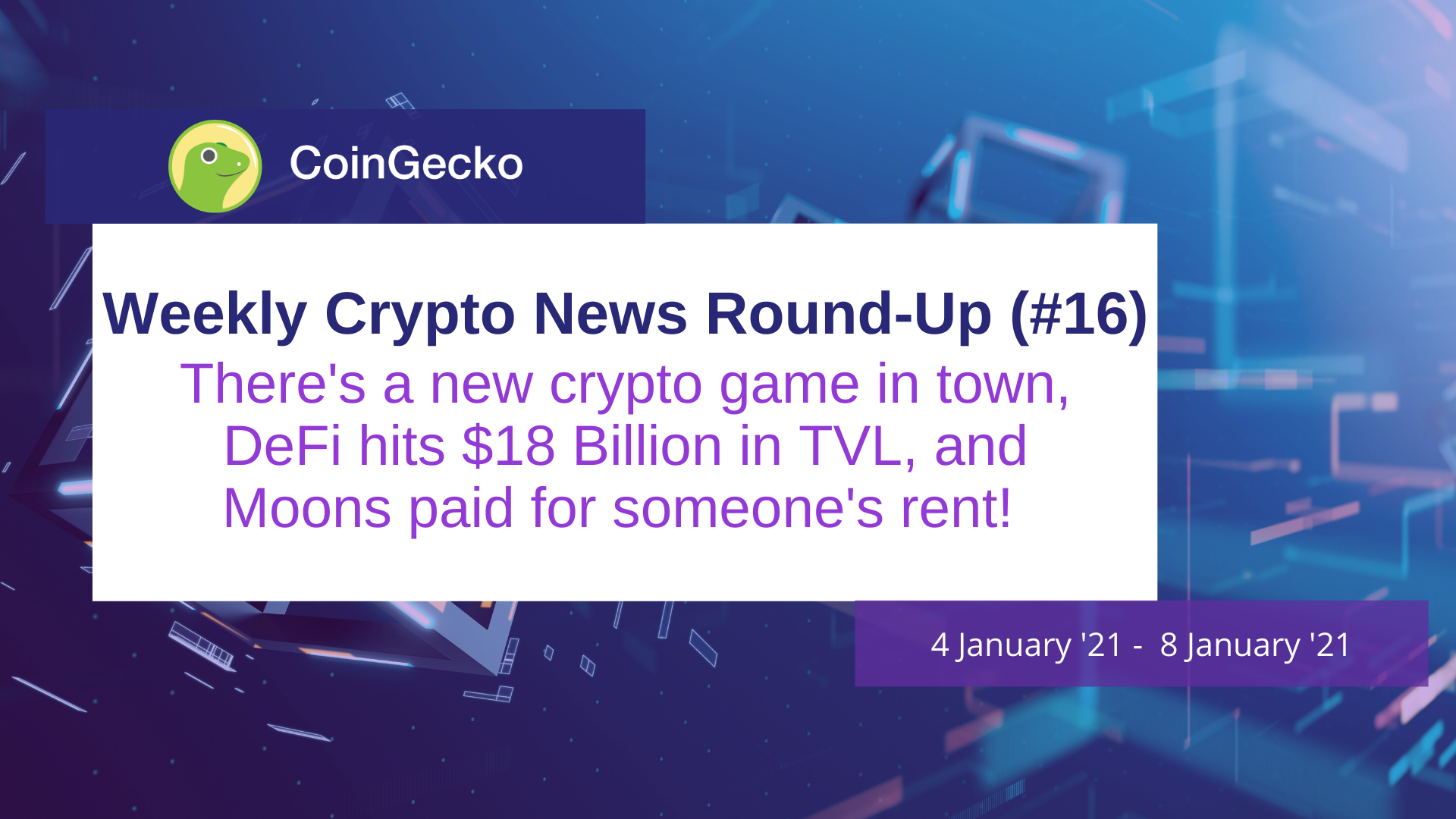 Hey Everyone!
Happy New Year!
For this week's news - there's a new crypto game that utilizes yield farming, the total value locked for DeFi hits $18 billion, and someone paid for rent with their moons.
Read on!
---
A New Crypto Game Enters the Fray
Kieran and Aaron Warwick, siblings of Synthetix co-founder Kain Warwick, have revealed a new blockchain-based game called Illuvium.
The game draws heavy inspiration from collectible RPGs (like Pokemon) and Auto Battlers (like Teamfight Tactics and Dota Underlords) and will utilize a yield farming program for its native ILV token.
Support has been received from some of DeFi's biggest names with Kieran saying that "six of the top DeFi founders" have invested in Illuvium's pre-seed round.
---
Total Value Locked for DeFi hits $18 billion
As we bask under the height of both Bitcoin's (BTC) and Ethereum's (ETH) climb, the TVL for DeFi has set a new record of attaining $18 billion.
According to DappRadar, the sizable growth is led by an existing asset supply that dramatically increased in value as opposed to an increased net inflow of assets.
Nevertheless, it should be noted that there appears to be a growing influx of assets into Sushiswap as the DEX has been attracting large volumes of liquidity.
---
Mooning for Rent
The pandemic has devastated global economies, leading many people to lose their livelihoods, including an anonymous reddit user by the name of satoshinakamoto7.
However, the user realised that he/she had accumulated over 14,000 (MOON) tokens which are earned by posting on r/Cryptocurrency.
Satoshinakamoto7 said "I am grateful to this sub, who have tolerated my posts,". "You all have put a roof over my head for a month! Grateful!"
---
Here are our top trending coins for the year!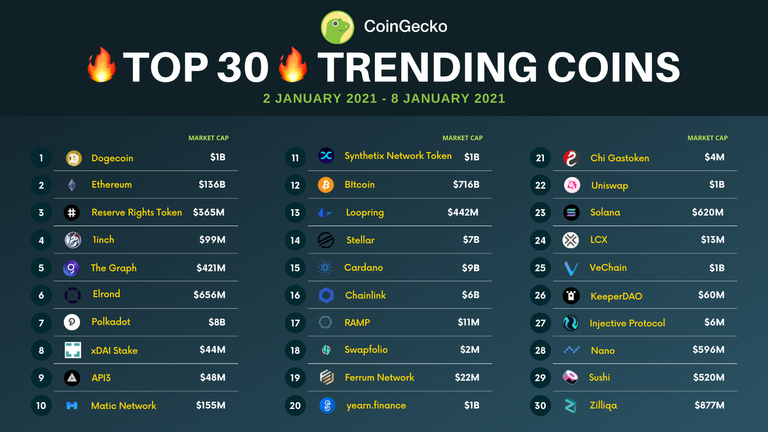 Here are the Top 30 Coins for this week!
Were you expecting Dogecoin to be first?
Check our Recently Added Page to find out the latest added coins on CoinGecko: https://coingecko.com/en/coins/recently_added
---
That is it for our Weekly round-up! Want more?
Subscribe to our Newsletter for daily insights on the latest happenings in the crypto space. Say goodbye to FOMO!