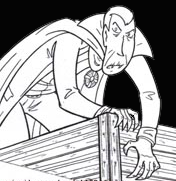 Some people have a lot of trouble with things like 2 point perspective, vanishing points, horizon lines...but it's all actually pretty simple. There is a horizon line and on that lines are a vanishing point for each side of something you see ( most of the time that means two)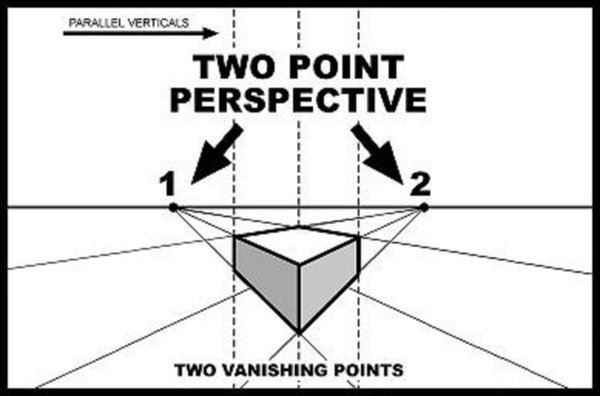 It's pretty simple, that is ...until you know how to do it.
Once you understand the basics, you find yourself using them way more than you need to. Or at least I do. Once you have the horizon line and vanishing points set up you almost have to stop yourself from overdoing it or the next thing you know you've spent two hours making sure the remote control in some guys hand is in proper perspective.
This isn't so much of a "how too" (maybe I'll do that some other time)...it's more of a cautionary tale. The following illustration probably would have been just fine if I just winged it.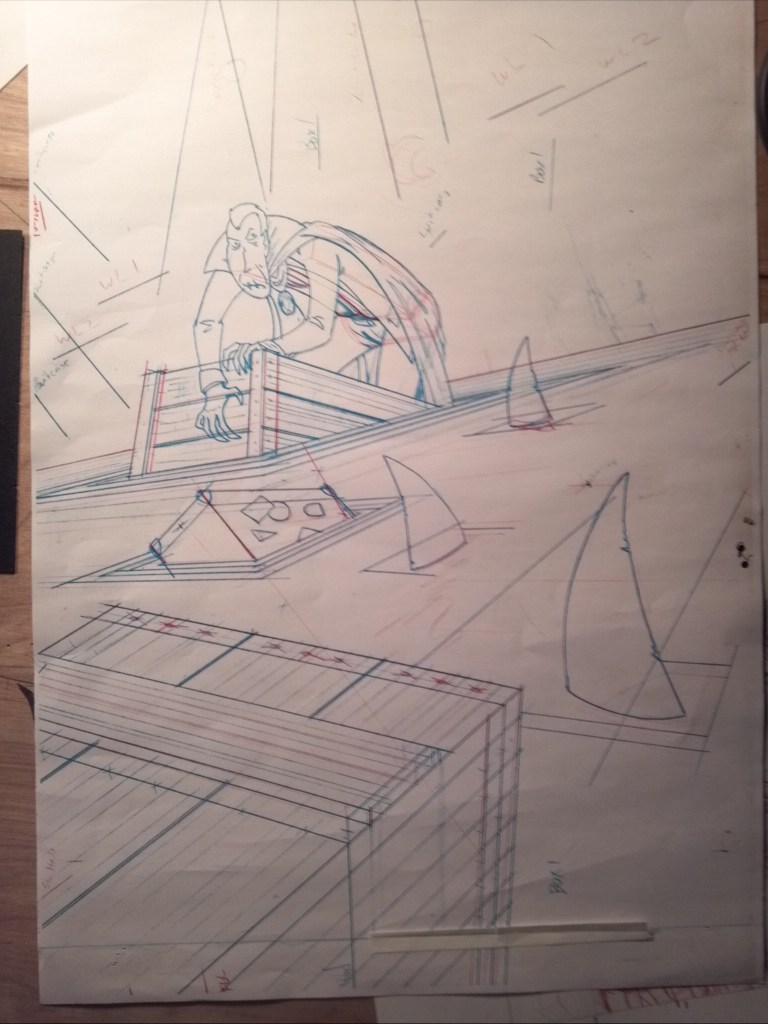 We have a Vampire floating away from a sinking ship and being surrounded by sharks. Interesting enough. and the concept is what makes so...not whether or not the f*cking boxes are in correct perspective. BUT...when you get a brand new hammer for your birthday, suddenly everything looks like a nail.
Now, because the box and suitcase are floating and sinking in slightly different directions and not actually perpendicular or parallel like say two boxes on the same floor, they each need a different horizon line and vanishing point. The suitcase for example is sinking so it's top is closer to you then it is to bottom. Easy enough, add an extra set of points for each item. ( I know that is tough to get your head around when I explain it with text, so just look at the pic below…if everything was on say, a floor instead of a plane that can be broken like water, everything could share the same horizon line. once something breaks a plane though it get it's own plane/horizon line that tilts and is separate from the rest……eh, just look at the pic)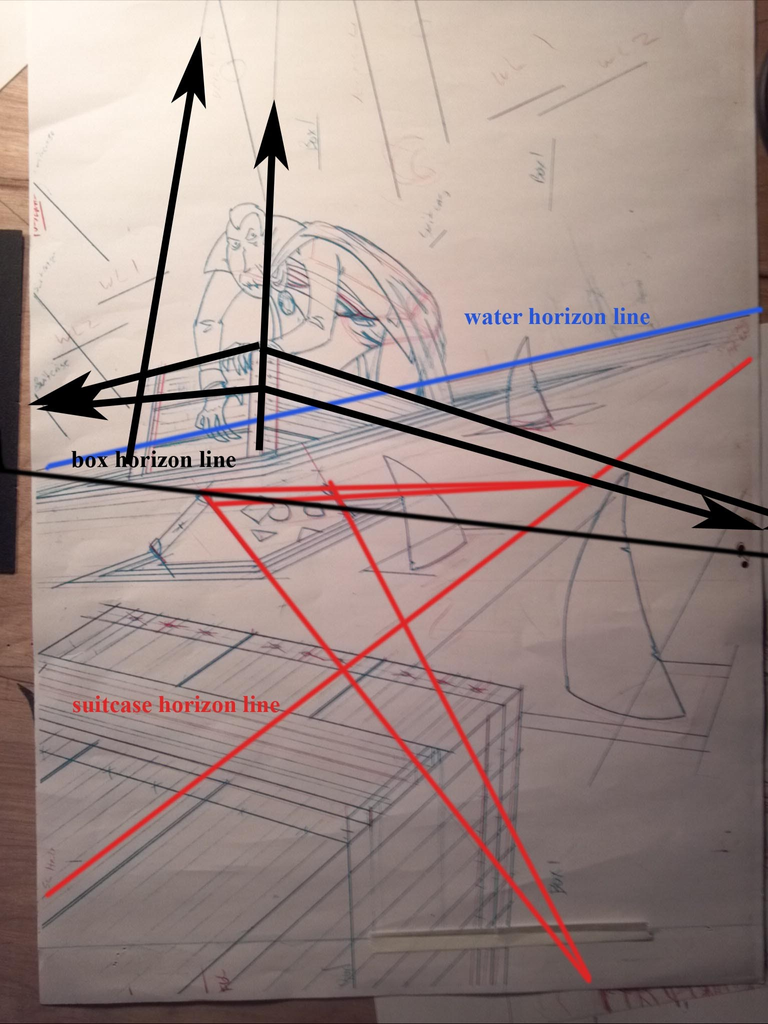 Here is where I am left scratching my head…a victim of my own success, I have reached a level of skill where the number of people walking the earth who know more than I about vanishing points is very very few...so when I get stuck I don't really have anyone to ask.
The question is the ripples in the water they create. Should those ripples have their own vanishing points? or because they are breaking the same plane ( water line) should their ripples share a vanishing point?! Seems to be that they should since they are twisted away from each other On the other hand …the objects themselves have different horizon lines because they are sinking, but that has nothing to to with the horizon line of the plane (water surface) they are sinking into.
….?
Seems like I used to know this. My best guess was that they all share the same horizon line as the water but different vanishing points on it…maybe…
Someone bring Bill Everett back from the dead, he'd probably know. ( Bill Everett originally drew the Sub Mariner, pictured below)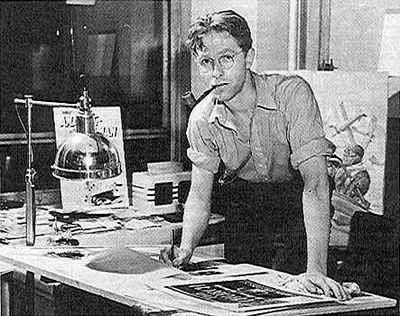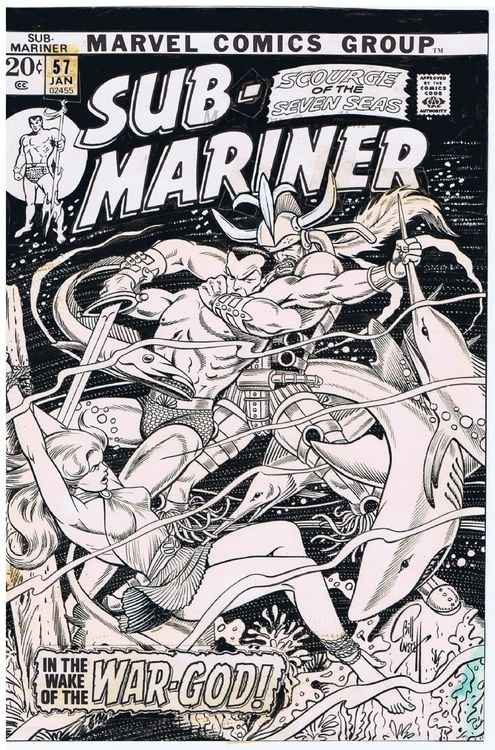 Actually though, for my money he did his best work on a comic called Venus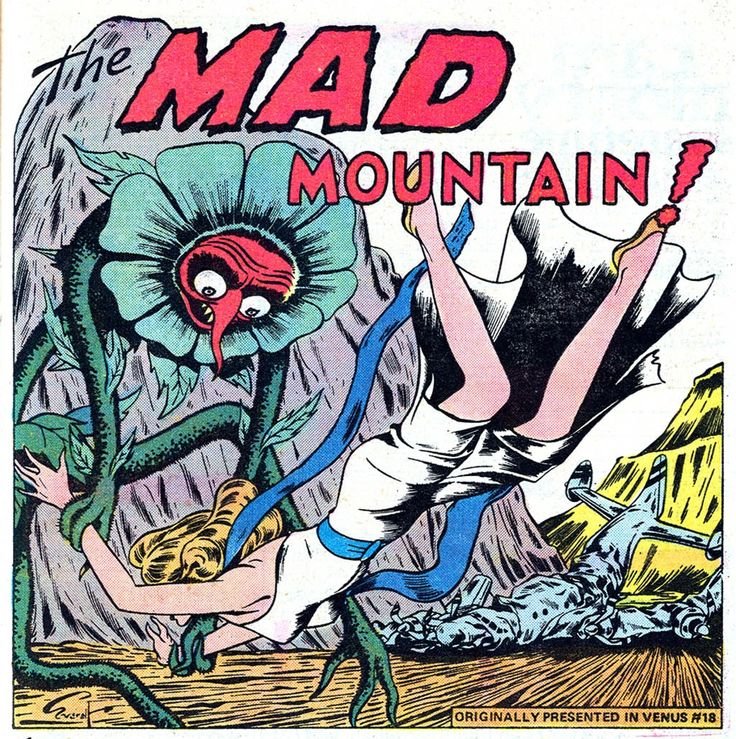 That guy really knew how to load in the details without making things a mess visually. But what the fuck am I doing? Why am I plugging some other guys work on my page? Especially one who is too dead to return the favor??
I took a few tries at this thing...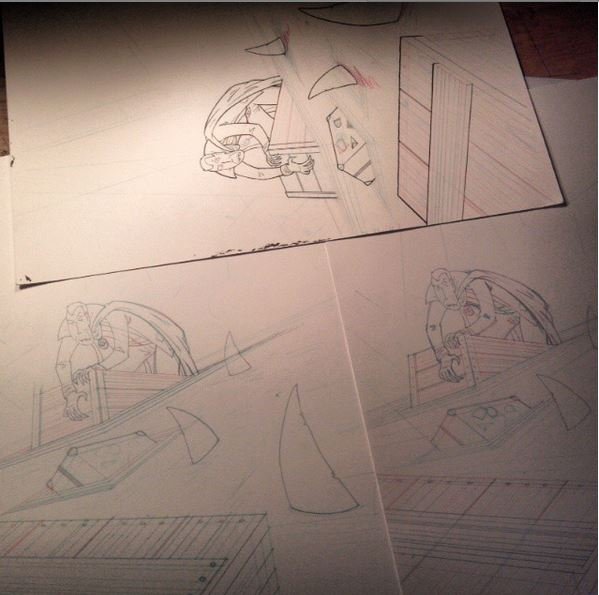 ...before deciding "f*ck it, I'll toss them in the air and ink whichever one lands face up.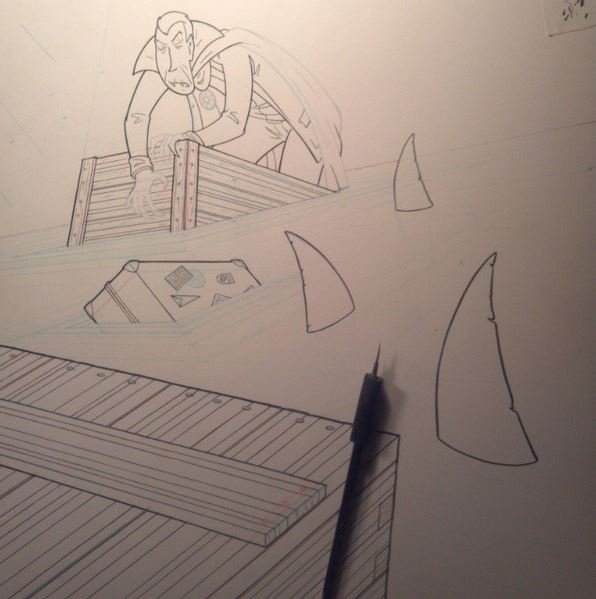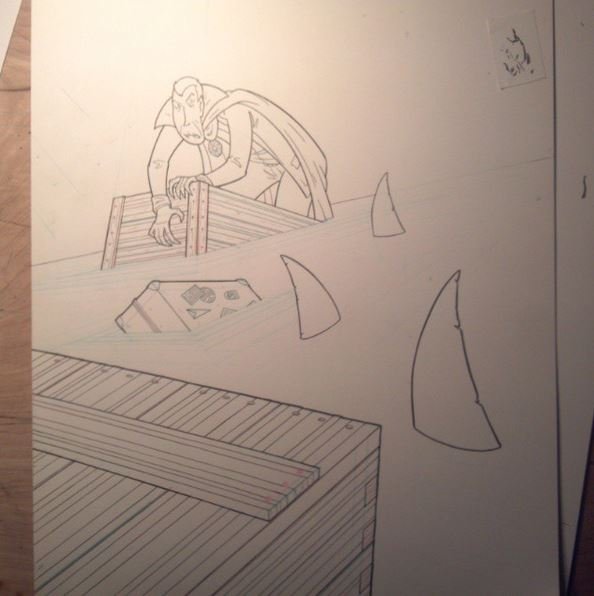 Eventually it turned out fine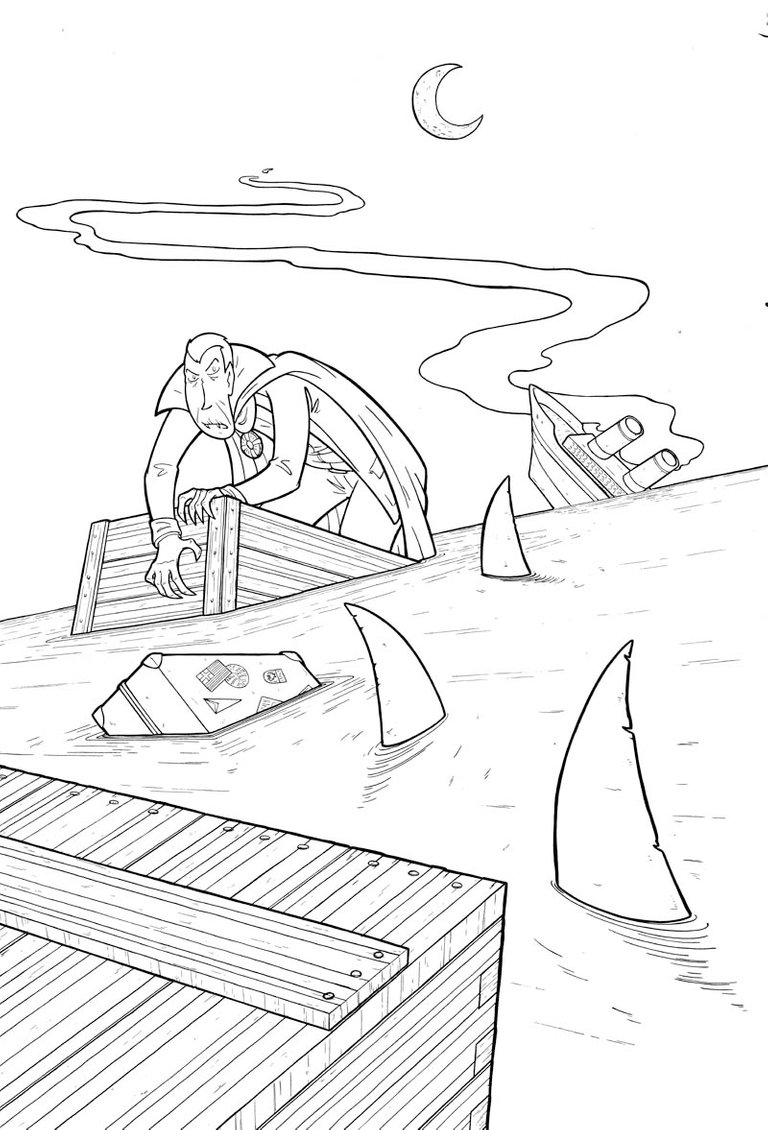 Oh...lemme show off that boat! That is in perspective too...but I ain't showing you how to do that right now.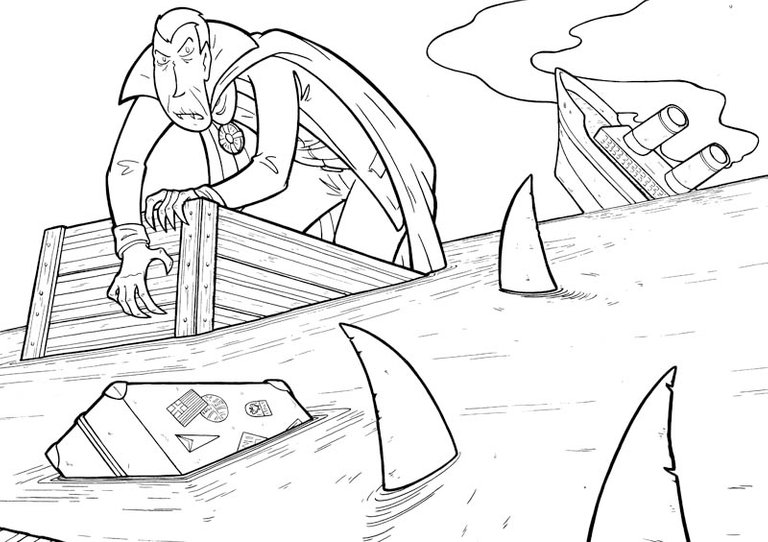 and here's the colored version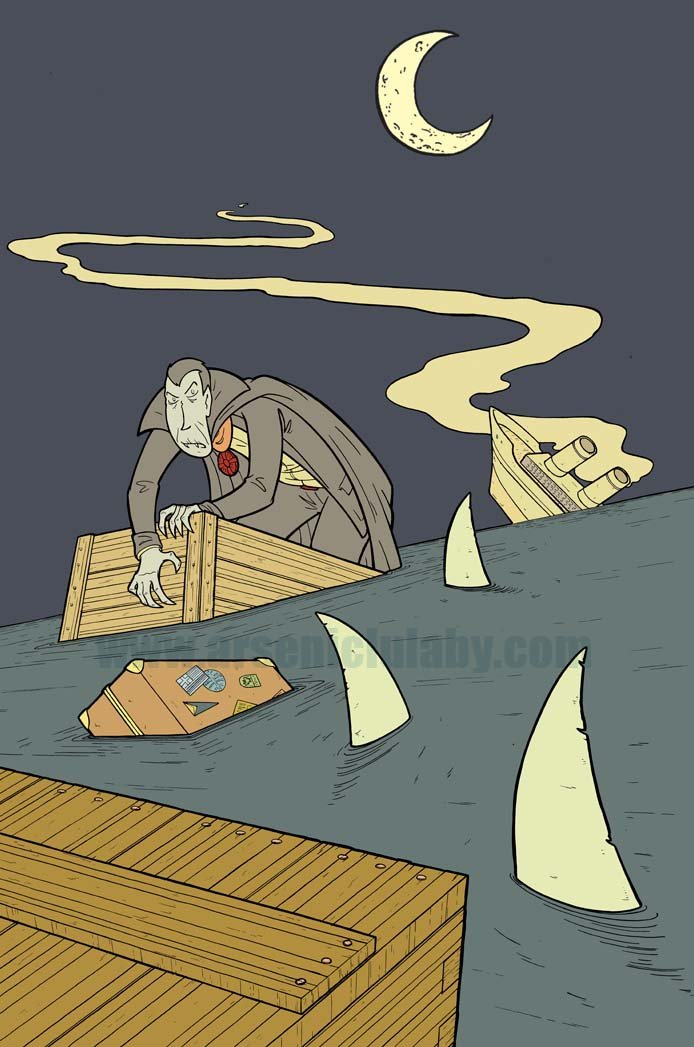 and... prints of it are up at my online store if ya want one. coupon code STEEMIT is good for 30% off
https://www.arseniclullabies.com/store/index.php?id_category=7&controller=category&id_lang=1
also, while I was looking through files I found this, which I forgot I even did....did I ever show you this one?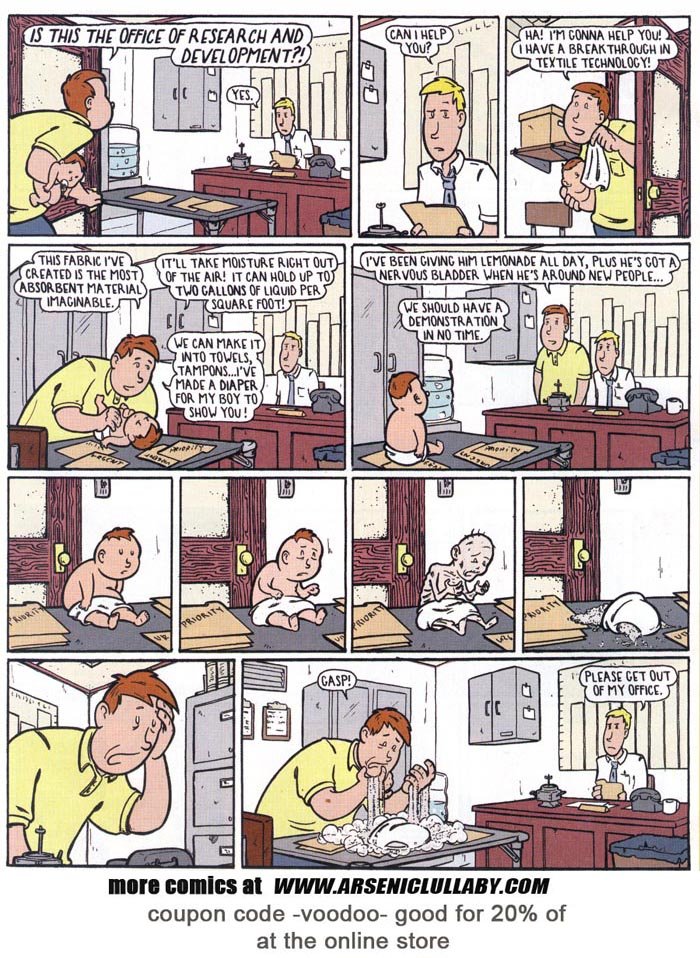 anyhooo...more stuff later this week