---
by @bryan-imhoff via @exploreunlimited
---
If Humble Bundle keeps showcasing comics at this rate… I'm going to be promoting Humble Bundle (and giving them my money) almost every week!
Hot on the heels of the Johnathan Hickman bundle I pointed out, there now comes a complete collection of The Walking Dead! I'm not even going to bother with a synopsis. You're currently reading this on the internet. Therefore, if you have access to the internet and perhaps a television then I'm sure you've at least heard of The Walking Dead.
---

---

This is the comic series that birthed the television show and pop culture phenomenon. 16 years of storytelling resulted in 193 issues collected into 32 volumes which you can now own and read for $18. Seems almost criminal, but I'll take it!
In the past I've read the first several volumes through my Comixology Unlimited subscription. But even as a member of that service, only the first 10 volumes are available to read. Once your hooked you've gotta pony up and buy the remaining 22, and they'll set you back more than $18! So jump on this deal now while it lasts.
---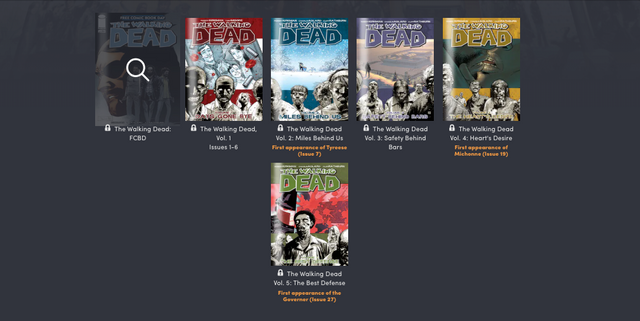 ---
---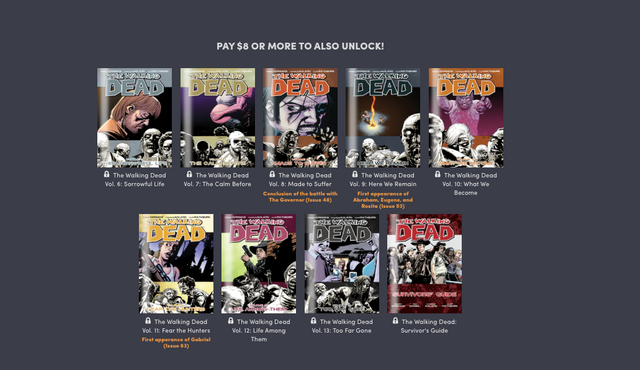 ---
---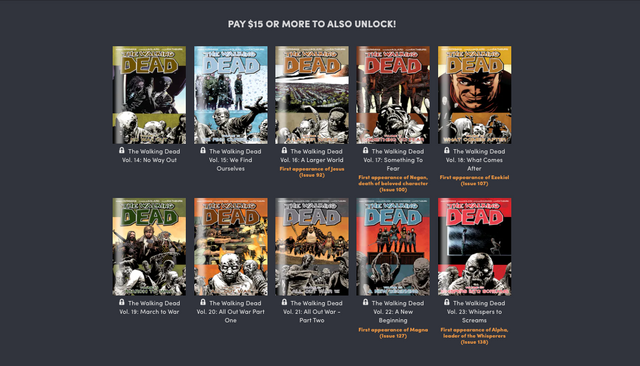 ---
---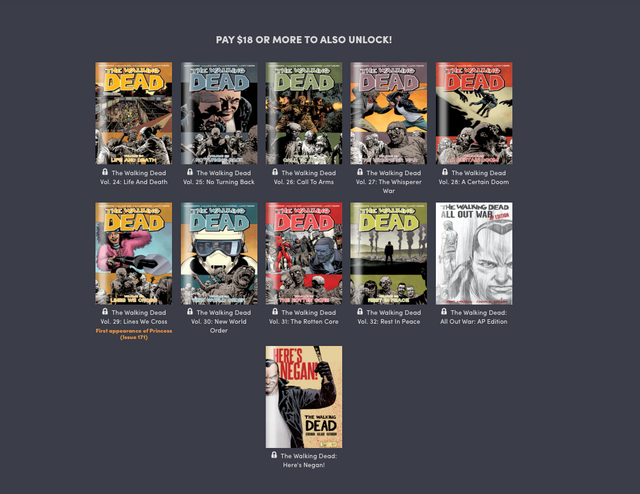 ---
Yup, DRM-free high quality digital editions in the format of your choice of all of that above... for only $18 bucks!
We're seeing so many amazing offerings on Humble Bundle currently, I think largely due to the charitable giving aspect. A portion of all sales automatically goes to a charitable cause chosen by the publisher whose material is on offer. In fact, you can even alter the percentages of who gets how much of the sale; between the charity, the publisher, and the Humble Bundle service. While it's tempting to give it all to charity, I always leave a fair amount for the publishers and site, so that everyone is incentivized and funded to keep providing this service, and keep supplying amazing offers of content.
The charity of choice for The Walking Dead bundle is the Book Industry Charitable Foundation, which provides aid to book and comic store owners and employees during times of financial hardship. In the current pandemic and economic uncertainty, that's needed more than ever if we all want to keep getting our desperately needed fix of fun and escapism.
---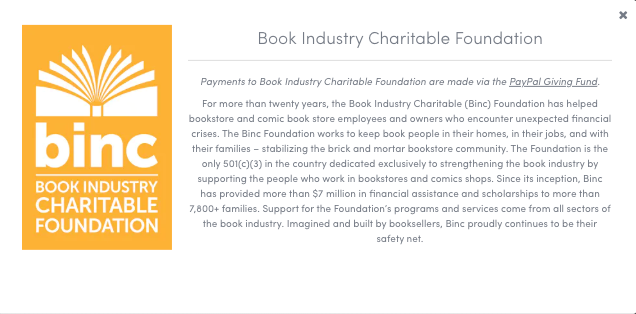 ---
Head on over and grab The Walking Dead on Humble Bundle. At the very minimum it'll give you plenty to read during quarantine… and perhaps it'll make you say... "Well, at least it's not a zombie apocalypse out there."
- Bryan "the Imp" Imhoff

---
Exploring the Unlimited brings you comics reviews and related information, with a focus on stories available on todays online platforms such as Marvel Unlimited, DC Universe and Comixology Unlimited, which help make thousands of comics accessible and affordable worldwide.
All photos taken by @bryan-imhoff and are copyright their respective owners; used here under fair use for review and criticism.