---
by @bryan-imhoff via @exploreunlimited
---
Wow! 2 months has passed since my last "Recent Reads" column in which I stated that I'll attempt to produce these regularly. As you can see, regular is a subjective term...
Here's a look at the latest batch of materials I've tackled in a quest to work through my "to read" pile. Spoiler Alert: the pile is only growing bigger and I've heard murmurings among the paper that it's looking to secede from the rest of my apartment. I'll keep you updated on those political developments as they occur! In the meantime, an unread bookshelf is actually a pretty sweet problem to have, so I'm not complaining too much.
Now, on to the pile!
---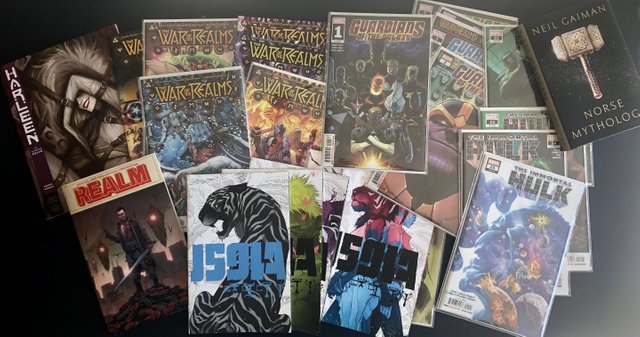 ---
This column's spread includes
Immortal Hulk # 22-25
Isola # 1-6 and Prologue
Guardians of the Galaxy (2019) # 1-6
War of the Realms # 1-6
War of the Realms Strike Force: Land of the Giants # 1
Harleen Book Three
The Realm Volume 1
Norse Mythology by Neil Gaiman
These mini reviews and ramblings may be a bit more mini than the previous column! I neglected to take good notes and pictures as I went along, which combined with the aforementioned long layoff in column production is not good! I'm endeavoring to fix that process with the upcoming reading pile... taking more notes and hopefully being a little more fresh and timely in presenting them.
---
---
First up is Immortal Hulk # 22-25. This series continues to impress with Al Ewing's amazing writing, often accompanied by Joe Bennett's perfectly suited artwork. The story is smart and has depth, very well represented in issue # 25, which continues to establish the concept of the Hulk on an incredibly grand scale... more than a mutated scientist, the Hulk is explored as a gateway to a primal force of the universe itself, often with terrifying results.
---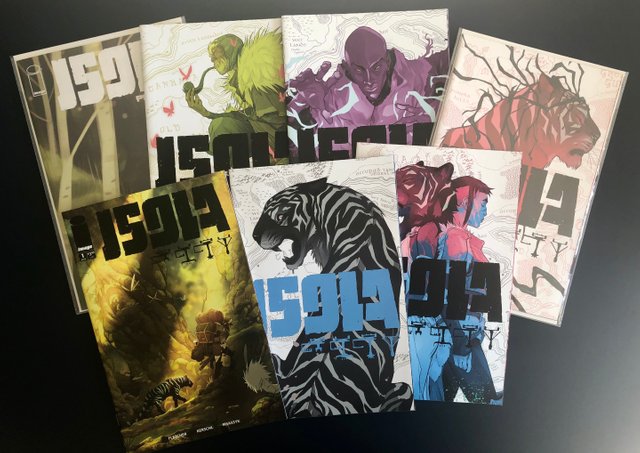 ---
Isola is a series I've been very excited to explore... and that's a perfect choice of words. I didn't so much enjoy reading it, as I did exploring it. The artwork by Karl Kerschl is stunning, particularly his use of color.Some have said this is like the comic version of a Studio Ghibli animation feature and they're not wrong. The world is gorgeous to explore, clearly well developed and intriguing, but the writing by Brenden Fletcher just hasn't been a real page turner for me. I personally have a preference for more character driven stories though, while Isola could be better described as a "high concept" tale perhaps. It's still worth the price of admission though and I'll be continuing on with the series.
---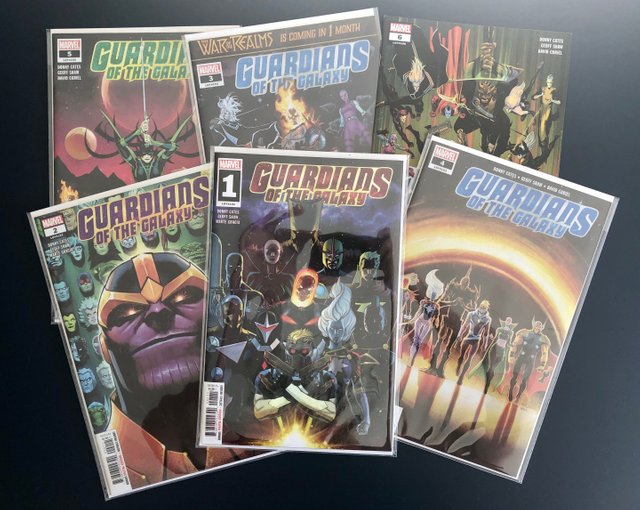 ---
I'd read the first issue of this iteration of Guardians of the Galaxy some time ago, but gave it a re-read as I worked through this entire story arc in short order. Written by the prolific Donny Cates the series pulls together a new lineup of Guardians with only a couple of the initial members being familiar to those who know only the cinematic version. Star Lord and a very different Groot are at the core of the team, banding together with Beta Ray Bill, Cosmic Ghost Rider, Phyla-Vell, and Moondragon to combat the threat of a possible resurrection of everyone's favorite cosmic baddie, Thanos. This storyline is filled with factions, paranoia, and infighting as Thanos' consciousness is uploaded into a new host... who could be anybody. Fun, well done cosmic super-hero fare in the Marvel style!
---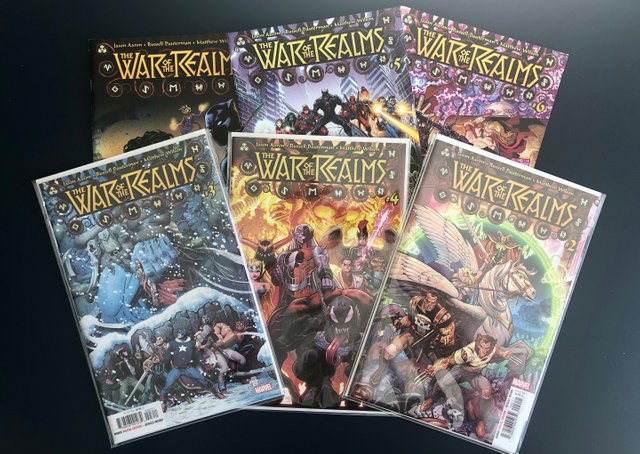 ---
War of the Realms was one of Marvel's recent massive crossover events... which they unfortunately run two to three of per year! The dark elf Malekith has succeeded in conquering almost all the realms of Norse mythology, including Asgard. His bloody war now comes to the last holdout... Midgard (Earth!)
This was a fun read. I personally have a strong enjoyment of fantasy fiction and love it crossing over into the modern world/society. There's a lot of humor and fun character interaction to be found in this crossover mixed in with some insanely epic "cinematic" type action. Russell Dauterman's artwork is clean and readable, which is very much needed in a story this densely packed with characters, creatures, and epic scenery. Those beautiful Art Adams illustrated covers alone are almost worth the cover price alone.
The funny/sad thing is that I had all these physical issues on my reading pile and ended up reading them on the Marvel Unlimited app instead! Comics have a six month delay before hitting that service, so that shows you just how far behind I am in my reading duties! (It's actually waaaay more than six months...)
The only thing I dislike about these mega events is just how unimportant they actually end up being. The devastation shown, the fallout of the war... it should effect the Marvel universe for years to come. Instead, there's probably just an offhand mention or two over the next couple months and that's it. That's a problem with any long and convoluted continuity, so ultimately you just have to choose to enjoy each story arc on its own merits, independent of what's come before or will come after. On that grounds, War of the Realms is a solid summer blockbuster popcorn flick style comic book.
---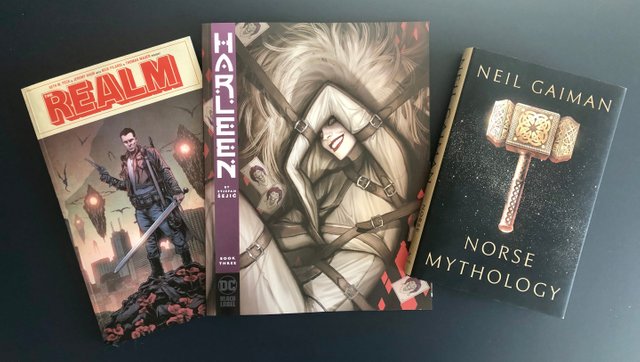 ---
Harleen is the opposite of the War of the Realms blockbuster trappings. It's a character focused dark psychological romance relating the origins of Harley Quinn. I already raved about the first couple volumes in the last column and Book Three didn't disappoint, bringing the series to a unsettling yet satisfying conclusion. I can't wait to see what Stjepan Sejic's next project is. I'll be getting it for certain.
Volume One of The Realm was a re-read for me in preparation for tackling volumes two and three, both of which I have awaiting my attention! This story features a post apocalyptic magic meets the modern world scenario. Again, I love that stuff. If you follow my efforts at making my own comic book, "I Thought It Would Be Zombies..." then you already know that! I like to see how others handle the concept and mashup. This comic is intriguing and well done. Much more dark and serious than my own efforts and more reminiscent of a Walking Dead type vibe. I was hooked from the opening sequence which features a warlord who's set up his little kingdom inside what is clearly the well stocked remnants of a Costco Warehouse. (I work at one... so it tickled my fancy...)
And finally, I got around to reading the prose book Norse Mythology by acclaimed author and comic creator Neil Gaiman. This was an entertaining read that did a good job of accurately presenting some of these old myths in a way that cut the "dryness" a bit, although some might still consider it a bit bland for their tastes. Each chapter presents a different myth that stands well on its own, but Gaiman does a great job of subtly showing the links between them so that they build on each other in turn to create an overarching and satisfying storyline.
---
So that's it! This selection was heavy on fantasy fare and title with the word "realm!" Kind of a theme!
If you've got any questions on the materials rambled about here, please ask in the comments! I know some fellow Steemians may have already enjoyed some of these tales as well. @oryans.belt listed Harleen as a top comic of 2019, which I fully agree with! And I believe I saw @steevc reading Norse Mythology back in the day if I recall correctly. And of course @richardfyates is always good for a ton of reading and insightful reviews to follow!So if there's anything you're currently reading, recommending, or want to discuss... hit that comments section!
Bryan "the Imp" Imhoff
---
Exploring the Unlimited brings you comics reviews and related information, with a focus on stories available on todays online platforms such as Marvel Unlimited, DC Universe and Comixology Unlimited, which help make thousands of comics accessible and affordable worldwide.
All photos taken by @bryan-imhoff and are copyright their respective owners; used here under fair use for review and criticism.