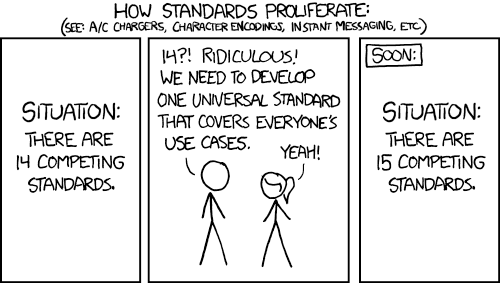 "Standards" by XKCD
---
Once upon a time, one developer at Steemit inc. decided to add some custom flavors to the the official Markdown syntax. One widely used example is that you can just paste image URLs into the post body, and they will be converted into an img HTML element, automatically.
One can argue that this is a very good usability thing for the end-users, but these kinds of custom flavors come with its own problems. Since users are expecting this behavior in everywhere, other HIVE interfaces also needs to implement the "Condenser flavored Markdown".
And guess what, it's not really modular, so you can't just use it as a package, you need to pull the related parts from the Condenser, manually.
We need a unified "Hive-Flavored-Markdown" package for Javascript (also preferably with other popular programming languages) so that every interface uses a common library to handle the differences.