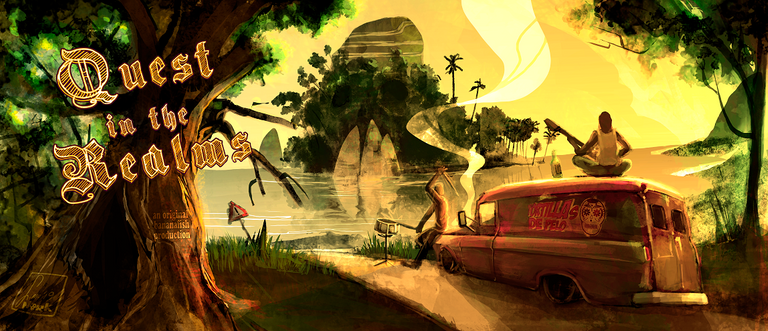 Look who's there, a wandering adventurer looking for the Bananafish treasure! This episode is part of the interactive story/treasure hunt called "Quest In The Realms". If you landed on this page because you're trying to solve the mystery, don't hesitate and keep delving in the story. If you came here through random loitering, what are you waiting for!?

48
You nod to Tres. "We begin where it all started, with Social Media Onanism and jam it on from there."
It's your first time playing after your... sudden improvement, and it surprises you how its effects multiply off each other. Machete's riffs start mapping an entirely new song. Tres follows effortlessly as if knowing exactly what's going to happen. Tio keeps you all in sync together.
And then somehow it all gets even better--the song rises to an impossible crescendo of passion and white light.
You have no time to think about your lines. You sing about coprolites, agents, monsters, planes, boats, ships, the Irish, hallucinations, volcanic islands, Elvis, tentacles, villas, squirrels, and ways to have sex with, or in, all of the above.
Perhaps what those lyrics really mean is this: if a true rocker consorts with devils, but owes them nothing... And pays lip service to the Man, but does not sell out... Then he can sing whatever the hell he wants, and everyone who listens will experience some brief surrogate of his freedom.
The Tortillas de Pelo's nameless best-song-ever finally ends, and you point at Oddy Osmourne as you drop down the mike.
Oddy's body hits the floor at the same time.
While the freaks watch in silent awe, you step down the platform and make way to your opponent. Oddy ignores your exploratory savage kick in the groin and remains stiff as a board. Even in passing, he's keeping his pose! Turns out that calling for an ultimate rock throwdown deathmatch wasn't just a figure of speech... But you're in no hurry to verify how that magic precisely works.
Out of old habit, you pocket Oddy's wallet, his cigarettes, and his cellphone. And you take a swig from his secret hip flask.
Then Tio starts a slow drum roll, and Tres' bass follows suit. That stage over there is the place you need to be now. With your band. All around you, the malformed minions realize they have been liberated from servitude. They are smiling like your toothless GRANDMA and crying and clapping and joyously setting the furniture on fire.
You are the Tortillas de Pelo, and your concert's only getting started.
You are heroes and kings of punk and gods of metal.
This night, and all the nights to follow.
It's going to be epic.