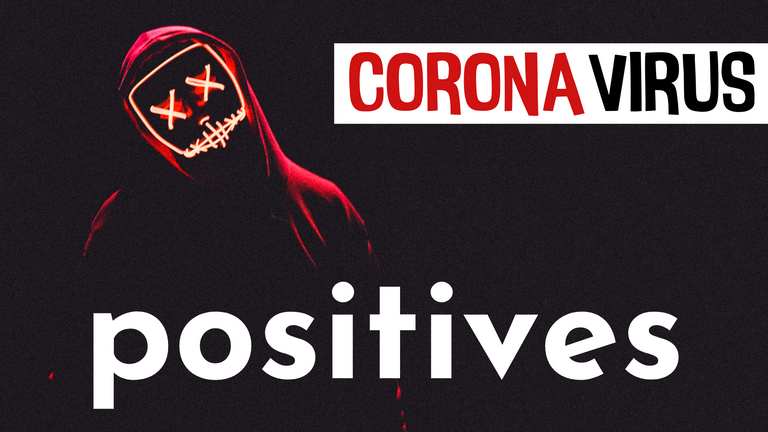 Whatever is happening shouldn't have happened but let me mention a few POSITIVES of this CORONAVIRUS Drama . Why? Because one of my goals in 2020 is to become a more positive person, so here it goes:
Air Pollution in the most hit countries i.e Italy and China has gone down by a fair amount. Why? Because people are locked in their homes waiting for all the drama to end someday. This lockdown seems to save more lives from both the virus and the pollution.

Content creation business is booming. A person sitting idle at home will either watch videos or make them. 😎 So, subscribe to my YT Channel: https://www.youtube.com/c/hungrypb. I make good videos, but in Hindi. :P

People have started to care about their personal hygiene including me. Mother's used to keep on reminding us to wash hands before having dinner, when were kids. Guess who was right?

Travels of Narendra Modi/Donald Trump have been reduced to NIL. Saving a lot of money! Now in case if the economy is booming, these guys can take the credit, no problem. ;)

I hope many people are now realizing that Prevention is better than cure. So we might as well spend money on scientific researches which can help the world kill such pandemics before they even become pandemics. Cuz, "Gaumutra Party" is not a solution. xD

Memes. Do you even twitter bro? Do you even Facebook, Instagram, TikTok, Snapchat bro? They are all over the place. Fucking hilarious. xD A virus that is viral on the internet as well.

Family dinners are so much fun (until someone tests +ve :P) and finally people are getting along very well once again.

If you hate 'someone', this is the time I want to let you know that that 'someone' is fucking terrified because of this drama. xD Also, hate is not a positive emotion, so please get over it, you will feel much better. :))

A few bunch of people also realized that many more human beings die everyday on the roads due to accident or poverty yet nobody gives a fuck. Coronavirus doesn't discriminate between the privileged and non-privileged and suddenly everyone is losing their minds.

Every country got a slight taste of its governance, action and medical facilities.
So let's be more positive and learn from everything that is happening in the world right now! It's a shitty place already why add more to it. Tell me in comments, what do you think?
And for god's sake, kindly do not panic!!!!! Be safe! Also, watch this video I made in Hindi.