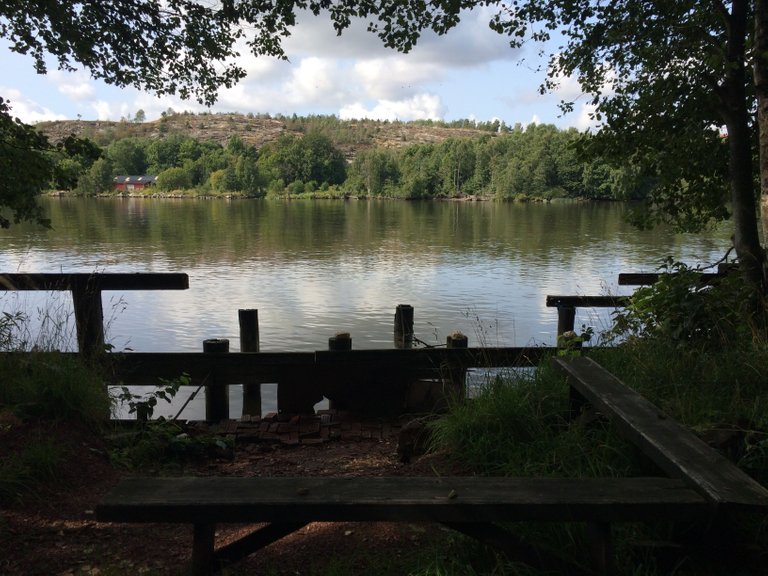 I'm in Norway, my adopted land. My company is based here, I am based here. That's expressed the wrong way round of course. People are worth more than companies, especially if the company is a one man band, like mine. So I just bought into the very thing which I came to write about - the way that the creative self has been undermined and devalued by capitalist culture, its terms of reference, its reach, and its obsessions. I don't mean to imply that capitalism is inherently bad or good, just that in its current form, it is has become the measure for everything.
My girlfriend and I had a great conversation yesterday with Per. We were talking about the differences in the way people in different cultures and nations greet one another. How are you? is a such a broadly open question, but generally the one thing nobody wants to hear is how you actually are. In Norway, you won't get too much information necessarily. People can be terse, and this isn't considered rude. Brevity is built into the language. They don't say, "excuse me, could you pass the salt please?", they say "Salt."
In England, you're always fine, or not bad, even if you have three weeks to live. In the US, you have to be great. That's what people want to hear. They don't want to think you are failing, because failure in a land with no social safety net could become destitution, sickness and death. When people greet you in this place, they ask for your name, and what you do. You are expected to reply succinctly. You can't say, well, I was an artist, then a songwriter for some years, and then I ran a web company, then I was a podcaster / blogger, and then I looked after my mother. They will glaze over and phase out. You can't say, "not bad" because that doesn't sound too good. Hype is built into expectations. Per commented that he liked the way it works there, because it has a certain functionality. He is Per, the Norwegian artist. That's just fine. And then in conversation, you don't have to go on about work. That is just what you do.
I was thinking about which of the freedoms which emanate from and still exist in the US are genuinely liberating, and which of them actually impose limitations - i.e. in every culture there exist the Things Which Cannot Be Questioned - taboo. It seems to me, as Brit, whose land is full of these Things that the Americans have it better. They have this take-you-on-merit attitude which we don't. Maybe this isn't the case on the east coast, where they are more European, more likely to check LinkedIn for a resumé just to see if you're for real, but it seems to be across much of the continent. There, I could say, I'm Artzo, I'm an historical figure, I invent the future, my best work is yet to come. I'd smile, of course, then time travel to prove my point. The proof would be unncessary, but I'd do it anyway just for fun.
Looking back over old work, thinking about new work led me to this train of thought. So much of what we do is considered less valuable unless it is new. That is caused by capitalism, driven by profit above all else, built-in obsolescence, and the needs of marketers to have something unique. There is nothing new in rock and roll. Even if your work isn't rehashed from sundry sources, the chances of you creating something truly new are slender to none. We don't live in a vacuum. So, that makes a resumé pretty useless. People don't want to know what you did, they want to know what you are doing. Doing nothing right now? Deadbeat. New is good, old is bad. History is dead. But what about your personal history? It matters, all the more so if you're a creative. You need to go back over your notes, to keep them for later review. They are frequently markers in time which remind you of how you arrived at where you are now. Ideas jotted down and forgotten can be keys into contemporary doors. Who you were then is an earlier tree ring within the corpus of yourself.
Old is good. You should value your creative past, even the dead ends and the misfires, because rotted down, that is now the soil enriching you. See if you recognise it. Sometimes, memory being what it is, you will re-learn an old lesson. Other times, you will laugh. Once in a while, you will think, I really should continue with that one.
I greet my old self, and ask - "How are you? What's your name? What is it that do you do?"