Do you want to invest in cryptocurrencies with security? then icenter is a possible option. Not only is it an investment page, but it also wholly whitens what it does with our money, for example, not only do they trade, but they invested 110,000 dollars in genesis mining a few weeks ago, obviously that is just one of the many investments that make.
the page works with Bitcoin, Litecoin, Ethereum and Bitcoin cash
CURRENTLY ONLY WORK BY TELEGRAM BUT THEY ARE DEVELOPING THE WEB, DISCUSS THE DISCOMFORT
All links at the end of the post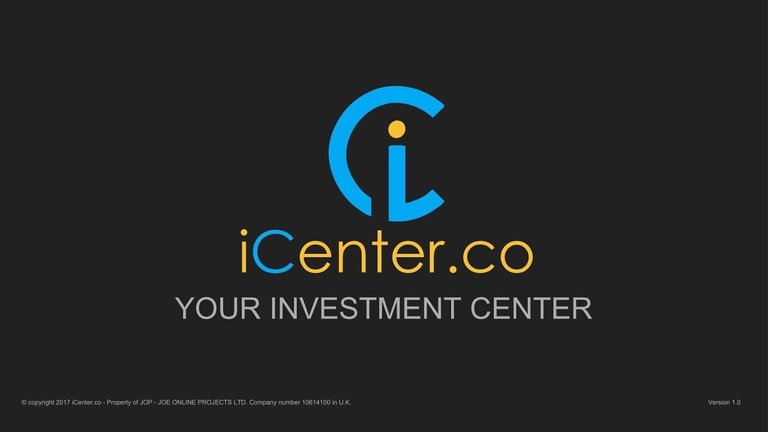 HOW DO THEY GENERATE THE PROFITS?
It sounds weird that for giving money to a company they give us such a benefit, it is not so weird, what they do is that thanks to the big funds (sum of all the investments) they can diversify their investments in case one does not work one month, nothing happens there are many others that did generate profit (on the web page are more specified)
Some examples:
-BTC mining and other
-Trading crypto
-Sports bets
-Investments with its 27 Partners
HOW MUCH CAN I WIN?
Icenter gives 1.4% for 99 days (140% total) in the LTC and ETH bots, 1.5% in the BCH and 1.2% for 120 days with BTC
But the great thing about this page is that it allows you to reinvest your profits since they pay you every 6 hours a percentage which allows you to generate interest quickly
WHAT IS THE COMPOSED INTEREST?
The compound interest is to generate more and more profits with a single investment example: if I make an investment of 100 usd with 10% daily profits I would earn 10 usd a day, if I invest the next 10 usd I would now generate profits with 110 usd, so I would earn 11 usd a day, those 11 usd I re-invest and so constantly to increase the return on this investment.
WHAT IS THE MINIMUM INVESTMENT?
The minimum is:
0.1 LITECOIN
0.01 BITCOIN IN CASH
0.03 ETIEREUM
0.01 BTC
The minute of withdrawal is the same as the one of investment
HOW CAN I GENERATE MORE COMPOSITE INTEREST?
Depending on your investment is how long it would take to do a reinversion, there is something called magic numbers that are
the amount you need to invest to have a daily reinvest
| ICENTER BTC BOT |
MAGIC NUMBERS
0.84 ʙᴛᴄ = 0.01 ʙᴛᴄ ᴀ ᴅᴀʏ
1.68 ʙᴛᴄ = 0.02 ʙᴛᴄ ᴀ ᴅᴀʏ
3.36 ʙᴛᴄ = 0.04 ʙᴛᴄ ᴀ ᴅᴀʏ
8.4 ʙᴛᴄ = 0.10 ʙᴛᴄ ᴀ ᴅᴀʏ
| ICENTER ETH BOT |
MAGIC NUMBERS
2.15 ᴇᴛʜ = 0.03 ᴇᴛʜ ᴀ ᴅᴀʏ
4.30 ᴇᴛʜ = 0.06 ᴇᴛʜ ᴀ ᴅᴀʏ
8.60 ᴇᴛʜ = 0.12 ᴇᴛʜ ᴀ ᴅᴀʏ
17.2 ᴇᴛʜ = 0.28 ᴇᴛʜ ᴀ ᴅᴀʏ
69.6 ᴇᴛʜ = 1.12 ᴇᴛʜ ᴀ ᴅᴀʏ
| ICENTER LTC BOT |
MAGIC NUMBERS
7.2 ʟᴛᴄ = 0.1 ʟᴛᴄ ᴀ ᴅᴀʏ
14.4 ʟᴛᴄ = 0.2 ʟᴛᴄ ᴀ ᴅᴀʏ
28.6 ʟᴛᴄ = 0.4 ʟᴛᴄ ᴀ ᴅᴀʏ
72 ʟᴛᴄ = 1 ʟᴛᴄ ᴀ ᴅᴀʏ
| ICENTER BCH BOT |
MAGIC NUMBERS
0.67 ʙᴄʜ = 0.01 ʙᴄʜ ᴀ ᴅᴀʏ
1.35 ʙᴄʜ = 0.02 ʙᴄʜ ᴀ ᴅᴀʏ
2.7 ʙᴄʜ = 0.04 ʙᴄʜ ᴀ ᴅᴀʏ
6.67 ʙᴄʜ = 0.1 ʙᴄʜ ᴀ ᴅᴀʏ
66.7 ʙᴄʜ = 1 ʙᴄʜ ᴀ ᴅᴀʏ
CONTACT
If anyone is interested in investing here I leave my telegram in case they want me to solve any questions or send them some proof of payment, I also have an excel table to control your investment
LINK