🇬🇧
One year ago I was a bit bored so I went to the trading bots and give it a try. I found Minerva trading bot which is totally free and I tried to invest in it around €100 to see what's going on in here.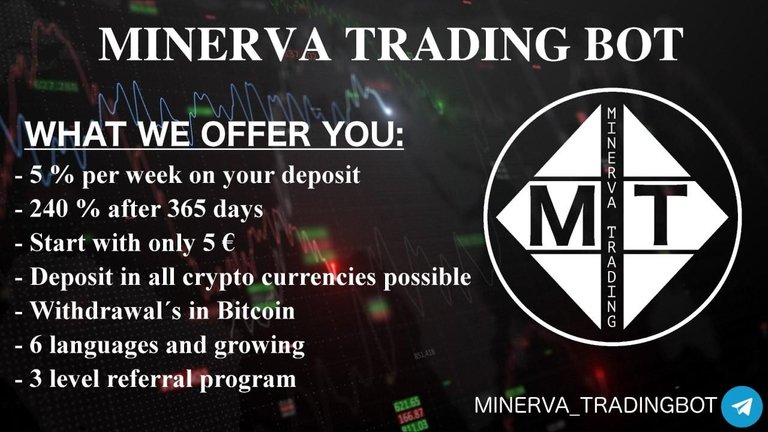 First of all I was quiet sceptical of it, just because it sounds too good to be true. 5% interest return in a week is crazy, isn't it.
Let's be honest here. I have my deposits in there for almost 1 year and it's still working as a charm.
Still I have not such trust to invest in there more than I can spare.
Where to begin?
Proof of transactions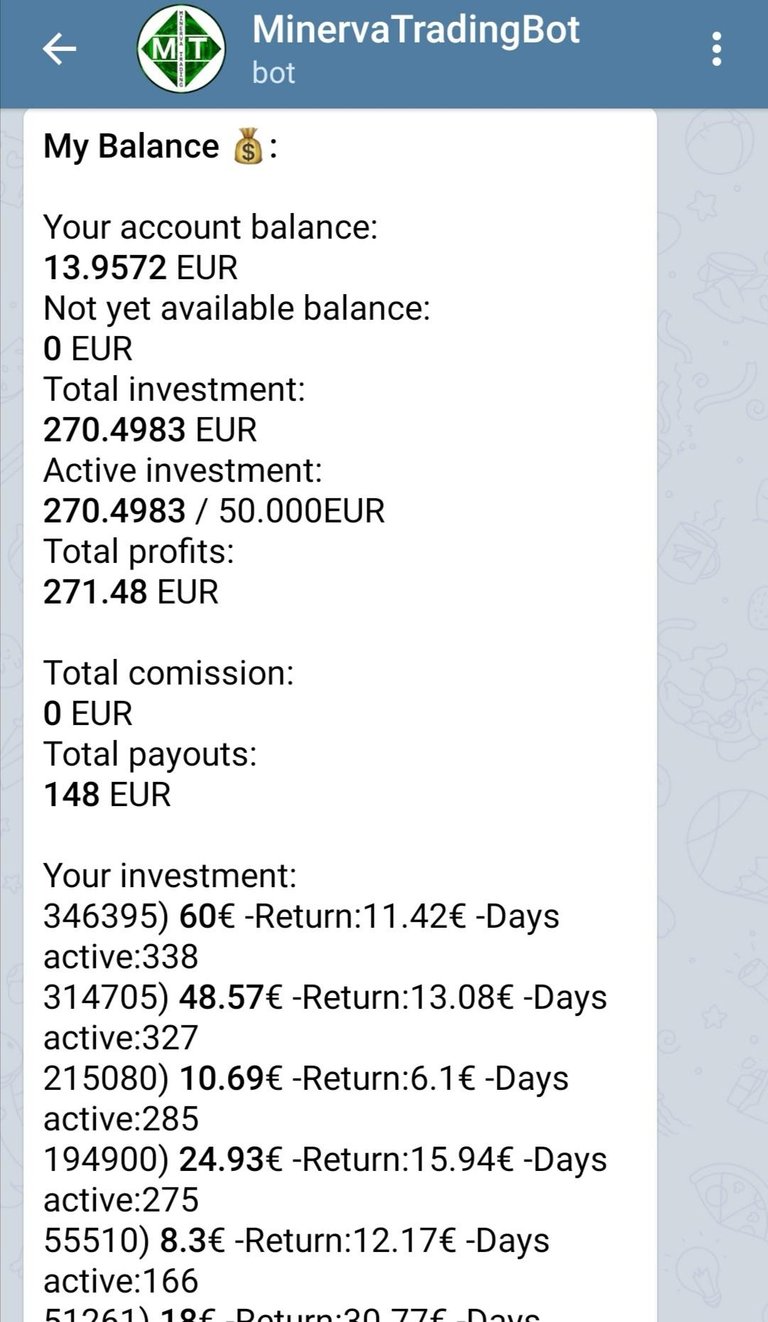 Try it out, check the bot and see.
Referral link : Minerva
Non-ref link : Minerva
⚠️ Invest only from your wallets, not from exchange platforms (Exchanges are charging fees and your investment may not occur)
🇨🇿
Před rokem jsem se trochu nudil a řekl si, že vyzkouším nějaké obchodující "boty". Známý mi doporučil Minervu, která je kompletně zdarma a na zkoušku jsem do ni vložil €100. Jen abych zjistil, zda funguje a má smysl do ní dál investovat.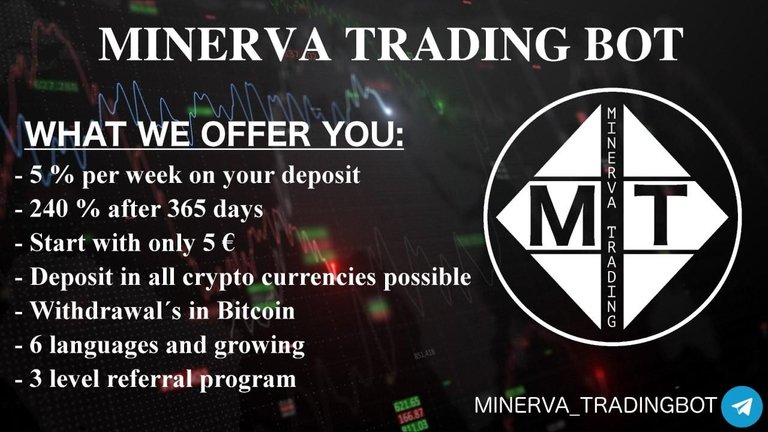 Nejprve jsem byl velice skeptický, protože vím, že tyto "aplikace" po schrábnutí investic najednou zkrachují a Vám nezbyde nic, než jen oči pro pláč. 5% týdenní návratnost investice zní opravdu přehnaně, ale já do rizika šel.
Pokid budu upřímný, jsem v Minervě už přes rok a funguje to zatraceně dobře.
Stejně ale nemám dost odvahy investovat více, jak přebytečné drobáčky.
Kde začít?
Důkaz transakcí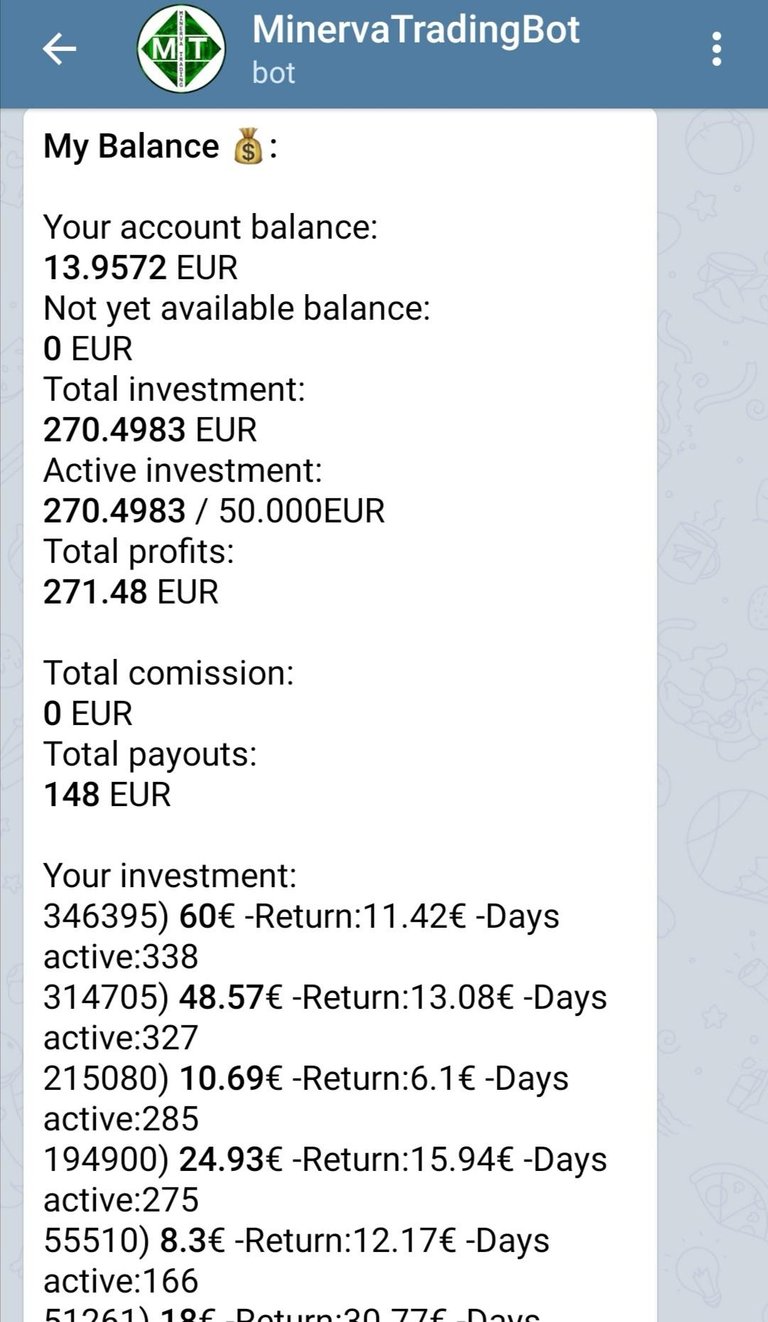 Vyzkoušejte, investujte drobáčky a uvidíte.
Referral odkaz : Minerva
Non-ref odkaz : Minerva
⚠️ Pozor, investujte pouze z peněženek a nikoliv ze směnáren. (Směnárny si účtují poplatky a vaše investice by se nemuseli přičíst)