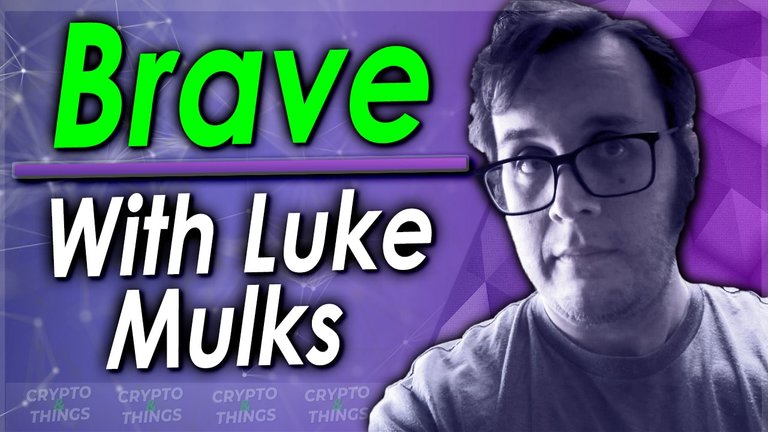 Do you want an internet browser that's faster, pays you, and values your privacy more? Brave browser is the answer. I spoke with Luke Mulks from Brave a second time who is now the VP of business operations there. We talk about Basic Attention Token and all of the latest and greatest for the brave browser.


Note that 3speak wasn't working so that's why I uploaded a DTube video
Brave is aiming to decentralize more and continue to build on what they've been doing so well with.
Brave is a new way of thinking about how the web works. Brave is open source and built by a team of privacy focused, performance-oriented pioneers of the web.
It's three times faster than Chrome, better privacy by default than Firefox, and uses 35% less battery on mobile.
These are some of the questions we went over:
• Can you tell us a little bit about yourself?
• How and when did you originally get into cryptocurrency
• Can you give us a brief introduction to Brave?
• What problem does Brave solve?
• Brave has grown exponentially over the past 2 years, can you share any figures with us of how it's progressed? – 25 million monthly active users
• What is Brave's stance on user privacy and how does it ensure its users privacy is protected?
• Brave partnered with IPFS, can you breakdown how you are working with them?
• Brave runs in most countries, what can people do if they don't have access in their country?
• Brave recently launched the tap network. Can you share a little bit about that?
• What are the next big updates for Brave to release soon or that are in the works? – VPN, Search Engines, e-Commerce, file-sharing
• Brave is always working to improve their ads and scaling. How does Themis support this mission?
• Brave has recently announced they are working on a Brave DEX aggregator. What should we be expecting?
• For those who are cannot or refuse to KYC, is there any way for them to earn BAT ad rewards or will this always be a requirement?
• Where does Brave fit in with other existing similar projects?
• Where do you see Brave going in the next year? The next 5 years?
• So where can everyone go to learn more about this?
Check out https://brave.com/ for more information and to learn more about what they have to offer that is completely free.
You can also find the first interview we did here: