Quick Summary of Proceedings to Date
Original Statement of claim filed 14 Aug 2020: 51 pages
Justice Rares allocated to case - most experienced Judge on Federal Court of Australia
Amended Statement of Claim filed on 23 Oct 2020: 79 Pages
Four Affidavits of evidence filed: over 1000 pages
Three hearings before Justice Rares totaling 5 hours
Justice Rares confirmed prima facie case on all four legal elements of liability and damages
Requires further evidence on market-based causation of cryptocurrency investor losses
Next hearing 5 March 2021
A Plethora of Anti-Trust cases against Facebook & Google
Since I filed proceedings against Facebook & Google in August 2020, there have been at least six new anti-trust lawsuits filed against Facebook or Google, including the recent case brought by Texas and 10 other US states alleging a cartel between Facebook & Google in online advertising. According to the filing there is even a secret cartel agreement signed by Facebook's Cheryl Sandberg and Google Execs.
This case is similar in legal theory to our case, which is alleging that Facebook & Google's crypto ad ban policies constitute exclusionary cartel provisions.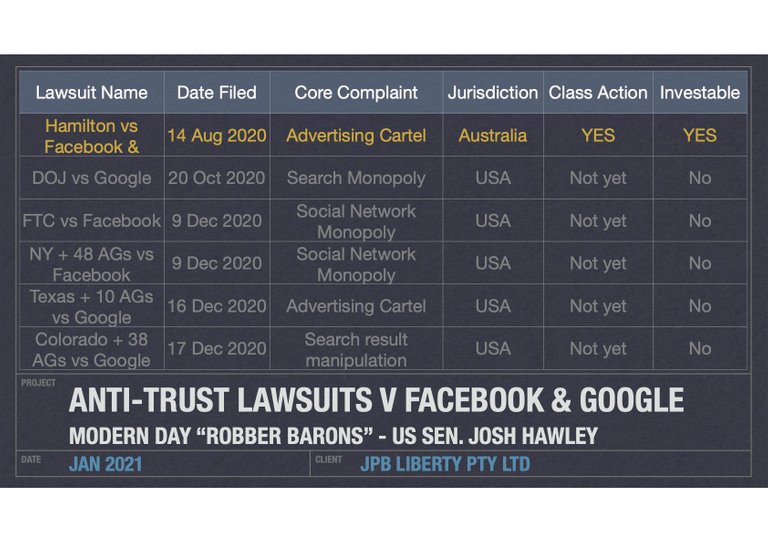 Zuckerberg admits Facebook & Google staff discuss who to ban
Mark Zuckerberg has even stated under oath to the US Senate that he thought it was normal for his staff to discuss who to ban with Google staff - Clearly this guy has never been to trade practice compliance training and been told that staff of competitors should NEVER talk about work, lest an illegal cartel be created.
We already had proof of the cartel provisions in Facebook & Google's standard contracts, but this certainly helps paint the picture of organisations with blatant disregard of the law.
We are close to achieving something BIG!
While the Court process is not speedy and we are yet to actually serve proceedings on Facebook & Google, we are close to obtaining a Court judgement that says we have a prima facie case on every element of our claim, including causation and damages.
The Judge has already indicated he is satisfied that I have prima facie case on the four legal elements of liability (ie they broke the law):
that there are contracts (Facebook & Google's Standard Contracts);
between competitors in the online advertising industry (Competition Condition);
that include provisions with a proscribed purpose to restrict supply or acquisition of services (Purpose Condition);
that Facebook and Google gave effect to these "cartel provisions" by announcing and implementing the crypto ad ban.
The last two hearings have been about me providing evidence of my personal losses and explaining the causation of market based losses from drops in crypto markets.
The causation argument is simple: Advertising works - take it away and businesses suffer damage.
The market based causation argument is also simple. In crypto markets supply is fixed (by the blockchain rules) so price is determined primarily by demand. Advertising drives demand. Take it away and price drops.
The Judge understands the basic causation argument and now wants to see the evidence.
@brianoflondon & I are preparing lots of great charts of data showing huge drops in price (statistically the largest in crypto history) and volume correlated to the timing of Facebook, Google and Twitter's ad ban announcements and implementation.
We'll be telling the story how the ICO, the most significant innovation in public fundraising since the creation of the first modern stock exchange in 1602, was killed off by the crypto ad ban and the resulting impact on the ETH price.
The harder you have to work for it - the more it is worth
The Judge has made us work hard to establish a prima facie case.
While it can be a bit frustrating, he is really helping us out by forcing us to present the strongest possible case with lots of good evidence BEFORE we make contact with the enemy. He is helping us correct any deficiencies.
When Facebook & Google are finally served they will realise that this case is very serious.
There have been very few private cartel class actions in Australian history and none have every proceeded to final judgement. Normally these cases are brought by the Australian Competition & Consumer Commission.
When we get a certification of prima facie case and leave to serve overseas companies we will be only the second cartel class action in 25 years to do so.
Once we get certification of having a prima facie case, this opens up the ability to get interlocutory injunctions and the no adverse costs order we have sought.
Prima facie case is the main legal requirement for both these things.
So big things are coming in 2021.
Watch this space.
Please vote for my Hive witness. (KeyChain or HiveSigner)