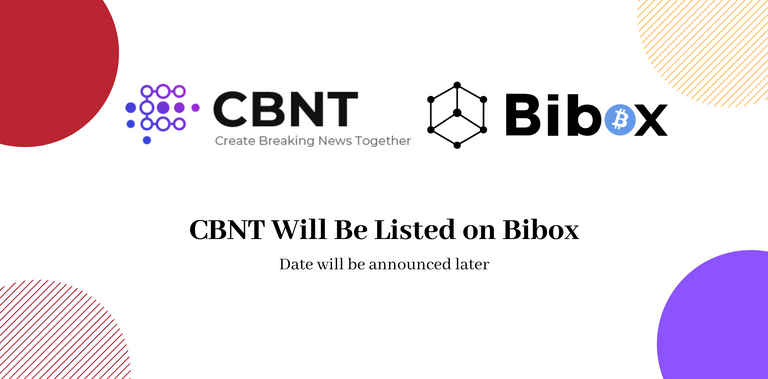 After strict review and detailed communication, CBNT will be listed on the Bibox Exchange. CBNT, a content sharing platform, will integrate with the Bibox Exchange to promote the healthy and sustainable development of the blockchain industry and realize improvements of the content ecosystem together.
CBNT is a decentralized content sharing platform built on the blockchain. In the CBNT ecosystem, users can gain rewards by content generation (posting content), and also by their attention to the community (liking, commenting, and sharing content); besides, CBNT will offer monetized advertising. The benefits from ads will be 100% distributed to all participants and everyone will benefit from the development of CBNT and increases in website traffic.
Chinese users on the CBNT App have reached 100,000, and the amount expands by thousands daily with more than 500 global communities.
The CBNT English website (web.cbnt.io) has been launched earlier this year, and the global content ecosystem is on the way. It can be predicted that the early participants of the CBNT App or Website will gain large benefits with the listing on Bibox and enjoy CBNT's many benefits
Mine CBNT:
Join and start mining CBNT now on https://web.cbnt.io/, and gain rewards by posting content, liking, and commenting. Share almost 6 million CBNT tokens every day with all our participants.
About Bibox:
Bibox was the first cryptocurrency exchange with AI technology and become the top 5 cryptocurrency exchange within a half year since the launch on Nov. 23, 2017. Since May 2018, the trading volume on Bibox constantly ranks Top 15.

Thanks to the effort of whole community, CBNT has achieved success in a short time frame, and millions of rewards will be distributed to all participants to celebrate the Bibox Exchange listing. Participating is mining, 100% benefits sharing, and community autonomy on CBNT. You are welcome to join us and Create Breaking News Together, and enjoy the benefits of the tokenized content economy.
Follow us on our social media channels for more updates:
Register here: https://web.cbnt.io/
Facebook:https://www.facebook.com/cbntofficial/
Twitter:https://twitter.com/CbntOfficial/
Telegram:https://t.me/cbntofficial
Reddit:https://www.reddit.com/user/cbntofficial
Medium:https://medium.com/@cbntofficial
Steemit: https://steemit.com/@cbntofficial