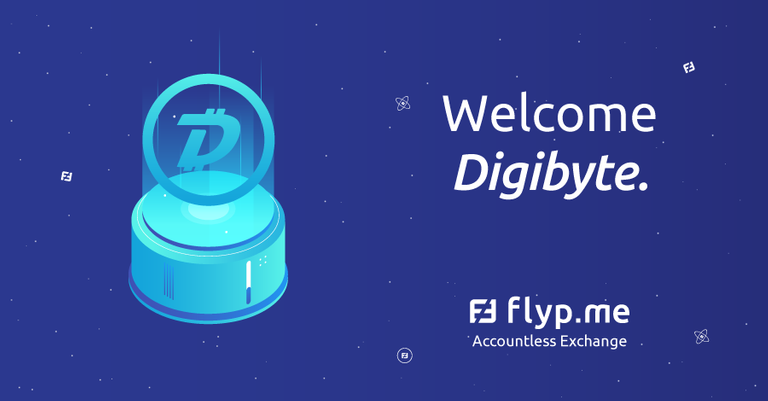 We are thrilled to announce that another great coin will be listed in the Flyp.me Accountless Exchange!
Starting today, DigiByte (DGB) is instantly available on Flyp.me.
Everyone can now flyp 30 different cryptocurrencies to DGB, head to Flyp.me. You don't need any registration, email, nor account. Just one click to exchange seamlessly and instantly while always being in control of your privacy and private keys.
Thanks to the Digibyte team launching the DigiByte blockchain, an open-protocol with a focus on cybersecurity, digiassets, payments, and secure communications technologies was formed. Since 2014, many other blockchains like Ethereum, Zcash & Dogecoin have adopted DigiByte technology such as DigiShield.
We are extremely happy to allow everyone to instantly access DGB using their preferred wallet, while maintaining control of their private keys.
We are very pleased to bring you instant access to DigiByte. Since 2017, Flyp.me accountless exchanger has been focusing on privacy, simplicity and speed.
Welcome to accountless trading, DigiByte Community!
About DigiByte
Developed in 2013, the DigiByte blockchain was released in January 2014 by Jared Tate. Although based on Bitcoin, adjustments in the code allow for 15-second block times, real-time difficulty adjustment and DigiAssets.
With DigiAssets you can build on top of DigiByte, because it is a scalable secondary layer on top of the global DigiByte blockchain that allows for the decentralized issuance of assets, tokens, smart contracts, digital identity and much more. DigiByte have had 285,000+ full node downloads since 2017.
About Flyp.me
Flyp.me is the professional tool for instant crypto trading. There is no registration necessary and no hidden analytics tracking you. Moreover, Flyp.me does not control users' funds, so your private keys are not at risk of being held on third-party services.
Flyp.me currently supports over 30 cryptocurrencies and is continuing to add more: Bitcoin, Ethereum, Zcash, Augur, Litecoin, Syscoin, Pivx, Blackcoin, Dash, Decred, Dogecoin, Flyp.me Token, Gamecredits, Peercoin, Aidcoin, 0x, Vertcoin, Basic Attention Token, BLOCKv, Groestlcoin, Essentia, DAI, DGD, Power Ledger, Enjincoin, TrueUSD, Cardano, Storj, Monero, Maker, TetherUS and now DigiByte.
Connect with the community on Telegram, Twitter and Facebook.