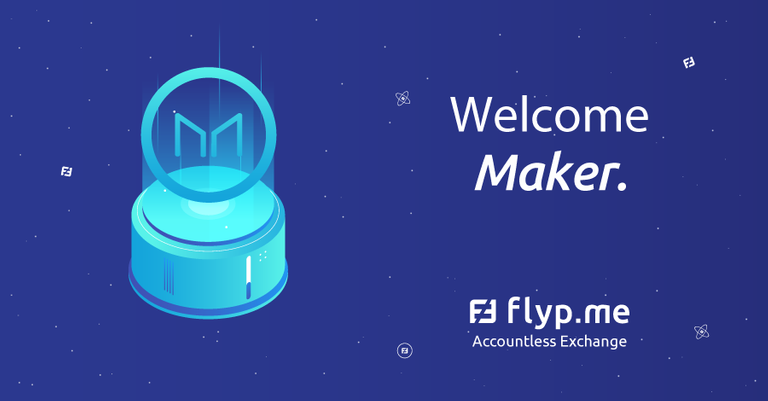 Be part of the decentralised finance revolution. Flyp to Maker token now!
We are very happy to share with our community that starting today Maker token (MKR) is available on Flyp.me accountless exchanger!
Flyp.me is the fastest, safest and most private way to exchange 30+ cryptocurrencies straight to your wallet. No registration, no email, no account. Just one click to exchange seamlessly and instantly.
You can now be actively part of the decentralised finance revolution powered by MakerDAO, the foundation that leverages the full potential of the crypto industry by providing collateral loans, decentralized governance and the native stable coin Dai.
After adding the Dai stablecoin a few months ago, it is now time to welcome MKR. MKR is the utility token, governance token and recapitalization resource of the Maker system. As a utility token, MKR is required for paying the fees accrued on CDPs that have been used to generate Dai in the Maker system.
Risk management is crucial for the system's success and survival, and is done in practice by voting on specific risk parameters.
"Our entire balance sheet is just one click away" the head of Business Development of MakerDAO, Greg Di Prisco, recently said at Consensus 2019 when talking about the health of their system.
We are very pleased to bring you instant access to MKR, just use your preferred wallet while maintaining control of your private keys. It's so simple, like sending a transaction. To learn more about Maker, visit the MakerDAO blog.
"We have been following MakerDAO since the beginning and have been really impressed with the their goals and ability to execute on their clear vision. It was a natural decision for MKR to be added to Flyp.me accountless exchanger. We look forward to working closely with this excellent team", said Francesco Simonetti, CEO of HolyTransaction and Flyp.me.
We welcome MKR to Flyp.me accountless exchanger and invite our users to look into this project, which focuses on creating a more inclusive and transparent global economy. Visit www.makerdao.com for more info and head to www.flyp.me to flyp to MKR.
Stay tuned through our social networks. Keep Flypping.
https://t.me/@flypme
https://twitter.com/flyp_me
https://facebook.com/flypme
Visit Flyp.me
Flyp.me is developed by HolyTransaction, the first multicurrency web wallet since 2014. Created for the community, trusted by hodlers everywhere.