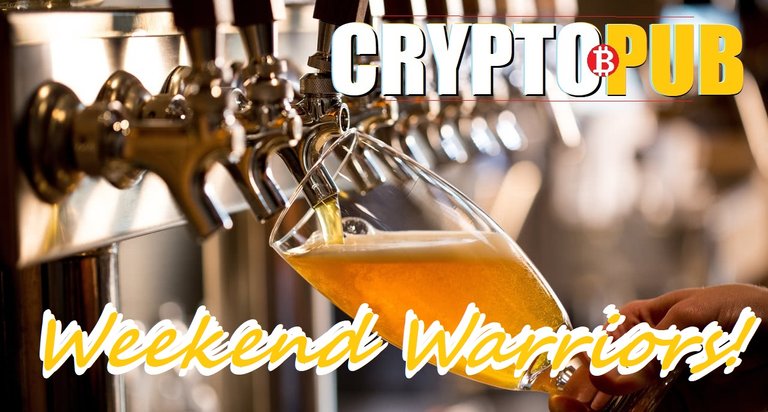 Good Afternoon Cryptopubbers and welcome to the place the weekend starts early! Traditional investments appear to be going squirelly for the autumn so lets see how our cryptos are doing for the short and long term.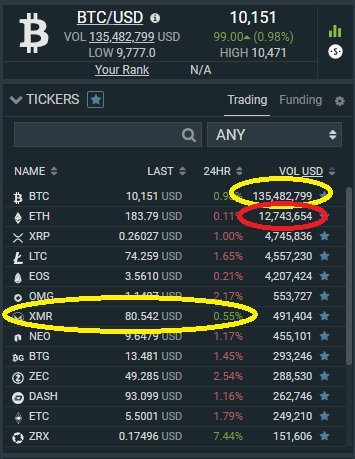 The ticker this morning is looking sideways after a couple days of big correction as Bitcoin is dominating trade volume, up about a percentage point to just over $10,150. I am doubling down on ZEC at this low a price ($49?!!?) and Monero (XMR) continues to stay strong in the correction up a half point in a sea of light red. In the Poodle Race between ZRX, XLM, TRX, ELF and FUN, you can see 0x Protocol on the bottom of the ticker in the lead up almost 7.5% as Tron and aElf fight it out for last place down over 2.5% on the day.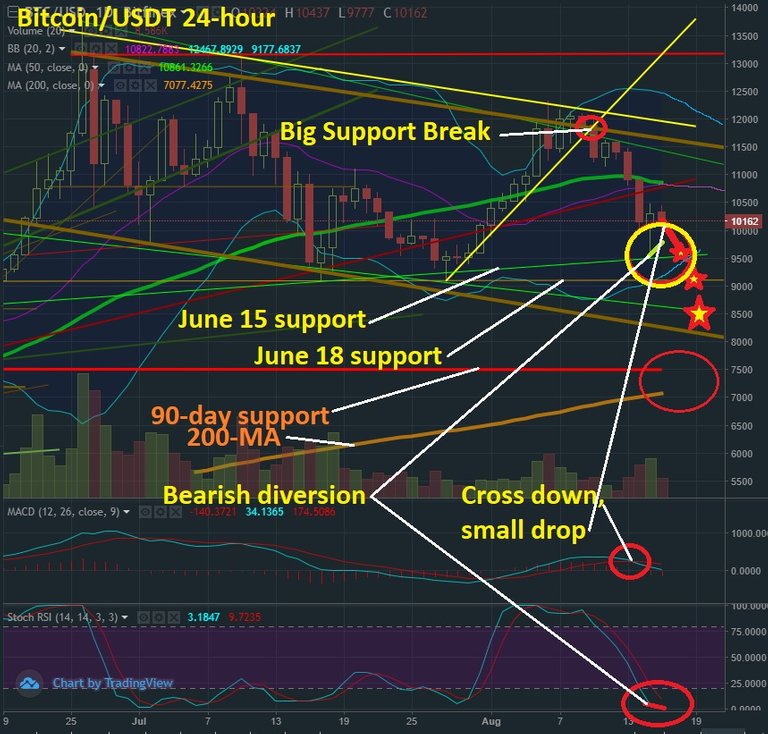 T&A today brought to you by @detlev and @beerlover almost at Proof Of Stake on Beer Token crowd funding https://steemit.com/beer/@beerlover/crowdsale158
The daily Bitcoin chart continues to dominate my vision as it has the last while for the Alts. Last week, price broke down through short term support and the correction caused the MACD to cross downward. There is a little bit of a bearish diversion on the price/stoch levels as there are higher lows on price but lower lows on the support index.....so I am thinking more down. As the STOCH approaches the bottom, I look for signs of a bounce and correction back up and validation of my mosaic of support lines. Will the recently strengthened support started June 15 hold again? If not, will it be the June 18th or lower? It is study time as the 200-day moving average seems to be coincidentally close to the 3-month support so $7,500 would definitely be in play.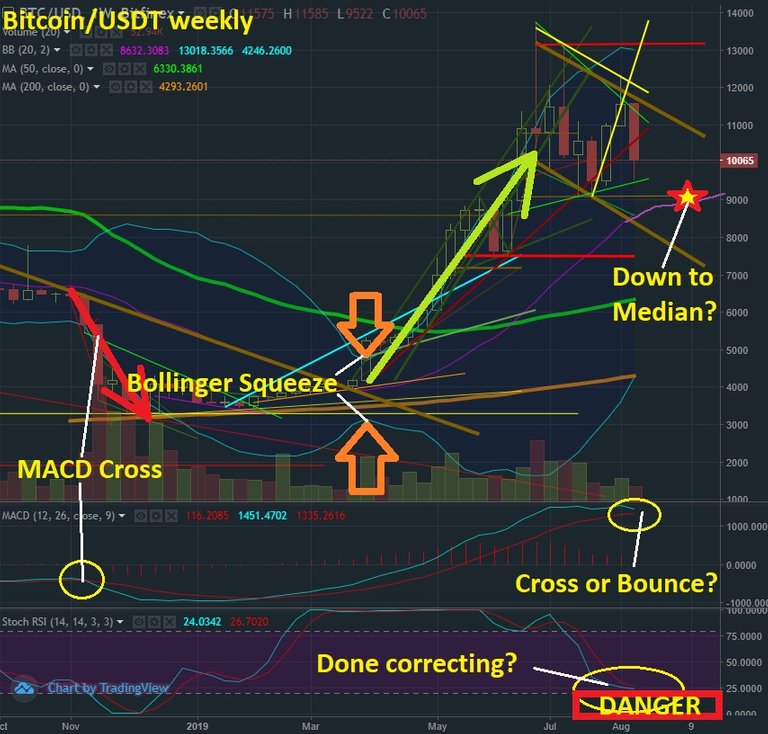 Bonus T&A brought to you by @whatsup getting people here and keeping them here https://steemit.com/busy/@whatsup/one-mission-get-people-here-keep-people-here
The Weekly chart reminds me of patient wisdom as it moves slowly and teaches gradual lessons to hasty traders. What catches my eye the most is that the MACD appears to be crossing downward which hasn't happened since late 2018 and resulted in a drop of ~$4,000 which was over 50% at that time. The stoch is giving some hope as the pattern of down has slowed almost to a stop before the oversold band on the bottom. What give me pause is knowing that some of the largest drops happen in the oversold band of the STOCH and we are teetering on entering that while the MACD looks menacing. If price drops to 9k, that is where the median bollinger line is and a correction back up from that point would continue the bullish sentiment started earlier this year. It is good to remember that it will take a week to make another candle but even sideways action will cause a MACD cross. Hold onto your Fiat!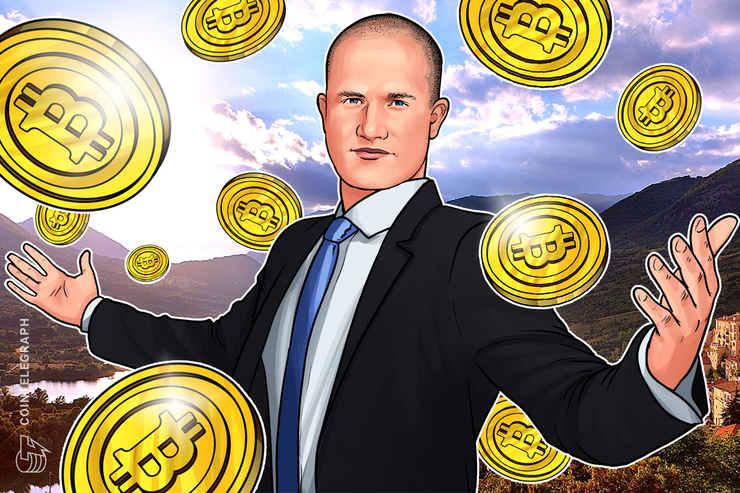 Source/News: Coinbase says institutions are buying piles of crypto consistently - https://cointelegraph.com/news/coinbase-ceo-institutions-depositing-200-400m-into-crypto-per-week
Keep an eye out tomorrow for @slobberchops airdrop initiative! You can support the triumphant return of the CryptoPub Airdrop Initiative through a donation to one of the following addresses. We also accept alt coin donations that will be given away in the Airdrop!
Steem: @vanessav
SBD: @vanessav
Bitcoin: 1C6hMc172hbn1q9TFkkkaeeku3DxBju1eg
Ether: 0x27A5E16545fFf9301f52915A951C80D672717A12
SmartCash: SgsDm6PunExWcQKq2hDs7ruSGeiLAsSFLK
Monero: 42h5cfr1xVpgZhcksYZnq5BdXXrA42sCZFrZfz6se6SwHh8r5cX51gnJGqzqmcLS9145aNd3NPvYvMTRep7fxnYeGSmg95p
STEEMLeo - Upvotes/Delegations would be fantastic!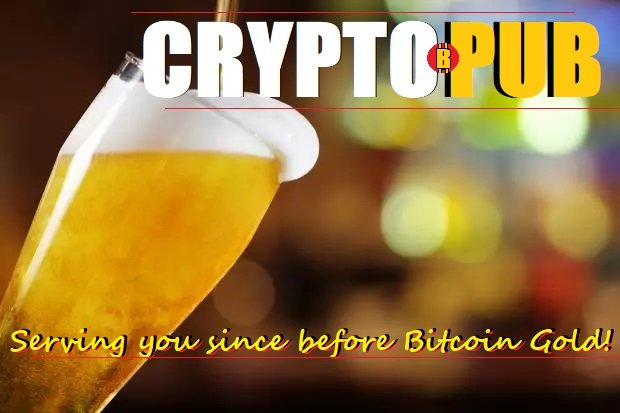 Donate STEEM to @beerlover to get your BEER Token and make it PoS!