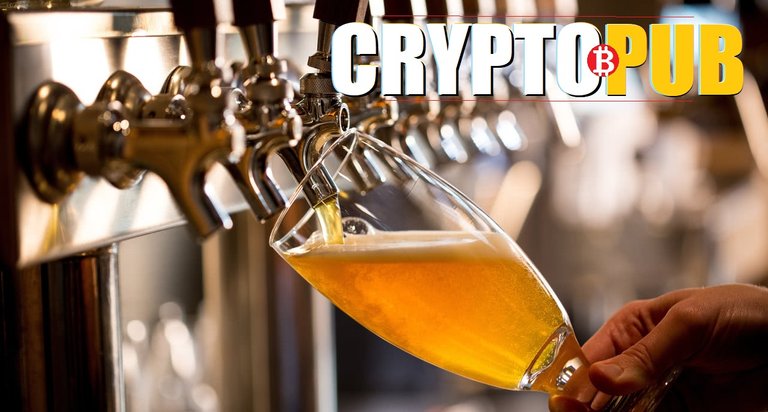 Good morning Cryptopub and welcome back from your weekend! We have popped a good amount of popcorn for this week as indicators are suggesting a big move is coming soon. Lets take a look at the charts and see which way it might go!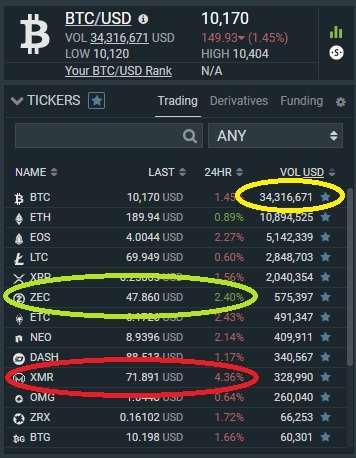 The ticker is rather boring today with very low volume for a Monday morning as Bitcoin is down about 1.5% to just under $10,200. Privacy coins are moving a little as Zcash (ZEC) is up 2.4% and its GPU-mined sister Monero (XMR) is down over 4% on the day. In the Poodle Race (XLM/TRX/FUN/ELF/ZRX) we like to follow, Tron is bringing up the rear down 3.5% on the day while Lumens has the rare lead, in the green just a touch.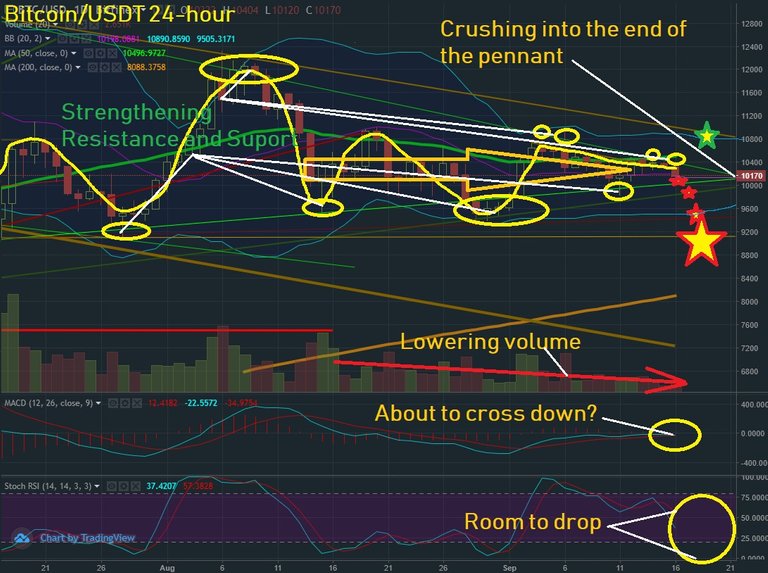 T&A today is brought to you by our good buddy the OG from the west/west @broncnutz talking sports and clown shows https://steemit.com/sportstalk/@broncnutz/denver-broncos-clown-show-now-0-2
The daily Bitcoin chart looks like a balloon about to pop in a big way. We are 2.5 months down a pennant where strong support and resistance converge shortly. Generally, the stronger the support/resistance is, the larger the breakout when breached, and you generally go down a pennant about 66% of the way to the tip before breaking out. If it were to happen now, signs are pointing to a break down according to the MACD (about to cross down) and the STOCH (headed down with room to drop.) Short term, I am evaluating the support lines for the real one, and eying the lower band on the Bollinger. As we squeeze tight and wait for the long overdue trade volume, I feel we will be blowing outside the Bollinger deviation lines in an exciting end to the month. If you have some FIAT ready for a bigger drop, you will feel good about hodling for a pump on your crypto! Get it ready!
I would not waste your time with ALT technical analysis because I suspect Bitcoin is about to slap ALTS around again.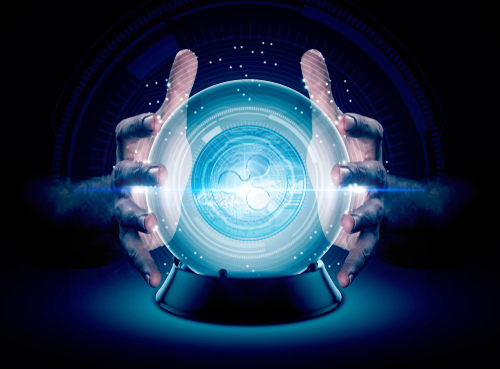 Source/News: Shilling or not for Ripple? https://www.tronweekly.com/ripple-xrp-price-to-hit-7-mark-claims-crypto-analyst/
You can support the triumphant return of the CryptoPub Airdrop Initiative through a donation to one of the following addresses. We also accept alt coin donations that will be given away in the Airdrop!
Steem: @vanessav
SBD: @vanessav
Bitcoin: 1C6hMc172hbn1q9TFkkkaeeku3DxBju1eg
Ether: 0x27A5E16545fFf9301f52915A951C80D672717A12
SmartCash: SgsDm6PunExWcQKq2hDs7ruSGeiLAsSFLK
Monero: 42h5cfr1xVpgZhcksYZnq5BdXXrA42sCZFrZfz6se6SwHh8r5cX51gnJGqzqmcLS9145aNd3NPvYvMTRep7fxnYeGSmg95p
STEEMLeo - Upvotes/Delegations would be fantastic!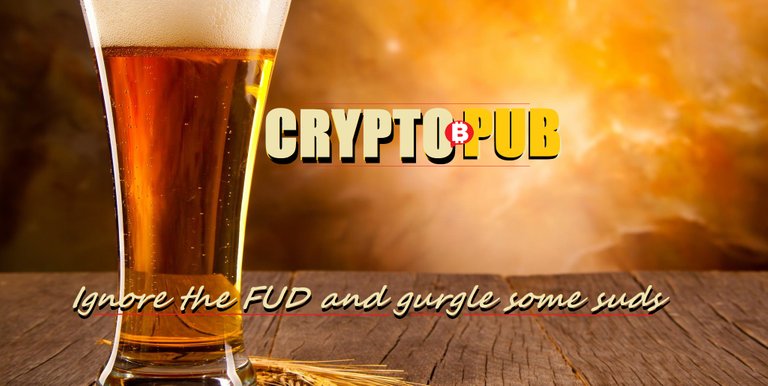 You thinking up or down?