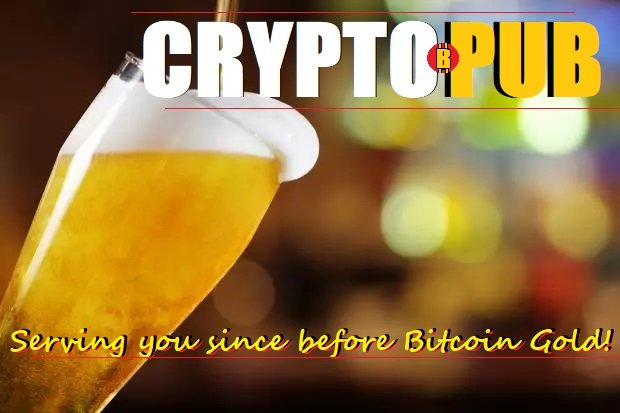 Good Afternoon soon-to-be-escaping weekend warriors and welcome to the virtual steem pub. Today, we look at where we are at the end of the week and where we may go for the weekend. Pull up your pint and lets take a look at the charts.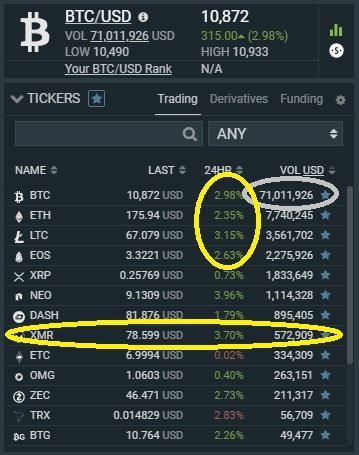 The ticker is looking pretty green to end the week with Bitcoin up 3% on the day under relatively low volume to just under $10,900. The next 3 in terms of volume are very low but matching the increase on the day except Ethereum Classic which is down having surged the last couple days. IN the Poodle race between entertaining alts Tron, 0x Protocol, Lumens, aElf and FunFair, we have Lumens and FUN up almost a point racing for the lead while Tron is in last place, down almost 3% on the day,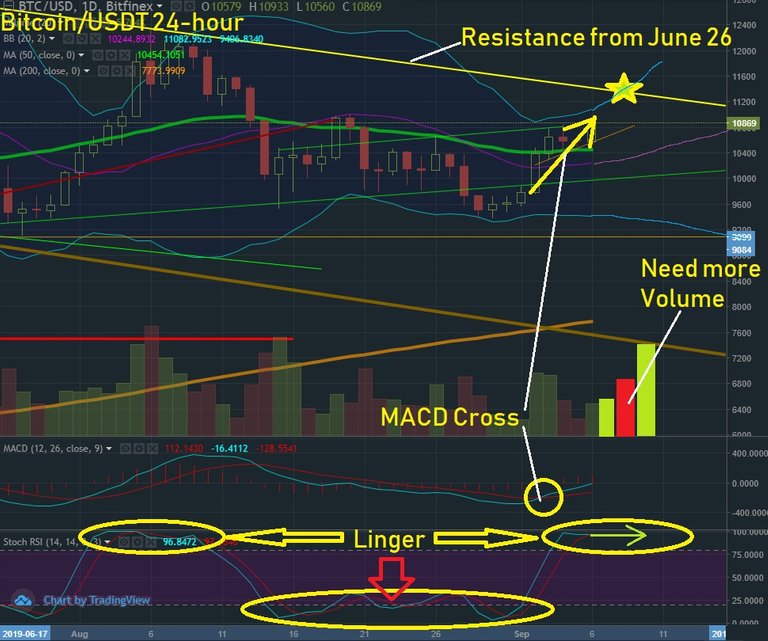 T&A today is brough to you by @steevc with some fork observations and great steemians to folow https://steemit.com/steem/@steevc/follow-friday-new-steem-old-steem
Looking at the daily Bitcoin chart as it tends to lead other cryptos around, we are seeing a little local support build up this week as volume has dropped but price has increased. With the lingering at the top and bottom of the STOCH, we should hang here a little if the pattern continues and volume increases. The last MACD cross was a healthy one and I have a hunch we are not done yet on this one with the caveat that we are headed into a sleepy weekend and low trade volume could trigger a correction Monday. That being said, this is about hunches and we are due for some increased volume. I have a sale set at the top Bollinger and aim to hit that when price hits the June 26 resistance.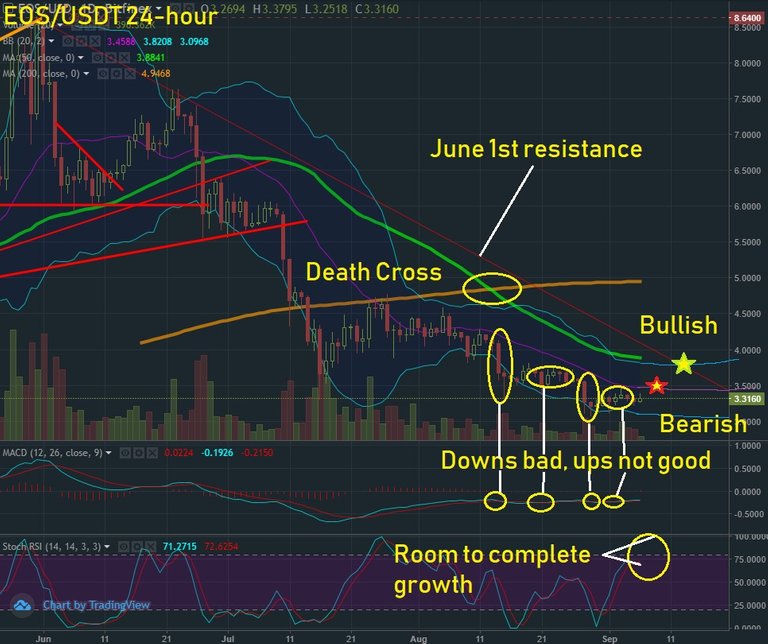 Bonus T&A brought to you by @overkillcoin who is helping old folks and ruining mattresses https://steemit.com/art/@overkillcoin/scribbly-work-sheet-episode-001
Steemians have a love/hate with EOS but traders liked it up until this summer. Since then, price has fallen over 60% from the local high, has death crossed, and is poised for a dead cat bounce. The MACD crosses down have resulted in a little drop but the crosses up have been relatively flat as momentum is building. In the short term, we will see more sideways action with low volume but there may be a continuation to the top of the stoch and a bearish top out at around $3.50. There will be a break of the resistance started the end of May and we could see a doubling if the long overdue recovery happens. I will look to catch it before a golden cross happens and am grabbing a few EOS for fun now.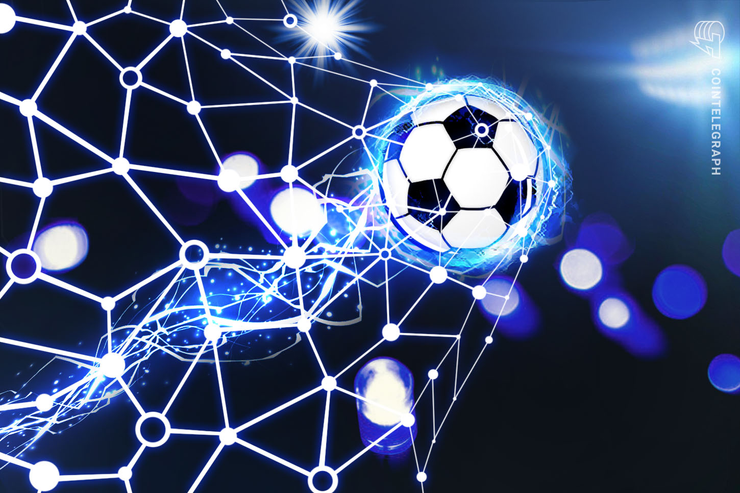 Source/News: Soccer Crypto! https://cointelegraph.com/news/spanish-la-liga-club-atletico-madrid-is-launching-a-fan-token
You can support the triumphant return of the CryptoPub Airdrop Initiative through a donation to one of the following addresses. We also accept alt coin donations that will be given away in the Airdrop!
Steem: @vanessav
SBD: @vanessav
Bitcoin: 1C6hMc172hbn1q9TFkkkaeeku3DxBju1eg
Ether: 0x27A5E16545fFf9301f52915A951C80D672717A12
SmartCash: SgsDm6PunExWcQKq2hDs7ruSGeiLAsSFLK
Monero: 42h5cfr1xVpgZhcksYZnq5BdXXrA42sCZFrZfz6se6SwHh8r5cX51gnJGqzqmcLS9145aNd3NPvYvMTRep7fxnYeGSmg95p
STEEMLeo - Upvotes/Delegations would be fantastic!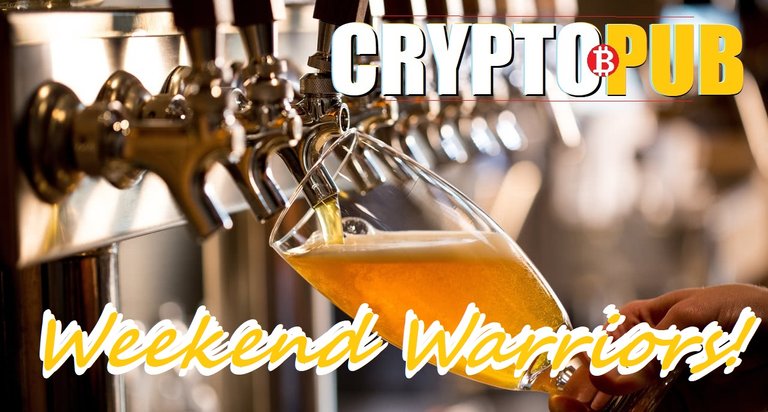 Have a great weekend peeps!