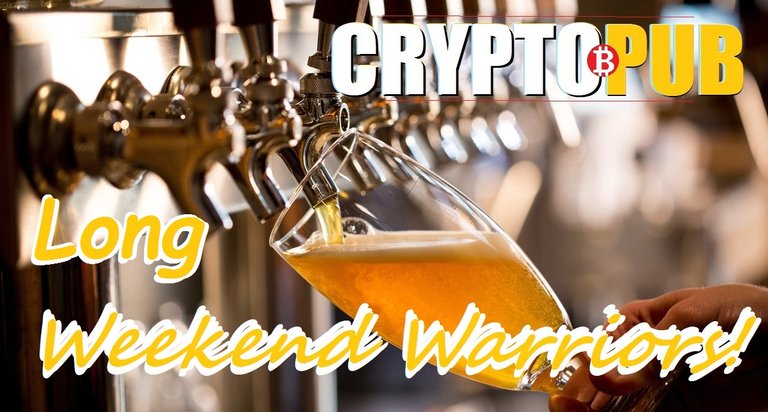 Good morning CryptoPubbers and welcome to the virtual blockchain bar where we sip the drink and watch the charts. It has been a crazy week as it seems my words a few days ago "Big double digit growth or correction would make it more interesting but last time I called for that, the next day was a blood bath so I wont do that" made history repeat itself. A couple days of Double Digit correction has us looking to the charts and trying to guess the bottom so we can buy the dip. Lets see where we are....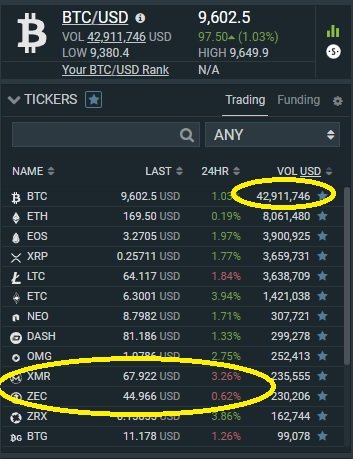 The ticker this morning looks much better than the last few days as Bitcoin is back up 1% to $9,600 under suspiciously low trade volume. Ethereum Classic is bouncing hard back up and showing much more growth on the day than younger big brother Ethereum which is flat. Privacy coins ZEC and Monero are still down on the day. The Poodle Race is showing 0x Protocol (ZRX) out in the lead up over 3% while FunFair is not having much fun down almost 9% from this time yesterday.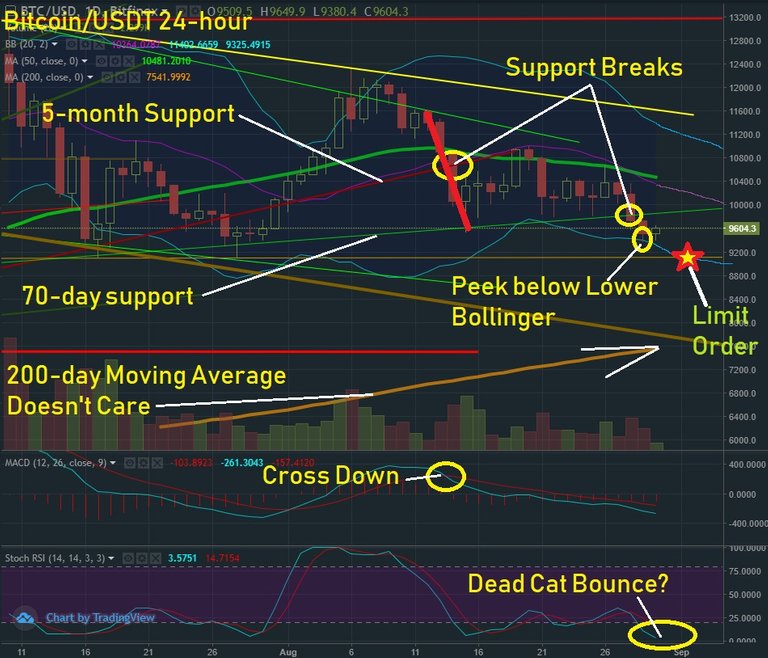 T&A Today is brought to you by @steevc meeting STEEMians and sipping his beer in the real world.https://steemit.com/steem/@steevc/steemians-assemble-in-london-encwuyoz
I am trying to play Pick the Bottom on the daily Bitcoin Chart as we are right near the bottom of the STOCH and hoping for a bounce back up. The last downward cross of the MACD (Moving Average Convergence Divergence) inspired a couple support lines to be broken and the price to flash below the lower Bollinger deviation line. If we respect the Bollinger indicator which Bitcoin price has been doing since the late June surge, we should expect a bounce back up to the median line (purple) which is just over 10k for a bearish correction. I have my short term wishful limit order set at $9,084 which is a nice level support line started in June and tested twice since. That will be the popcorn zone as riding the lower Bollinger can get wild.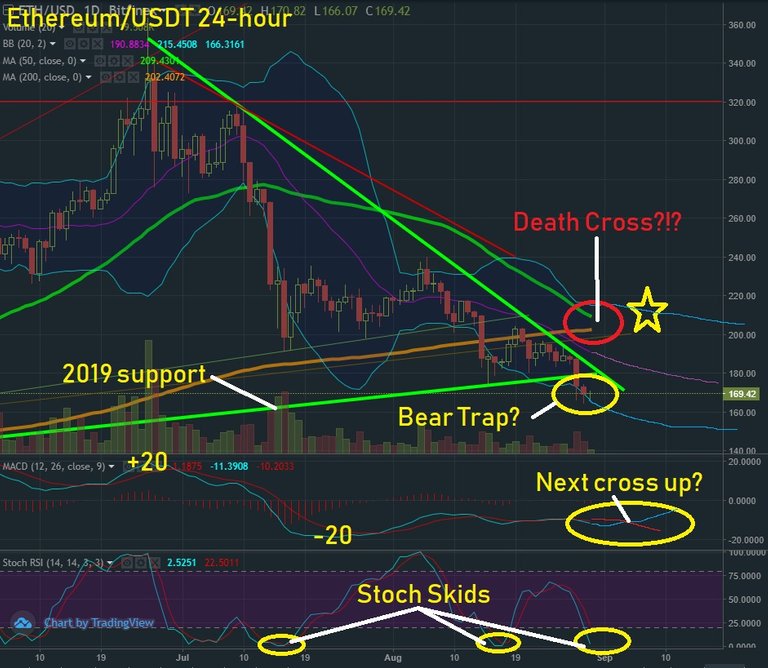 Bonus T&A brought to you by @steem.leo who is helping make financial content creation more fun and rewarding.....and is now Brave Verified! https://steemit.com/steemleo/@steem.leo/steemleo-com-is-now-a-brave-verified-creator
The daily Ethereum chart is a strange one that speaks of big Eth discounts. This latest trip to the bottom of the STOCH has pushed us below the support line I started at the beginning of the year. If this is a momentum-caused bear trap, traders LOVE to catch a buy below support. What is really making me pause is the potential of a death cross which is where the 50-day moving average crosses down over the 200-day....this is a traditional bad omen. So is the discount now? Or are we in for severely discounted Ethereum when the cross happens? I am just munching popcorn and holding my exchange Fiat in a conservative/opportunistic approach.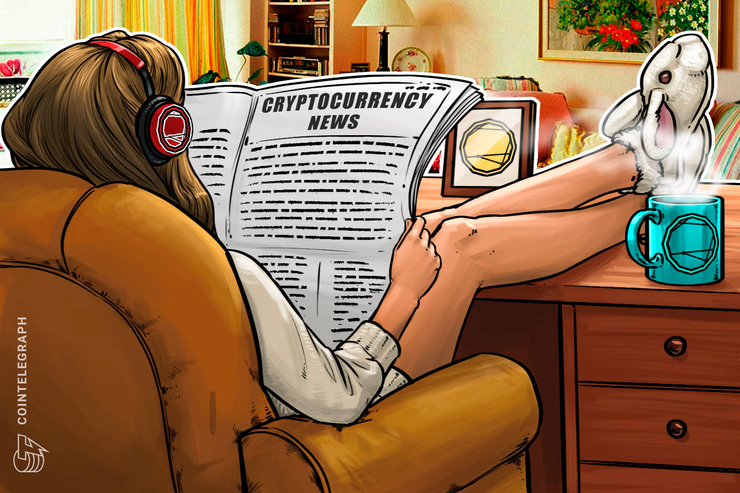 Source/News: Decred going Private - https://cointelegraph.com/news/crypto-project-decred-adds-privacy-features-to-its-coin
Until we get inspired to relaunch our Airdrop Initiative, keep an eye out for @slobberchops for great content and airdrops! You can support the triumphant return of the CryptoPub Airdrop Initiative through a donation to one of the following addresses. We also accept alt coin donations that will be given away in the Airdrop!
Steem: @vanessav
SBD: @vanessav
Bitcoin: 1C6hMc172hbn1q9TFkkkaeeku3DxBju1eg
Ether: 0x27A5E16545fFf9301f52915A951C80D672717A12
SmartCash: SgsDm6PunExWcQKq2hDs7ruSGeiLAsSFLK
Monero: 42h5cfr1xVpgZhcksYZnq5BdXXrA42sCZFrZfz6se6SwHh8r5cX51gnJGqzqmcLS9145aNd3NPvYvMTRep7fxnYeGSmg95p
STEEMLeo - Upvotes/Delegations would be fantastic!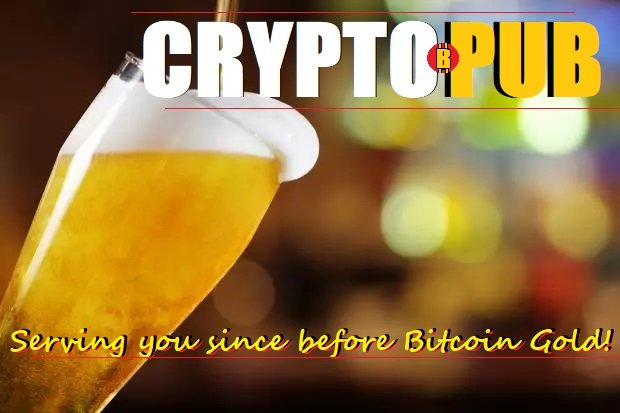 Have a great long weekend peeps!