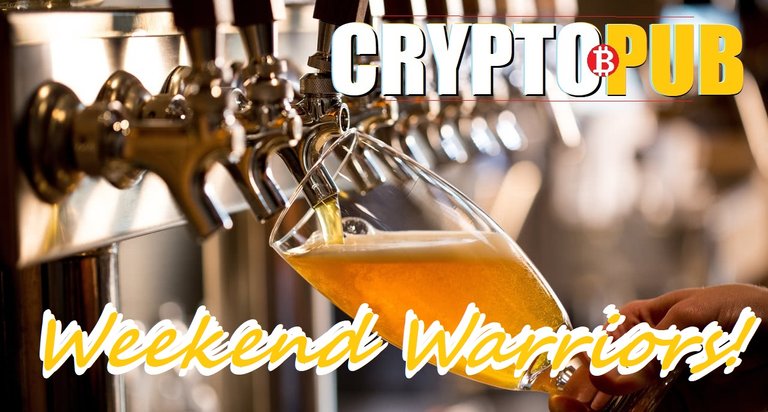 Good afternoon CryptoPubbers and welcome back after the weekend! Most here are pleasantly surprised as we are green on the charts and our bitcoin is rising in value along with many alts. Lets battle FOMO with a little chart and ticker analysis and extend the weekend with a little drink!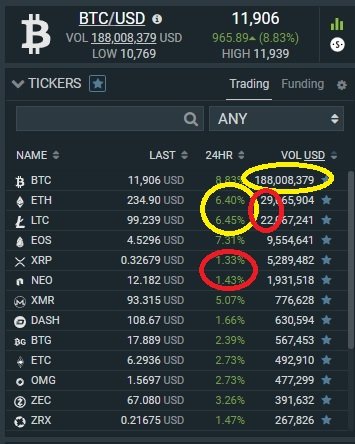 The ticker as we start out the week is solidly in the green with Bitcoin leading the way, up almost 9% under heavier trade volume to just under 12k. Ethereum and Litecoin as the other larger cap coins are doing almost as well on the day (up around 6.5% while Ripple and NEO are lagging behind a little flat. In the Poodle Race of Entertaining Alts, we have Tron barely out ahead leading Lumens, Elf and ZRX while FUN cools off in last place, down 2.5% after a god run the last couple days.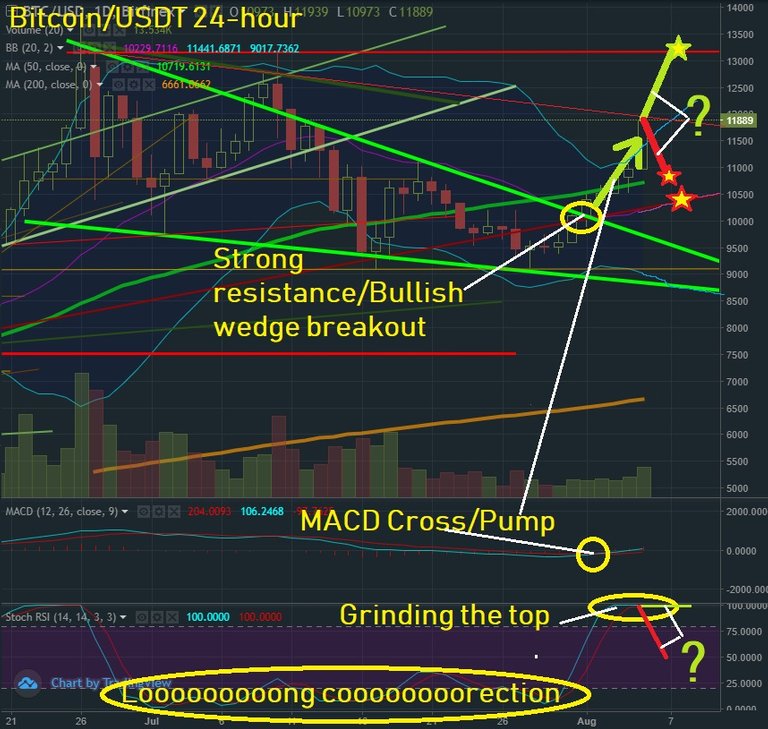 T&A today brought to you by @donald.porter's friend @louisthomas showing us how crypto may effect the value of art https://steemit.com/threespeak/@louisthomas/wechwsla
I can't quit the daily Bitcoin chart where each candle represents a day of price action, and I can evaluate momentum and trajectory at a pedestrian pace. The upward MACD cross I had been teasing about a week happened right at the beginning of Aug resulting in a ~13% jump in price. Presently we are redlining at the top of the Stochastic Relative Support Index which generally calls for a correction back below the 80% line at least. With the really long July correction, Bitcoin may have built up enough steam/sentiment to stay up a while. SO! I am hedging out a touch (25%) to stay conservative in case of a dip. As is often the case, the big moves come at the top of the STOCH so I am holding more to cash in on a little FOMO and will buy a dip, and sell just over 13k if it makes it there. Lets look at what the weekly is telling us.....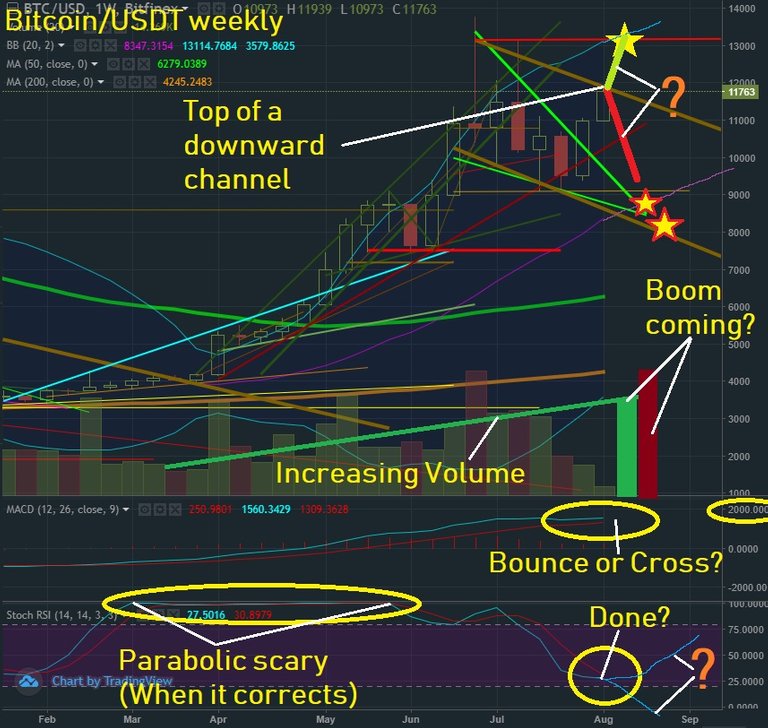 Bonus T&A brought to you by @cryptopassion watching STEEM flutter just under his support line https://steemit.com/steem/@cryptopassion/steem-staying-just-under-the-resistance-line-in-blue-around-0-23usd
I will be happy when I can look away from the Bitcoin charts but, for the time being, it is dominating trade and I am looking at the weekly chart as a long term barometer. We have been sneaking closer and closer to a downward cross (dump?) on the MACD in this correction. Trade volume has increased overall in the last 4 months and we are at an interesting spot. The STOCH is showing signs of correcting back up and we have plenty of momentum at the top of a downward channel in price started June 26. Will we correct down and stay in the channel? Will it blow through the 40-day resistance and start a full STOCH correction back up? It is pretty much popcorn time so August should be VERY interesting. I am hoping for the boom so that the CryptoPub gets REALLY hopping again.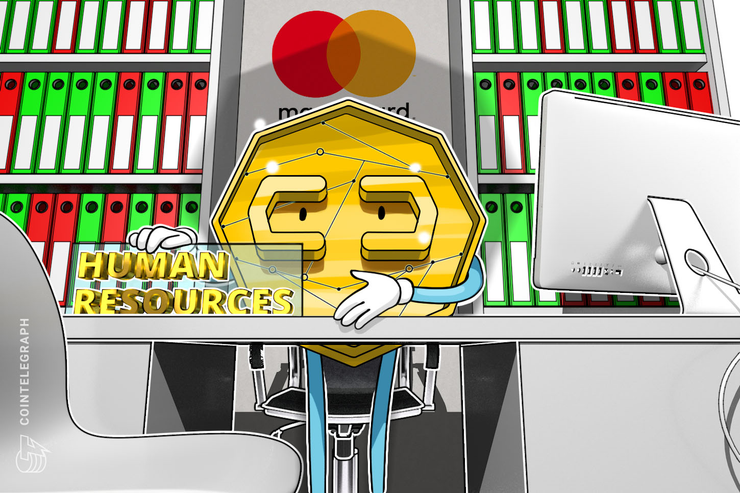 Source/News: Masterdard sneaking more into Crypto? https://cointelegraph.com/news/mastercard-hints-at-future-crypto-wallet-product-with-new-job-listings
Thanks to @slobberchops for picking up the airdrop initiative ! You can support the triumphant return of the CryptoPub Airdrop Initiative through a donation to one of the following addresses. We also accept alt coin donations that will be given away in the Airdrop!
Steem: @vanessav
SBD: @vanessav
Bitcoin: 1C6hMc172hbn1q9TFkkkaeeku3DxBju1eg
Ether: 0x27A5E16545fFf9301f52915A951C80D672717A12
SmartCash: SgsDm6PunExWcQKq2hDs7ruSGeiLAsSFLK
Monero: 42h5cfr1xVpgZhcksYZnq5BdXXrA42sCZFrZfz6se6SwHh8r5cX51gnJGqzqmcLS9145aNd3NPvYvMTRep7fxnYeGSmg95p
STEEMLeo - Delegations would be fantastic!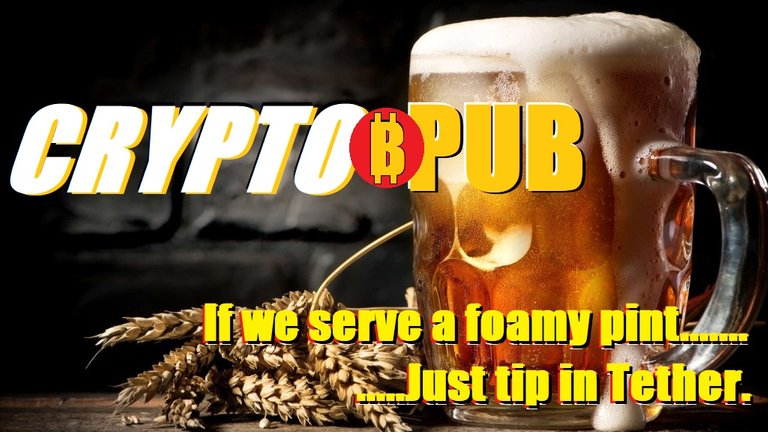 Tell me how your weekend was and I will flip you a beer token!