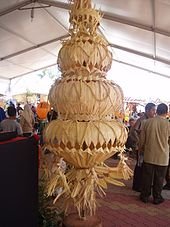 Serahéng-Offering basket during Kaul.
The Melanau were traditionally fishermen as well as padi and sago farmers. Some were skilled boat builders. They used to live in tall stilt and long houses, but nowadays, they live in Malaysian kampung-style houses (individual & separated houses). Because of religious similarity, the majority of Melanaus live socially and culturally like the rest of the Malays in Malaysia.
The Melanau are one of the rare ethnic groups in Malaysia to have a population that remains more or less constant in numbers. This is because the Muslim Melanaus that have migrated to bigger towns in Sarawak have "automatically" become "Malays" especially during the National Census Operation as their names (and many times the language the elders use with their children at homes) are indistinguishable from those of the local Sarawak Malays. This has helped the Malay population of Sarawak to have significantly increased in the census.
Most Melanaus have a 'Bin' (son of) and 'Binti' (daughter of) in their names similar to the Malays and it is also likely that the Christian Melanaus too were designated as Malays in the census.
The 2010 Malaysian Population Census showed the Melanaus population in Sarawak, Malaysia was about 123,410. They make up the 5th largest ethnic group in Sarawak, after the Ibans, Chinese, Malays and Bidayuh. The continuous inter-marriage between the Melanau and other races in Malaysia has also caused the disappearance of the Melanau identity. Data from some private research estimated that the actual Melanau population (in Malaysia and outside Malaysia) is much higher.
Being migrants in the early days, Melanaus are found almost everywhere in Sarawak. Sadly, though their children know their roots, many of them cannot speak or even understand their Melanau language. Intentionally or unintentionally, many of them have registered themselves as other races, mostly as Malays. In some cases, their parents, both Melanaus, prefer to speak Malay or English to their children. This language trend is mainly found in the towns and cities in Sarawak. There have been little efforts done to preserve the Melanau dialects and to teach the current Melanau generation continuous usage of their own dialects.
The gradual disappearance of the Melanau cultures and dialects is further aggravated by the absence of qualified Melanau staff members handling the documentation on the Melanau culture and history in the 'Majlis Adat Istiadat' department in Sarawak. This department is involved in the preservation and documentation of the cultures and histories of the various ethnic groups in Sarawak. The Melanau are slowly being absorbed into other cultural groups. The Melanau Kaul festival will only serve as a reminder of the Melanau Pagan ritual.