Todo comienza así....
It all starts like this....
Desde pequeña me ha gustado bailar y el ritmo de salsa ha sido el que más ha sobresalido, que para muchos es muy difícil, para mí es el más maravilloso.
Since I was little I have liked to dance and the salsa rhythm has been the most outstanding, which for many is very difficult, for me it is the most wonderful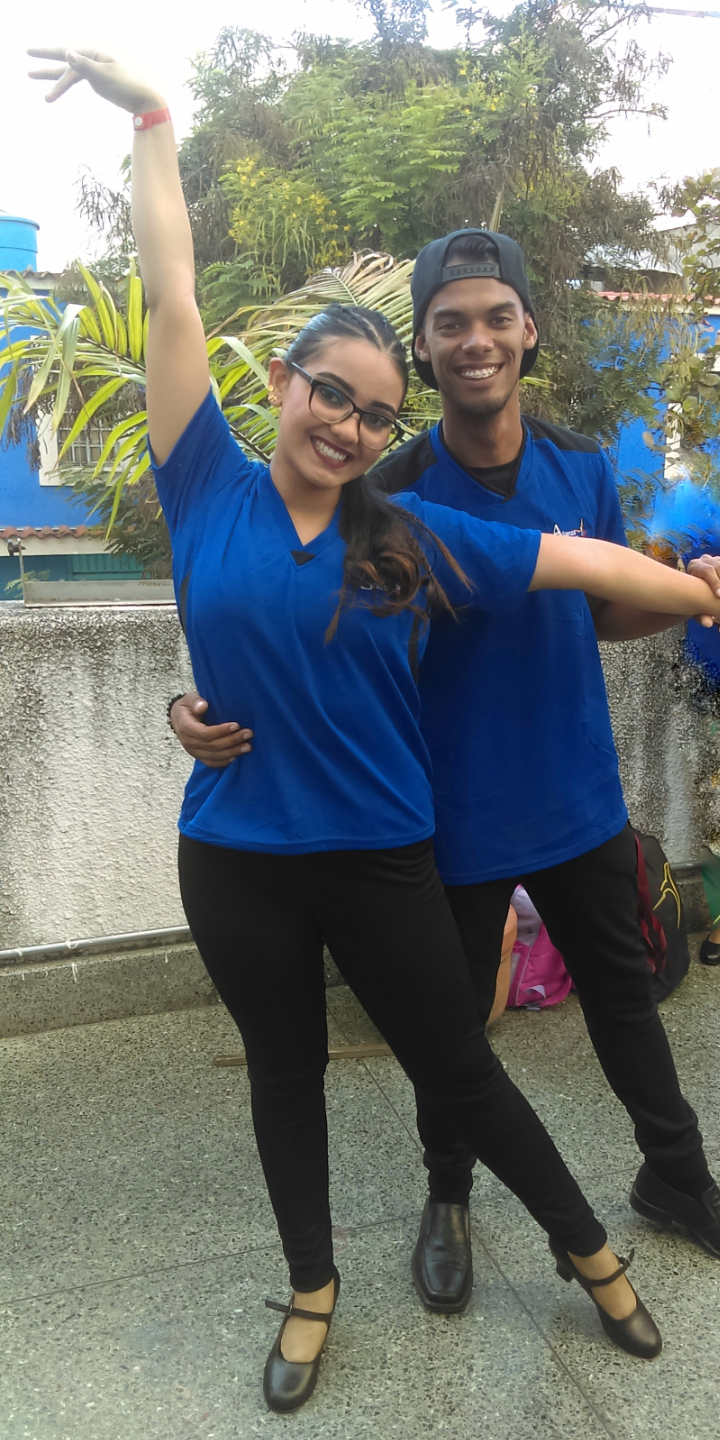 Hace algunos años comencé en una academia de baile casino llamada "Alianza Salsera" , era lo mejor en este momento no le dedicaba tanto tiempo debido a otros compromisos así que no era constante... Hace 2 años comencé de nuevo y esta vez iba con toda!! Para celebrar el fin del año y el comienzo de uno nuevo se hace una gala final, en la que durante 5 meses se prepara y se organizan las coreografías.
A few years ago I started in a casino dance academy called "Alianza Salsera", it was the best at this time I did not dedicate so much time to it due to other commitments so it was not constant ... 2 years ago I started as again and this time it went with everything !! To celebrate the end of the year and the beginning of a new one, a final gala is held, in which the choreographies are prepared and organized for 5 months
---
En esta oportunidad nos tocó una canción del cantante Nelson Arrieta
This time we had a song by the singer Nelson Arrieta
Lo más bonito es la experiencia que ganas con todo esto, los momentos fáciles y difíciles 🥴.... Pero lo más importante y gratificante es que todo salió como lo imaginamos!!
The most beautiful thing is the experience you gain with all this, the easy and difficult moments 🥴 .... But the most important and gratifying thing is that everything went as we imagined !!
--- En Ensayo 💃
--- In Practice 💃
A veces las cosas se ven muy fáciles hasta que las ponemos en práctica o las realizamos... Cada ensayo y práctica es valioso, y esto es válido para cualquier actividad con perseverancia y paciencia se alcanza todo 💪🏼
Sometimes things look very easy until we put them into practice or carry them out ... Every trial and practice is valuable, and this is valid for any activity with perseverance and patience everything is achieved 💪🏼
--- Gala Final🎊
Cuando llegó el día fue de mucho entusiasmo y NERVIOS... Las primeras veces de las presentaciones son difíciles 🙈🙈
When the day came it was very enthusiastic and NERVES ... The first times of the presentations are difficult 🙈🙈
La presentación se realizó en un lugar emblemático de mi estado:
The presentation was made in an emblematic place in my state:

PD: NUESTRO GRUPO ERA MUY GRANDE, POR ALLI COLOQUE UNA FLECHITA PARA QUE SEPAN MI UBICACIÓN 😉
PD: OUR GROUP WAS VERY BIG, THERE I PLACED AN ARROW TO KNOW MY LOCATION 😉
---
Espero les guste.... Recuerden nunca es tarde para aprender ‼️