We are excited to bring Auto Node Switching, Account recovery, Better storage parsing and a ton of new enhancements. We don't want to leave any stone unturned and we want to provide a well built application with sufficient features and reliable functionalities. The updates are as follows -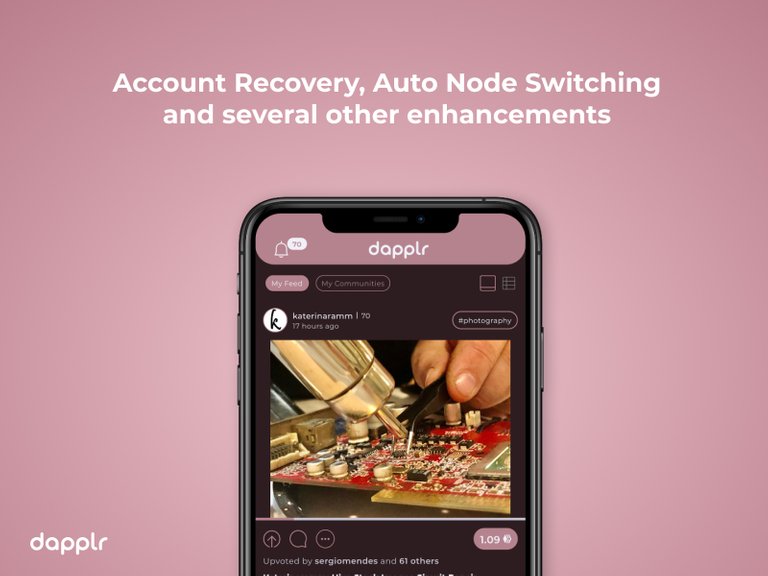 1. Account Recovery
We have integrated Account Recovery using HiveSigner and a user will now be able to change its recovery account using Dapplr swiftly. This features although was not mandatory but we thought of including it as a part of this update to fulfil our app with most of the available features on the HIVE blockchain.
2. Auto Node Switching
HIVE nodes were facing quite a lot of issues so it became necessary for us to integrate it to make the whole experience seamless. Now, with this automation, the app feels a whole lot reliable and the APIs work as expected.
3. Persistent Video Plays
With this update, a user now will be able to play the video where he/she left off. We experienced this feature need and it has to be there to improve the overall UX. In addition, the video buffering has also been improved quite a lot.
4. Better Storage Instance Creation and Parsing
There were quite a lot of separate Storage instances which were taking a lot of memory and we have now removed most of the instance creation which has really helped us to pump up the performance and reduce the memory utilisation. In addition, As we are aggregating the data, we also had to improve the Storage content parsing for better User experience. So, the whole experience is now flawless.
5. Other Enhancements
There were some issue related to permlink, summary text, Widget parsing time, SDK upgrade and a few other minor things. We have integrated all these in this update and the app now feels a whole lot better with amazing performance.
Upcoming Work?
Video Improvement - Allow user to play video and navigate simultaneously.
Exclusive Community Mode
Work on HiveSSO alongside to have an MVP.
Work on Open sourcing the Hive library in Dart (Flutter).
Earn Dapplr Tokens And AirDrop
Dapplr token is not launched yet so this is the time for you guys to earn as many Dapplr Tokens as possible using your content. Currently we are giving away 5x amount of Dapplr Tokens that a post earns. E.g If a post earns 5 HIVE tokens then you will get 25 DAPPLR tokens. This is only for the authors not for the curators. We want to give users every opportunity to earn these tokens based on their activity. Read More
Public Beta Access
To know more about the team and their work
Dapplr Team Introductions


Follow us on Instagram - https://www.instagram.com/dapplr_app
Follow us on Twitter - https://www.twitter.com/@Dapplr_app
Join us on Discord and help us with your inputs - https://discord.gg/gZzqvwQ