Hello, Today We are excited to announce that Dapplr is now HF24 compatible and the update is already out. There are a lot of enhancements that we did alongside with this and it is going to make Dapplr a lot more smoother and performant. We have also upgraded our Storage servers so uploading Media files especially Images is going to be a whole lot faster. Details are given below -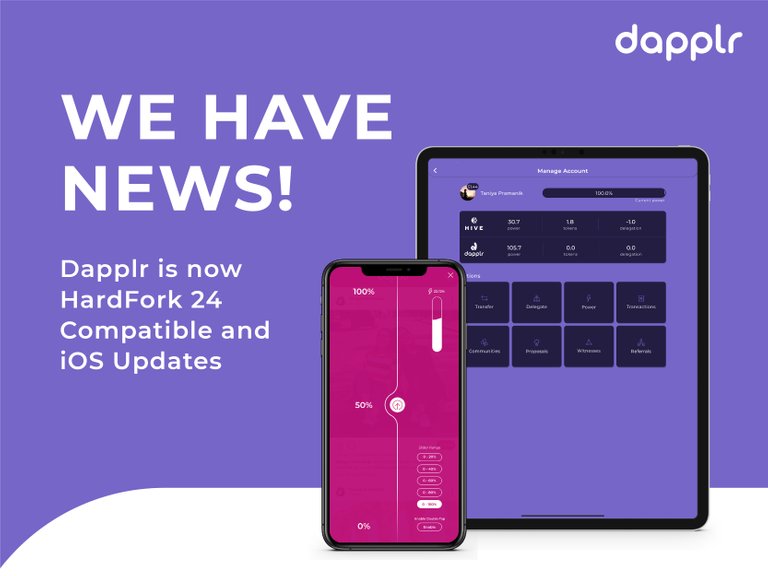 1. HardFork 24 Compatible
We wrote our own custom native functions in Dart to interact with the HIVE blockchain and its data. We have made the similar changes to our custom functions as suggested by the core HIVE developers. In addition, we have also reviewed HiveJS library code and also validated our code with the similar function. All of the blockchain operations are working as expected and after the HF24 on 22nd Sep, you won't feel a difference but even more performance and less load time.
2. Storage Upgraded
Dapplr Alpha team noticed some delays while uploading Media Files especially Images. As we are funded from our proposal, we have put some of it to upgrade our Storage and it gave us a good amount of performance boost in terms of uploading. Videos storage is still the same and we haven't upgraded it yet but we have made some enhancements to improve its performance. We will be adding some custom Video compressions and codecs to help boost the uploading and rendering performance.
4. iOS News and iOS HF24 Compatibility
We have started internal testing of the iOS version of Dapplr on TestFlight and today, after receiving some confirmation from the Apple team, we have sent out the Internal Testing invitation to some of the HIVE community members. iOS version is automatically HF24 compatible as we have made the change to the shared code that both Android and iOS are using. Once we have completed the Internal Testing for a week or so, we will push out the Alpha / Beta Launch based on the severity and amount of bugs the Team discovers.
4. Other Enhancements
There are some other enhancements that we have done as a part of this update and the app is now more robust than ever. The enhancements include iPAD fixes, Faster Bookmarks, Minor Alignment and Spacing fixes, dynamic image compression and a lot more.
These are the improvements that we have done and Dapplr is becoming more and more stable everyday. The time is very near when we will release Dapplr to the public. Thanks to the Dapplr Alpha team for suggestions and meaningful ideas.
Open Access - Android
After these fixes, Dapplr is more robust, reliable and efficient. So we are taking another step by giving the access to many more people of the community but we have set the restriction of 1000 people and we will see how it goes. Referral system is up and running so don't forget to refer your friends with your referral link.
https://play.google.com/store/apps/details?id=com.dapplr.dapplr
To know more about the team and their work


Follow us on Instagram - https://www.instagram.com/dapplr_app
Follow us on Twitter - https://www.twitter.com/@Dapplr_app


Join us on Discord and help us with your inputs - https://discord.gg/gZzqvwQ