Hello, In this post we want to share our updates on User profile screen and its related features. The profile integration of the users is completed and with this a user will be able to check other people's posts, stake, tokens, follow and will be able to Transfer, Delegate and see the transactions. We have also included the GRID view for user profile posts and all of these features are included in the video. We will let you watch the video now…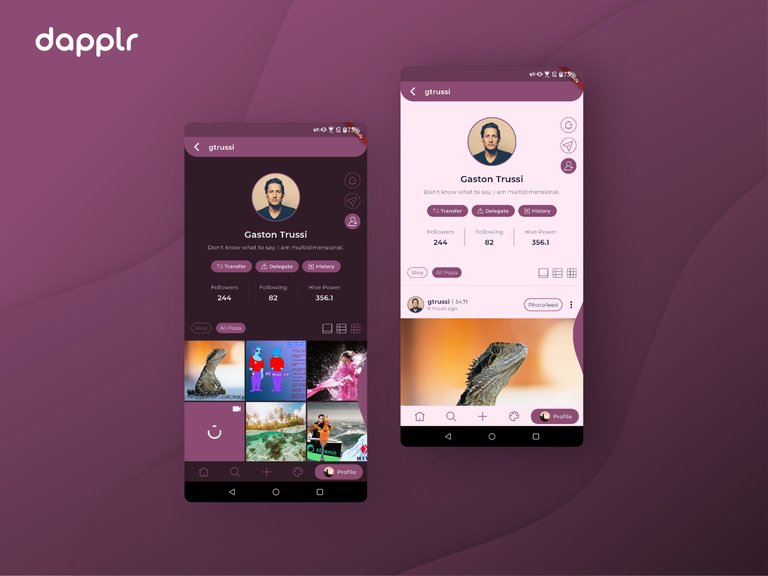 ---
Upcoming Annoucement
We have some pretty exciting announcement of our Web App which will utilize the app features and most importantly all of the things will be in sync. We will be writing a post of the announcement very soon. Stay tuned...
Public Assets
We want to provide our east accessible mockups to the community to write blog on us and help us spread the word.
Here is the link - https://drive.google.com/drive/folders/147DfEbWyO6-dSXW59RSUhEdeiHAJKamK?usp=sharing
---
Frontend Progress -
Features Done -
User Profile
Edit Profile
Follow other users
Transfer directly through the profile
Delegate directly through the profile
User stake and token details.
Grid View
Nested Routing
You will be able to see all the features in the video. With User profile module in place, we are getting a very fulfilled experience from the app. It just feels so smooth to carry out the operations. We want to include each and every feature that a user needs. Our goal is to provide a great experience and features so that a user doesn't need to switch between application. We have a really wonderful roadmap for the upcoming features. Stay tuned for the updates.
Design Progress -
Explore screen
Cover screens and brainstorming around the "must have" features.
Back-end Progress -
Subscribe / Unsubscribe user.
Currently being explored - HiveSigner APIs for direct APIs access.
---
Inspiration and Difficulties
There are tons of features in such a small form factor and each of the feature is very well designed and placed in the UI. Some of the animations are still pending though, we will get it right as we are moving forward. Creating nested routes for profiles was a bit challenging and it took us quite some time to get it right. Now, all of the features are seamlessly integrated. We are working very hard to deliver its beta version as soon as the core features are implemented. There has never been a day that we are not thinking about improving the User experience. It doesn't matter how difficult it is to implement a certain feature, if it's worth it then we will deliver it.
We just need your support and feedbacks and keep letting us know about your overall perspective on the app. Each and everyone's perspective matter to us, your thoughts and involvements would help the team boost up their motivation.
ToDos
Animations for GRID layout
Profile subscription on FrontEnd
Performance bottlenecks
Adding code validations and necessary checks.
---
Support us by voting for our proposal
Open Source Proposal -
The Dapplr team has been working very hard and we are putting everything that we have got with us. We are putting in our personal resources, designers, animators, tools, testing devices, money and most importantly efforts to make this a standout application from any other social media platform.
With our proposal being approved and completely funded, we will open source all of our front-end and back-end code once we have launched the product and out of beta release.
We want to give our HIVE community an application that they would love, cheer and feel proud of. If #hive community want it, they will get it.


We want to thank our wonderful supporters - @liondani , @runicar , @ash , @midlet, @joetunex , @zord189 and too many to count.
In order to support open source, Support our proposal
Support us with your upvotes and tips/donations
Follow us on Instagram - https://www.instagram.com/dapplr_app
Follow us on Twitter - https://www.twitter.com/@Dapplr_app
Join us on Discord - https://discord.gg/Uj5JXZ