We have been making continuous integrations of blockchain features into Dapplr. It helps Dapplr to be a place where a user can enjoy its freedom with decentralised content with seamless user experience. In this update we have added Blockchain Savings, Filters in notification, Better profile info, Power down information etc.
We have rolled out the update and it will be available by tomorrow.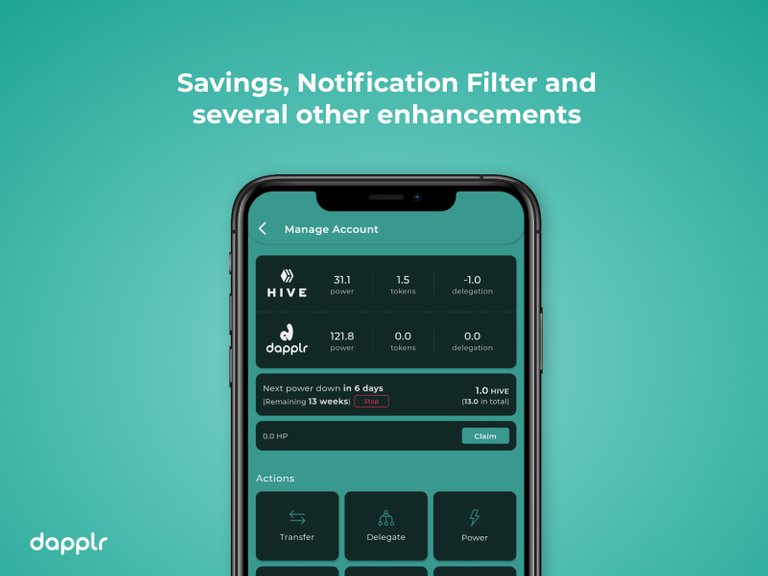 The details are given below -
1. Hive Blockchain Savings
We have integrated this feature and with this, a user will be able to easily transfer its liquid HIVE/HBD tokens to savings. In this way, the funds are kept secured on blockchain and a user can withdraw all of its fund with a waiting period of 3 days. We are including one account related feature in a release, it helps us to be consistent with the testing and releases.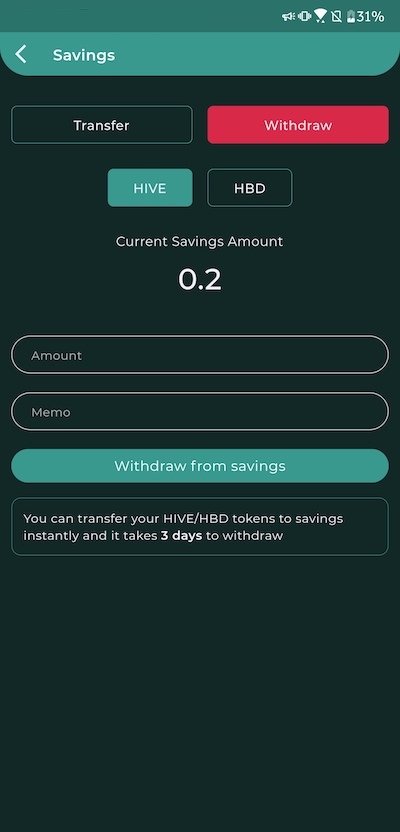 2. Notification Filters
A lot of users suggested that there must be an option to filter out the notification based on Replies. We want to thank our users and they are truly helping us build Dapplr a user friendly application. We have included notification filters in this release.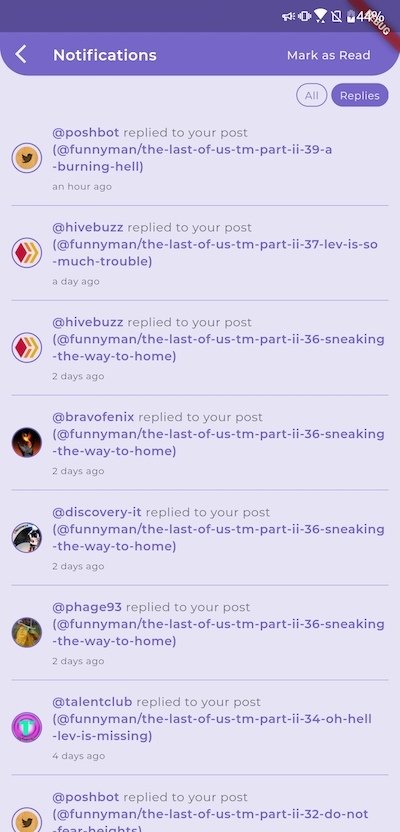 3. Power Down Info and Actions
We have included this in the account management along with the power related information. A user with active power down will now be able to see the information and can easily see the current status of its tokens and pending tokens to be withdrawn from the Hive Power. Along with that, a user can easily cancel the power down using a stop button given in the information. It will directly take user to HiveSigner to cancel the power down.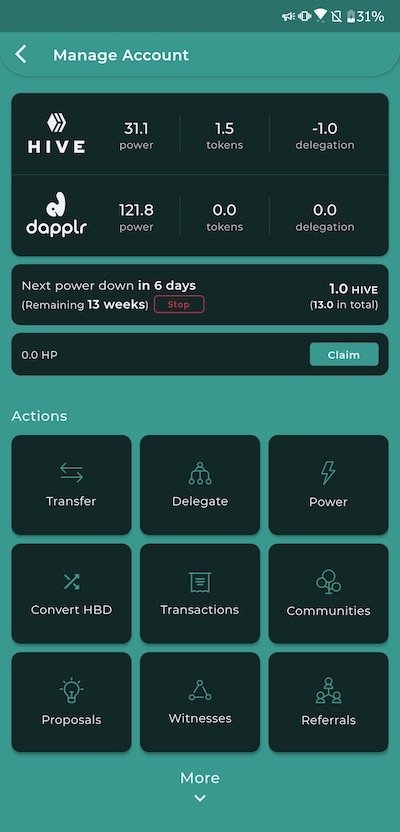 4. Removing Unnecessary Tags and Better Navigation
We have removed the unnecessary tags which keeps track of the current page. We are now handling that with our custom code. It has truly helped us bring a blazing fast navigation to user profiles and other pages. Along with that, it helped us to clean up our code for upcoming features.
5. Better Image Loading, Memory consumptions and Scrolling
We were seeing the impact of image loading on the overall user experience, so we researched it and we are now serving the images which are best suitable for a device. It has helped us to get a good gain in load times. It still needs improvements which we will keep on making with upcoming releases. Ultimately, it has helped us to bring down the memory consumption and provided us with significant scrolling improvements.
Work For Next Week?
Integrate Account Recovery.
Improve Local Storage Data Parsing
Work on HiveSSO alongside to have an MVP.
Work on Open sourcing the Hive library in Dart (Flutter).
Earn Dapplr Tokens And AirDrop
Dapplr token is not launched yet so this is the time for you guys to earn as many Dapplr Tokens as possible using your content. Currently we are giving away 5x amount of Dapplr Tokens that a post earns. E.g If a post earns 5 HIVE tokens then you will get 25 DAPPLR tokens. This is only for the authors not for the curators. We want to give users every opportunity to earn these tokens based on their activity. Read More
Public Beta Access
To know more about the team and their work


Follow us on Instagram - https://www.instagram.com/dapplr_app
Follow us on Twitter - https://www.twitter.com/@Dapplr_app
Join us on Discord and help us with your inputs - https://discord.gg/gZzqvwQ