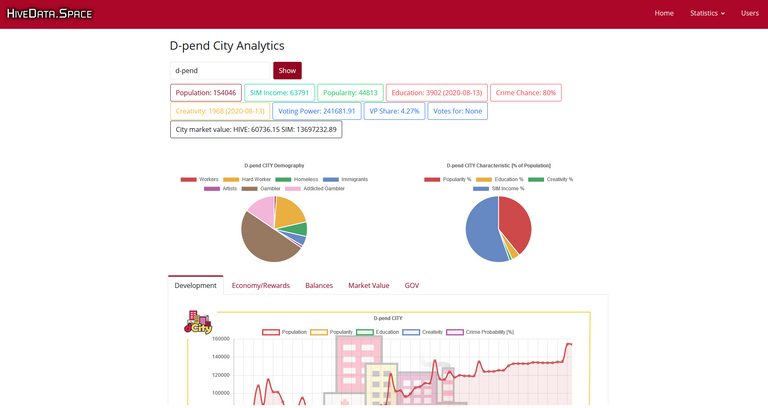 Last but not least module of Dcity stats consist of user cities analytics.
It is available here for all Dcity users: https://hivedata.space/statistics/dcity?s=city
Analytics show current city state like population, popularity, education, creativity, market value and more, and also historical data! Current data is in realtime, historical data is updated once a day.
I took @d-pend city as an example:
City development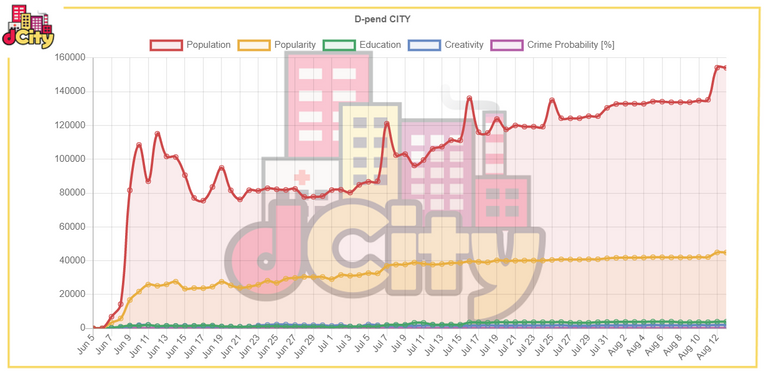 New citizens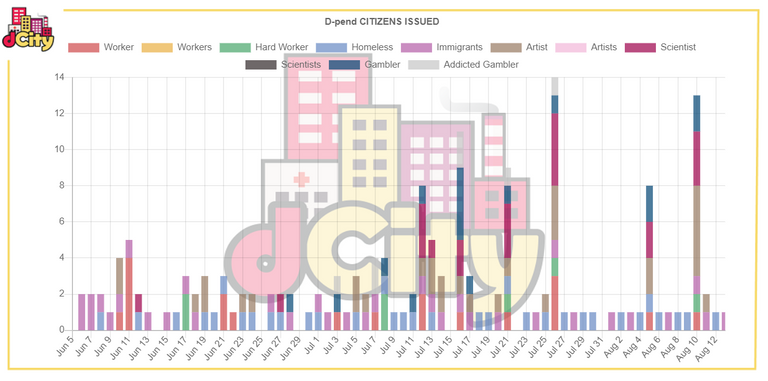 Events, robberies, technologies timeline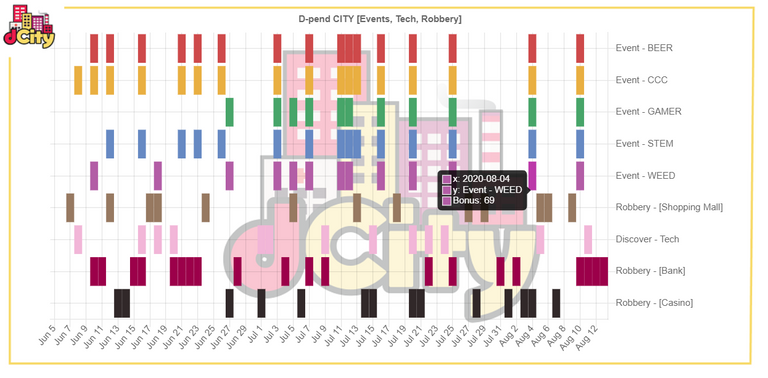 Cards flow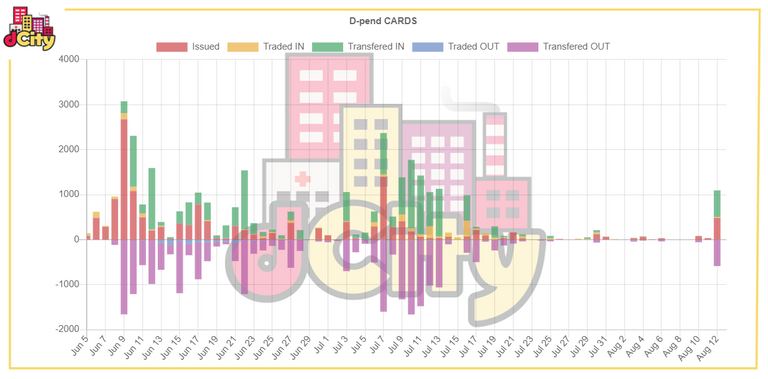 Economy/rewards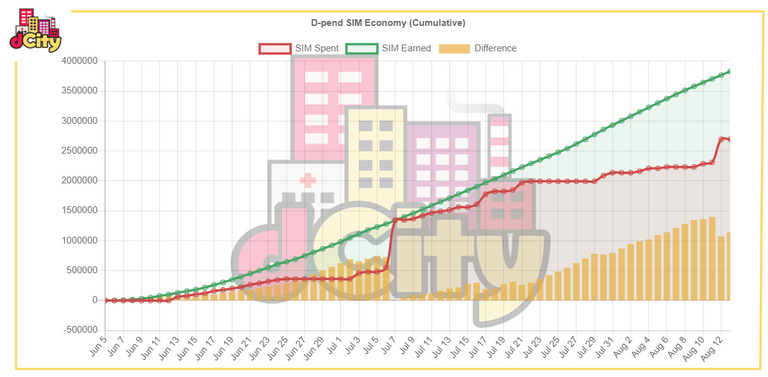 (and corresponding hive/cumulative charts)
Other tokens use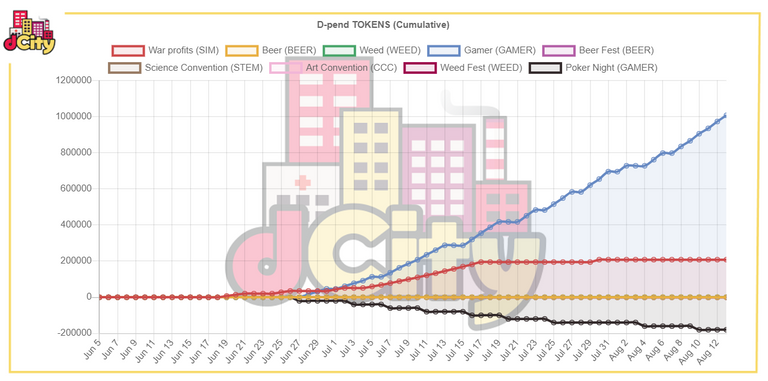 Market value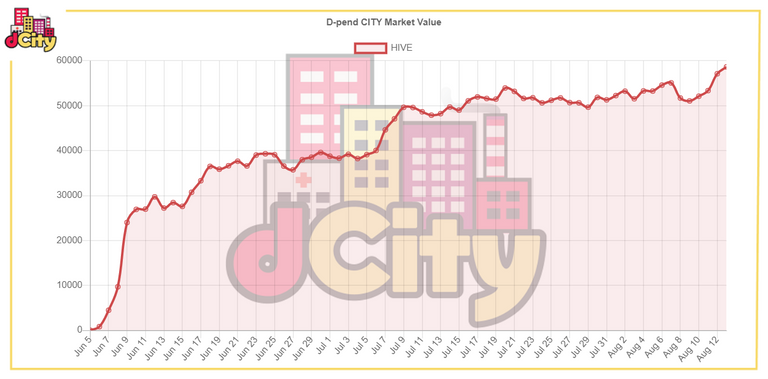 (also in presented in SIM)
GOV voting power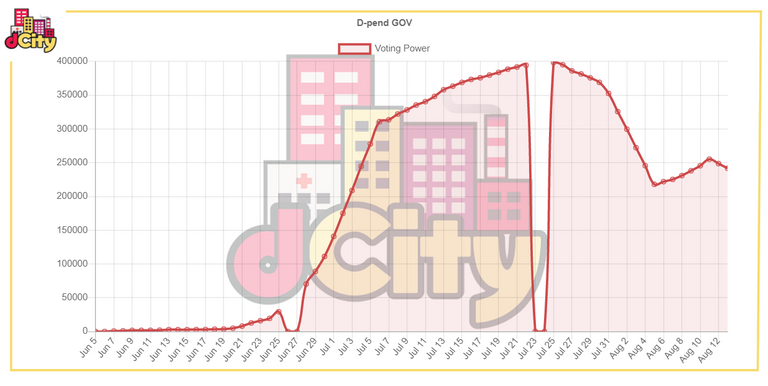 (also voting power share in % of whole game)
Don't miss a chance to check on your city!
You can also navigate to well known cities analytics by this list: https://hivedata.space/statistics/dcity?s=balances
Top 400 overall hive earnings cities mention:
@themightyvolcano,@ifunnymemes,@dustindivitto,@sketching,@carcrashbeamng,@d-pend,@fantasycrypto,@starfighter,@abrockman,@forykw,@pouchon,@luca-legend,@diverse,@mfblack,@rollandthomas,@chronocrypto,@bearbear613,@superlotto,@xxxxxxxxxx,@inri,@reseller,@raymondspeaks,@citrus-soap,@kromtar,@shitsignals,@bosmob,@nrg,@dera123,@summertooth,@steem-hodler,@ironshield,@elevator09,@apprentice001,@unique.esprit,@threejay,@ubeautiful,@pixaroma,@sn0n,@steemshiro,@bibdieufr,@imperij4427,@taitux,@ecoinstant,@manoldonchev,@loudutim,@j85063,@brofund,@sockpuppet,@russia-btc,@thegoliath,@gank,@methus,@mary.janikowski,@concreatejungle,@chittysity,@looftee,@nealmcspadden,@detlev,@axeman,@mobi72,@cryptoreaper,@steem.drone,@velourex,@broncnutz,@drugwar,@dreimaldad,@moon32walker,@invest2learn,@atomcollector,@flauwy,@drew0,@vcdragon,@spi-steemcity,@sidwrites,@themarkymark,@kobusu,@noganoo,@derangedvisions,@magascon,@kaeserotor,@nathen007,@josephsavage,@liuke96player,@joebabana,@dkid14,@fr-ida,@libert,@tussar11,@addax,@cheer-up,@mydays,@rambo21,@stever82,@hamsterpoweriii,@cryptictruth,@rahul.stan,@iampolite,@dalz,@d-company,@ezth,@braaiboy,@quantumnachos,@mafia.wallet,@felander,@cryptoknight12,@leo.bank,@jarvie,@danile666,@chaoabunga,@faraicelebr8,@debitcoin,@olvaus,@cyguy,@justatouchfey,@vintherinvest,@moyse,@ngc,@xxxxxxxxxxxxxxxx,@veteranforcrypto,@thebluewin,@richardcrill,@tsnaks,@jk6276.mons,@athira,@tcpolymath,@kreur,@gafc,@futuremind,@enginewitty,@drillith,@coinburner,@jarunik,@jrcornel,@cakemonster,@mys,@kennysgaminglife,@schlees,@dropthatcode,@desyfit,@diana.catherine,@beggars,@strikeeagle,@rishi556,@okean123,@oddbot,@bitcoinjake09,@webdeals,@foxon,@phant.devteam,@rezoanulvibes,@sampraise,@daveks,@ats-david,@gradeon,@houstonrockets,@brumest,@steemmillionaire,@hamsterino,@utube,@cryptomancer,@willsaldeno,@empoderat,@chronopolis,@cuko,@crypticat,@meanbees,@bala41288,@photobook,@silverstackeruk,@mattclarke,@bwar,@jeffandhisguitar,@cryptoeater,@adamdabeast,@whatsup,@zanoni,@soteyapanbot,@homeginkit,@morrona,@udabeu,@fundurian,@jplabs,@wilsonthe,@thereikiforest,@colecornell,@silver.art,@cadawg,@danewilliams,@news-today,@homeless-city,@hotasian,@mindblast,@muru,@monsterjamgold,@sumatranate,@agr8buzz,@cooltivar,@forkyishere,@ldp,@danilmaeorg,@zaxan,@johnspalding,@minerthreat,@mapanare,@frankk,@elements5,@scrooger,@cannonwar,@cheftony,@pixelfan,@jk6276,@imperij2374,@aromadiphoto,@myfreebtc,@adal111,@mcoinz79,@silviu93,@j3dy,@huitemae,@stayoutoftherz,@badpupper,@jk6276.pal,@nockzonk,@hans001,@cryptomarketer,@r0nd0n,@maya7,@lestrange,@busbecq,@the01crow,@umbetari,@culgin,@jedigeiss,@elemental010,@tattoodjay,@pundito,@marfonso,@travelgirl,@ecoinstar,@stardust97,@anarcist69,@bobawondua,@elohibaluk,@outlinez,@hrastalak,@tibfox,@poliwalt10,@samierue,@cardboard,@shmoogleosukami,@maryincryptoland,@herbertholmes2,@ewkaw,@sallhiddles,@bauloewe,@reaverza,@blue.rabbit,@robhots,@upali,@supergoodliving,@steemitqa,@oldmans,@kristves,@kapengbarako,@libertycrypto27,@matheusggr,@steemstreems,@fragmentarion,@imperij,@kiwibloke,@vxc,@intellihandling,@curation-lm,@quekery,@frugal-fun,@ffoorryykkww,@picciridda2,@pardinus,@onealfa,@thejollyroger,@beats4change,@cascabel,@cryptomaniacsgr,@cryptoctopus,@trumpman,@polite-sm,@mendezand,@gerber,@evernoticethat,@maruskina,@eddiespino,@foggybottom,@mixr,@skippyza,@thegoliathv2,@mice-k,@neal.cards,@jennyferandtony,@mastergerund,@coolsurfer,@captainclaw,@enforcer48,@d-zero,@khan.dayyanz,@darrenfj,@metzli,@hetty-rowan,@manniman,@deepresearch,@dec-collector,@loliver,@davedickeyyall,@steliosfan,@pelin,@elbrava,@mpath,@pend,@iceburst,@accelerator,@mapac,@klarou12,@luismar1978,@m2nnari,@ecoinstats,@abc.love.steemit,@velourex.rentals,@codingdefined,@mickvir,@theoriginal86,@xawi,@hiveqa,@sc-steemit,@motu1,@pladozero,@edouard,@guruvaj,@lookplz,@electru,@lackofcolor,@gastontrussi,@martybyrde,@empoderat.leo,@ericwilson,@cannabiscup,@mary-jane,@travel-cuisine,@paragism,@boycharlieplays,@an0na,@prize.hoard,@nupulse,@loro68,@little.finger,@empoderat.sports,@rmach,@tute,@mano237,@kiokizz,@cn1hive,@steemcryptosicko,@birdland,@rehan12,@gamsam,@vxc.game,@bigsport,@block.pal,@darthgexe,@mapxv,@cornavirus,@iamraincrystal,@btcvenom,@steem.services,@steelman,@trayan,@holograma,@weirdestwolf,@scaredycatguide,@svarogbg,@gentmartin,@shaka,@chesatochi,@cwow2,@artistparthoroy,@georgeknowsall,@otherbrandt,@monsterplayer,@bestbroplayer,@baneenabear,@taskmanager,@gungunkrishu,@smonbot1,@steem.curator,@ebargains,@singing.beauty,@estream.studios,@mikemoi,@kumicho,@platino94,@the.curator,@immigrants-city