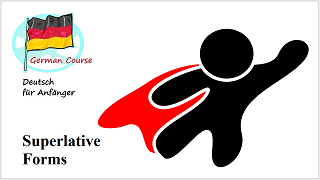 Sometimes a simple adjective is not enough to express what we want to say. Therefore we use comparative or superlative forms of adjectives. For this video I will show you some example sentences with superlatives. The sentences may look long and difficult but they are easier than it seems.
(Manchmal reicht ein einfaches Adjektiv nicht aus, um zu sagen, was wir sagen wollen. Deshalb verwenden wir komparative oder superlative Formen von Adjektiven. Für dieses Video zeige ich Ihnen einige Beispielsätze mit Superlativen. Die Sätze mögen lang und schwierig aussehen, aber sie sind einfacher als es scheint.)
You are my oldest friend. - Du bist mein ältester Freund.
This is our slowest employee. - Das ist unser langsamster Mitarbeiter.
Please give me the best room you have. - Bitte geben Sie mir das beste Zimmer, das Sie haben.
Berlin is the biggest city in Germany. - Berlin ist die größte Stadt in Deutschland.
This is my youngest brother. - Das ist mein jüngster Bruder.
This is the cutest cat I've ever seen. - Das ist die süßeste Katze, die ich je gesehen habe.
That's the best movie of the year. - Das ist der beste Film des Jahres.
Please show me the cheapest rental car. - Bitte zeigen Sie mir den günstigsten Mietwagen.
I have the most comfortable couch. - Ich habe das bequemste Sofa.
He is the smartest person I know. - Er ist der klügste Mensch, den ich kenne. | Er ist die klügste Person, die ich kenne.
I want to buy the most expensive present you have. - Ich möchte das teuerste Geschenk kaufen, das Sie haben.
I'm looking for the cheapest flight to Germany. - Ich suche den günstigsten Flug nach Deutschland.
basic / comparitive / superlative:
old / older / oldest - alt / älter / am ältesten
slow / slower / slowest - langsam / langsamer / am langsamsten
good / better / best - gut / besser / am besten
big / bigger / biggest - groß / größer / am größten
young / younger / youngest - jung / jünger / am jüngsten
cute / cuter / cutest - süß / süßer / am süßesten
cheap / cheaper / cheapest - günstig / günstiger / am günstigsten
comfortable / more comfortable / most comfortable - bequem / bequemer / am bequemsten
smart / smarter / smartest - klug / klüger / am klügsten
expensive / more expensive / most expensive - günstig / günstiger / am günstigsten
Important Vocabulary:
the friend(s) - der Freund / die Freunde
the employee(s) (male) - der Mitarbeiter / die Mitarbeiter
the employee(s) (female) - die Mitarbeiterin / die Mitarbeiterinnen
the room(s) - das Zimmer / die Zimmer
the city(ies) - die Stadt / die Städte
the brother(s) - der Bruder / die Brüder
the cat(s) - die Katze / die Katzen
the male cat(s) - der Kater / die Kater
the movie(s) - der Film / die Filme
the year(s) - das Jahr / die Jahre
the rental car(s) - der Mietwagen / die Mietwagen
the car(s) - das Auto / die Autos
the couch - das Sofa, die Couch
the person - die Person, der Mensch
the present(s) - das Geschenk / die Geschenke
the flight(s) - der Flug / die Flüge
More Superlative Forms:
dangerous / more dangerous / most dangerous - gefährlich / gefährlicher / am gefährlichsten
cold / colder / coldest - kalt, kälter, am kältesten
safe / safer / safest - sicher, sicherer, am sichersten
colourful / more colourful / most colourful - bunt, bunter, am buntesten
poor / poorer / poorest - arm, ärmer, am ärmsten
boring / more boring / most boring - langweilig, langweiliger, am langweiligsten
soon / sooner / soonest - bald, eher, am ehesten
beautiful / more beautiful / most beautiful - schön, schöner, am schönsten
nice / nicer / nicest - nett, netter, am nettesten
crazy / crazier / craziest - verrückt, verrückter, am verrücktesten