EN
Hi guys, for my Dad's Birthday I made a Pear Wood cutting Board myself.

DE
Hallo Leute, zum Geburtstag von meinem Papa habe ich ein Birnenholzschneidebrett selbst gemacht.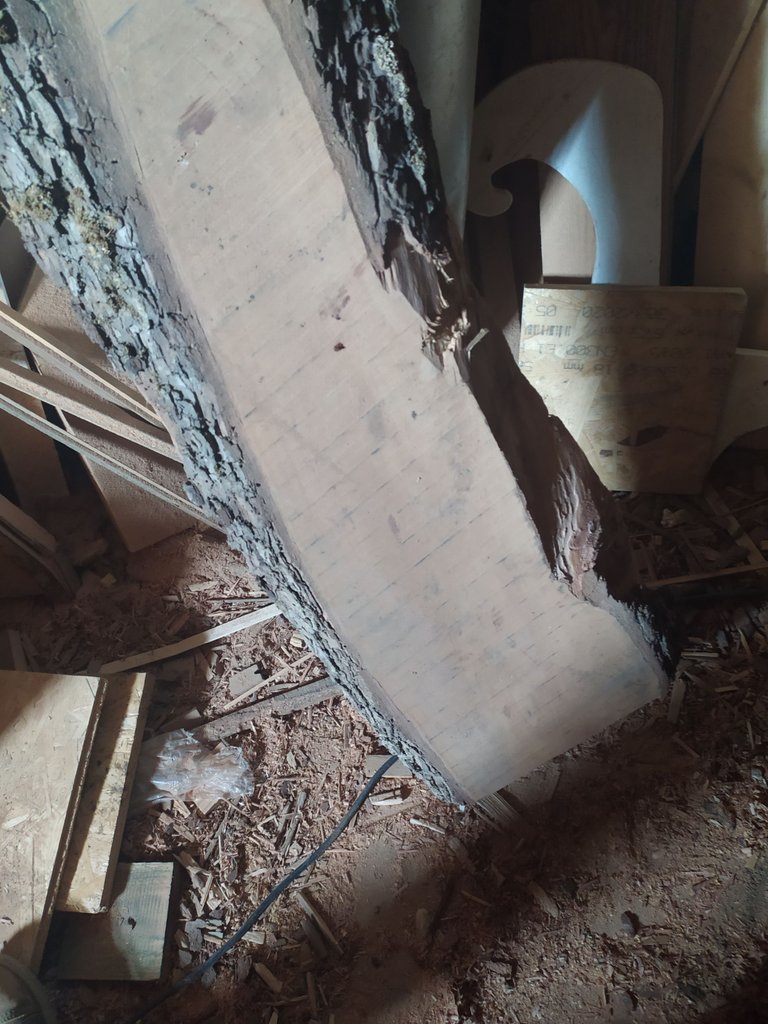 ---
This Bear Wood Board was all warped and crooked, so I had to sand down about an inch on each side, using a Belt sander Machine.(80. Sandpaper)
Afterwards I have worked on everything again intensively with a Sanding Mouse (240. Sandpaper)
Dieses Birnenholz Bett ist total verzogen und krumm gewesen, deshalb musste ich auf jeder Seite ungefähr einen Zentimeter herunter schleifen, dazu habe ich eine Bandschleifer Maschine benutzt.(80. Schleifpapier)
Anschließend habe ich mit einer Schleifmaus (240. Schleifpapier) alles noch mal intensiv bearbeitet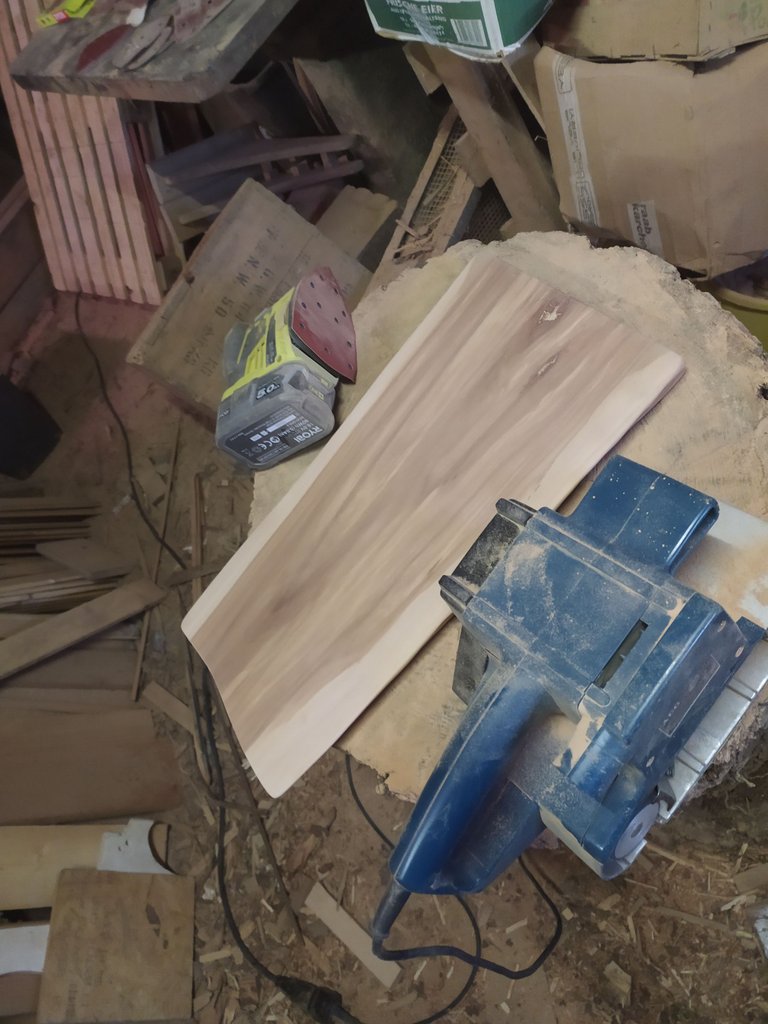 ---
Next, I hand sanded the Board super smooth with 600th Sandpaper.
Als Nächstes habe ich von Hand mit 600. Schleifpapier das Brett superglatt geschliffen.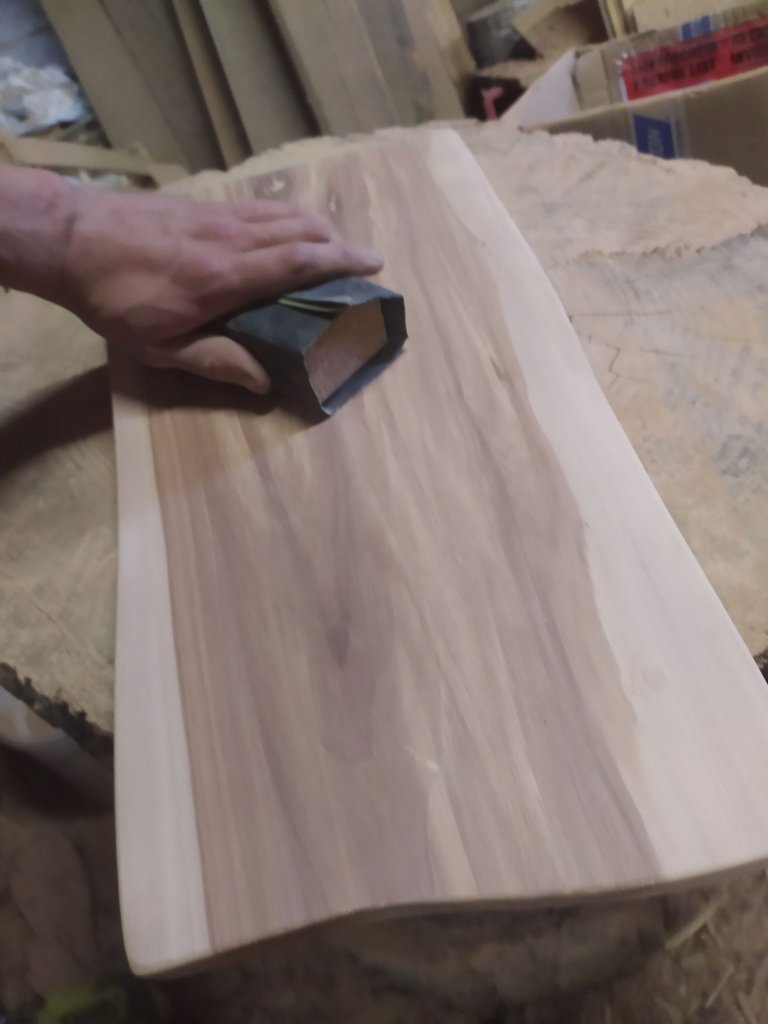 ---
To make the board super fierce smooth abe I polished it with carbon fiber wool.
Damit das Brett super heftig glatt wird abe ich es mit Kohlefaserwolle poliert.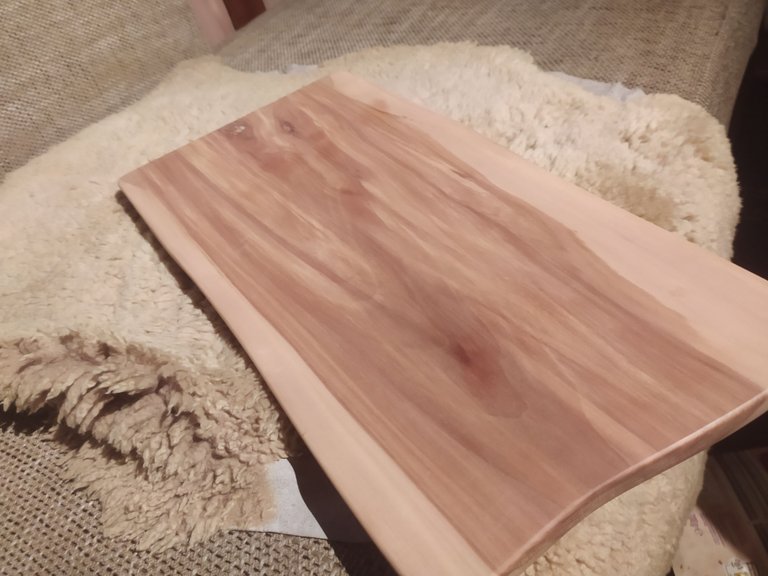 ---
Finally, I soaked the cutting board three times with linseed oil, so that it stays beautiful longer and does not get stains from cut Vegetables.
Zum Abschluss habe ich das Schneidebrett drei mahl mit Leinöl eingelassen, damit es länger schön bleibt und keine von geschnittenem Gemüse flecken bekommt. gemüse

The Board was accompanied by a handmade Japanese Knife with a fire-treated wooden Handle, made of 63 mm folded Steel.
My Dad was very happy about it
Zu dem Brett gab es ein mit einem feuerbehandeltem Holzgriff, aus 63 mahl gefalteten Stahl, handgemachten japanisches Messer.
Mein Papa hat sich darüber sehr gefreut.

Ich hoffe euch gefegt es auch bis zum Nächsten mahl euer Ischmieregal. :)✌️

I hope you also swept it until the Next mahl your Ischmieregal. :)🖖